January, 2022
Greg Jaffe wins January Sidney for Moving Account of Union Organizing at a Dollar General Store
Greg Jaffe of the Washington Post wins the January Sidney Award for "The worker revolt comes to a Dollar General in Connecticut," a deeply reported piece that chronicles a struggle for job security and respect at an outpost of the discount retailer. 
The story opens with a desperate phone call to the United Food and Commercial Workers (UFCW) from Shellie Parsons, a 37-year-old single mom who was terrified that she was about to lose the job that has enabled her to escape an abusive relationship and recover from a heroin addiction. That call resulted in a unionization effort that pitted six near-minimum-wage workers against a company with nearly $34 billion in revenue, over 157,000 employees and 17,683 stores, not one of which is unionized.
Dollar stores have carved out a niche in high-poverty rural communities. There are now more dollar stores in the United States than all the Walmart, Starbucks and McDonald's locations combined.
"Dollar General would stop at nothing to keep an 'at will' workforce. 'At will' means I can fire you for any reason I want as long as it's not color, religion or ethnicity. It's that ultimate power of intimidation," explained David Cook, the president of UFCW Local 655 in Missouri.
The company hired five $2700-per-day anti-union consultants and sent in three out-of-state executives to shadow the workers for the month leading up to the union election. They spent their days spreading anti-union propaganda and spying on the workers. One of the workers was fired for cursing. The union effort failed by one vote.
"This story shows the lengths that companies like Dollar General go to to keep their employees from organizing," said Sidney judge Lindsay Beyerstein.
The National Labor Relations Board recently announced that it will begin enforcing a long-ignored part of federal labor law that requires employers to disclose their spending on union-prevention consultants. The worker who was fired on a flimsy pretext is in settlement negotiations with Dollar General, mediated by the NLRB.
Greg Jaffe is a national reporter for The Washington Post and has spent much of the pandemic writing about lower income workers. He has been with the Washington Post since March 2009. Previously, he covered the White House and the military for The Post. Before joining The Post, he worked at the Wall Street Journal and the Montgomery Advertiser.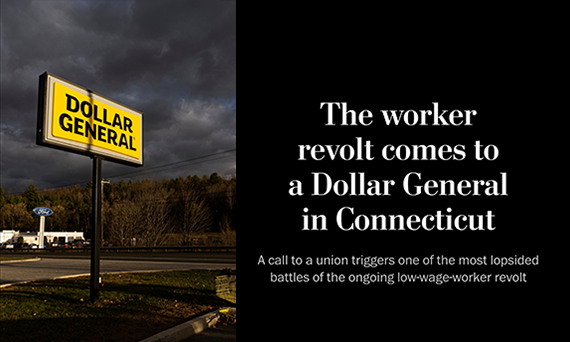 The Washington Post
Lindsay Beyerstein interviewed Greg Jaffe by email:
Q: How and when did you become aware of the unionization struggle at this Connecticut Dollar General?
A: I learned about it through Mike Elk's wonderful website paydayreport.com. I didn't realize that unionization elections could be so small. The Dollar General election was just six people and I thought it would be a fascinating microcosm of the broader worker revolt in the country but also the fight over unions. 
Q: Why did you choose Shellie Parsons as your central character? 
A: I chose Shellie for two big reasons. The main one was that she was the first person to call the union and became the biggest backer of the effort. She's a hard worker and has overcome a lot in her life. I also found her journey really interesting. She'd fought hard for the union, but in the aftermath of the loss was not sure it was worth the effort. Her fight wasn't clarifying for her. It was confusing, and I found that interesting.
Q: Can you talk about the process of reporting this story? What methods you used, and what kinds of documents you drew upon, etc.
A: The biggest thing I did was spend as much time as I could with Shellie as she went about her day. I wanted to be able to give readers a sense of how hard she worked and how much stress she was under, so I went with her on cleaning jobs and to pick up her daughter. I couldn't follow her to work at Dollar General. But I wanted to give readers' a sense of her life. The NLRB website was a huge help as well. It had hundreds of pages of documents chronicling Dollar General's effort to kill the unionization effort in Missouri. It's a fantastic resource.
Q: Why is an at-will workforce so important to Dollar General's business model?
A: That's a question I wish Dollar General had answered for me. My only guess: Dollar General is a company that is heavily dependent on keeping prices low and expenses low too. I assume the company believes that the loss of an at-will workforce drives up the costs of its labor. In the case of the Connecticut store the workers main concern was job security and not pay. Honestly, I don't know why it is so important to the company. I just know that the company seems to see it as critical. 
Q: Were you surprised by the lengths that DG was willing to go to in order to defeat the union?
A: To me that was the most interesting part of the story. Here's a little store: just six people. And Dollar General spent tens of thousands of dollars (if not more) trying to stop it from going union. It tied up several executives for more than a month. In Auxvasse, Mo. which also had only a half-dozen workers. My gut is that Dollar General spent hundreds of thousands of dollars in legal fees and other expenses to block the unionization effort. 
Q: What did you learn from this project that you will carry forward to your next assignment?
A: I hope it taught me something about how power is wielded in the US economy. A part of me wonders what would have happened if the Dollar General workers had won the right to unionize in Auxvasse or Winsted. Would their lives be different? Would the store be different? I feel like we're in a moment of flux in the U.S. economy where workers are trying to wrest back some power. One of the big questions I have is whether this power shift is permanent or transitory? I don't think I have a good answer to that question. The Dollar General battle offers up one possible answer, but certainly not the only answer.
Q: Are you still in touch with the folks you wrote about? How are they doing? 
A: I've been in touch with Shellie and Jake. Both are doing well. The last time I spoke with Jake, he was in settlement talks with Dollar General (mediated by the NLRB) over his firing. My gut is that he'll get some compensation for being dismissed for a very, very minor infraction – one that occurs every day in Dollar General stores across America. Shellie was able to get some help through a GoFundMe that paid off her power bill and other expenses. She's still up most mornings by 4:30 a.m. to head off the methadone clinic and then to work at Dollar General. Her focus right now seems to be on building a career with Dollar General.