February, 2022
Miami Herald wins February Sidney for Sweeping Investigation of Surfside Condo Collapse
The Miami Herald wins the February Sidney Award for "Tragedy in Surfside," a sweeping multi-media investigation of the collapse of the Champlain Towers South apartment complex in June 2021. The investigative team, led by Sarah Blaskey, Ben Conarck, Aaron Leibowitz, Eduardo Alvarez, and Sohail Al-Jamea, collaborated with an engineer to create a computer model of the doomed apartment building in an attempt to explain how a structure that had stood for nearly 40 years could collapse in minutes, killing 98 people.
The investigation drew upon a vast body of evidence including survivor testimonies, security and body-cam footage, 911 calls, and thousands of pages of structural drawings, permits and inspection reports. Reporters delved into the backgrounds of the inspectors, engineers, architects, contractors and subcontractors involved in the building's construction, permitting and maintenance. 
The investigators discovered that the concrete tower had major structural flaws and was never in compliance with the building code. They also found that an alarm that should have given residents critical advance warning after the initial collapse of the pool deck failed to sound or was inaudible to residents.  
"This is local news that's urgently relevant to high-rise dwellers all over the world," said Sidney judge Lindsay Beyerstein, "The collapse seemed inexplicable until the Herald revealed a 40-year pattern of poor design, shoddy construction, lax inspection, and inadequate maintenance." 
Sarah Blaskey is an investigative reporter at the Miami Herald, where she has worked since 2018. Her work combines modern digital techniques with traditional reporting and storytelling, with a focus on making complex topics digestible for a newspaper audience. 
Ben Conarck is part of the investigative team covering the Surfside tragedy for the Miami Herald. He joined as a healthcare reporter in August 2019. Previously, Conarck was an investigative reporter covering criminal justice at The Florida Times-Union.
Aaron Leibowitz has been a local government reporter for the Miami Herald since 2019. Previously, he covered courts in Boston for Law360 and local politics for GateHouse Media. He earned a master's degree from the Stabile Center for Investigative Journalism at Columbia University in 2018.
Eduardo Alvarez is the Director of High Impact Experiences at McClatchy. He is responsible for design, presentation, and data visualization of the media company's highest-profile journalism, and produced the majority of the still graphics that accompanied the Herald's collapse investigation. He has worked for McClatchy and the Miami Herald for over 33 years.
Sohail Al-Jamea is an award-winning graphics director and documentary filmmaker at The McClatchy Company, where he has worked since 2015. He has previously held design positions at NBC News, ABC News, CNN and The Washington Post. His documentary short "Hollywood's Greatest Trick," which examines the unsettling plight of visual effects artists has screened at six film festivals in North America.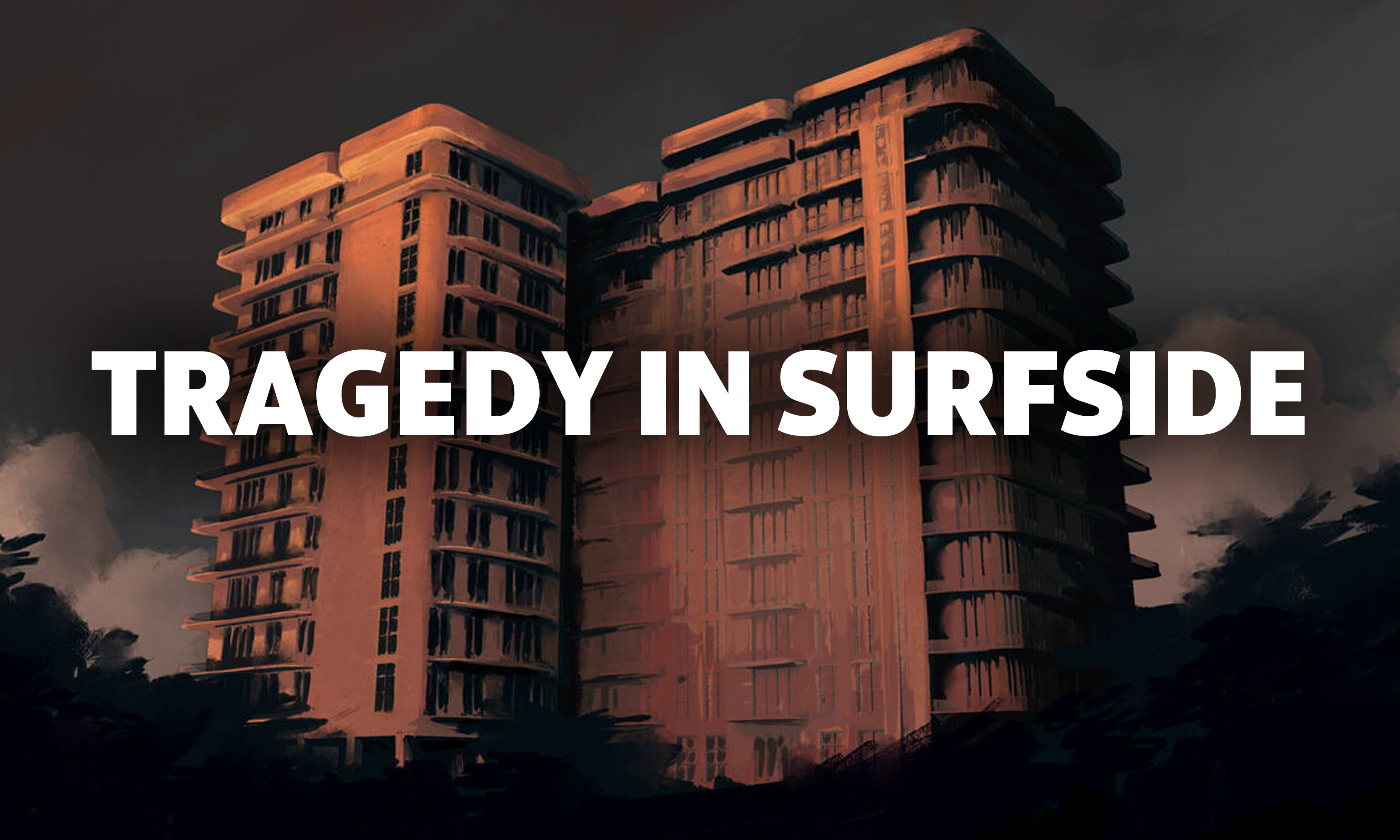 Rachel Handley and Eduardo Alvarez | McClatchy
Lindsay Beyerstein interviewed Sarah Blaskey by email:
Q: Where were you when you learned the tower had collapsed?
A: Like most of my colleagues, I was asleep when the tower fell. In my case, I woke up around 5:45 a.m. on June 24 to a friend telling me that something terrible had happened. Some of my colleagues were already on site, reporting, so I texted my boss: "I am up. Let me know what the plan is …" 
The instructions for the investigations team were to answer the following questions: 
Why would a tower –– that's not particularly old or under construction or the victim of a natural disaster –– just fall in the middle of the night? Who, if anyone, should have seen it coming? And ultimately, was there someone to blame?
By 7:29 a.m. we had filed our first records requests for inspection reports that would prove essential in understanding the condition of the building prior to the collapse. 
Q: Tell me about the overall strategy for this investigation. How did you go about breaking down this massive story into manageable chunks and reporting it out? 
A: As a newsroom, we split into teams. Some reporters went to the site to tell the story of the search-and-rescue efforts. Others were tasked with writing obituaries for all of the victims. And the investigations team was tasked with learning everything we could about reinforced concrete structures, generally, and Champlain Towers South in particular. 
Without a specific understanding of what went wrong, there would be no way to ensure that nothing like what happened at Champlain South would ever happen again.
Our team chased three main threads simultaneously. We learned about the engineering of the tower. We pursued the story of the years leading up to the collapse, casting a spotlight on a disorganized building department in a small town and a slow-to-act condo board with a financial interest in making as few repairs as possible. Meanwhile, we dove into the tower's history, knowing that if there was a fatal flaw in the design or construction, the story of who was responsible would trace back 40 years.
The pacing of investigations like this one is set by the breaking news cycle. Whenever we got a requested public record –– like engineering inspection reports, or emails from residents expressing concern about maintenance –– we contextualized it and reported it. Eventually, we knew we would piece it all together into a comprehensive explainer piece about what went wrong.
Between breaking news, we sat down with engineers and learned to read building plans and understand the behavior of reinforced concrete structures. We filled requests under Florida's open records laws for building plans, emails, 911 call logs and anything else we could think of.
But probably the most important thing we did in the early days was foster relationships with survivors and the families of the victims. What people saw or heard was the key that allowed engineers to offer up theories about why the tower fell.
Q: Did your reporting strategy evolve over time, and if so, how?
A: As the local news organization of record, our coverage continued long after the networks packed up and left the media staging area. We never stopped digging. Knowing how important time and patience is on a major investigation, the Herald editors continued to give the investigations team time and resources –– including contracting for the services of an engineer –– to follow through and find the answer that the survivors, family members of the deceased and our community deserved.
We also began to focus on visual storytelling, through graphics and 3D animation to help our audience understand complex engineering.
The biggest thing that changed over time wasn't us, however. It was, as always, the willingness of people to talk to us about their experiences. When we first reached out to family members or survivors themselves in the days after the tragedy, many didn't want to talk. We had a policy of asking only once, and if they said no, we respected that and told them if they ever changed their minds –– weeks, months, or years later –– we would still be here to listen and report. As the months went by, many moved through shock and overwhelming grief and came to the realization that they wanted to do something to prevent future tragedies. That's when they reached back out.
Q: How did you go about choosing which experts to work with on this project?
A: We worked with over a dozen engineers, including academics and professional engineers, both active and retired. Ultimately, the Herald hired Dr. Dawn E. Lehman from the University of Washington to analyze the building plans and use advanced computer modeling to test theories of failure. Dr. Lehman is one of the leading modelers of reinforced concrete in the country and was part of a team that developed the cutting-edge methods for finite element analysis used in the Herald's investigation. 
Dr. Lehman also had no problem telling us when she thought we were on the wrong track and had a way of making each step a learning experience. Honest feedback is something I deeply value and admire in a collaborator.
Q: Which public records proved the most useful for this investigation?
A. Building plans and inspection reports obtained from the building department through records requests were the most helpful when it came to building a computer model to analyze the collapse. But easily just as important were the 911 calls, body camera footage and drone footage taken by fire rescue that allowed us to begin to build a timeline of what happened. 
Q: What did you learn from this assignment that you will apply to your next investigative challenge? 
A: Partnering with academics or other experts is not common in our industry, but it was essential to this project. And while it might not be appropriate for every investigation, interdisciplinary collaborations are something I think our industry could benefit from doing more often. 
We saw the experts who helped us as more than people who simply provided quotes for a story. Instead, we had long discussions, where both reporters and experts bounced thoughts and ideas off of each other. The process was truly collaborative, which I think was the secret to its success.
Q: After this exhaustive reporting effort, what do you conclude about the causes of the collapse?
A: First, it's important to note that an official answer to what happened will come from the National Institute for Standards and Technology after a years-long investigation. And as engineers continue their work, more information could still come to light that could alter our understanding of what happened. However, based on the evidence available publicly, the Herald's investigation revealed a series of design weaknesses and construction errors that, along with 40 years of harsh ocean-front conditions and little maintenance, lined up to create the perfect conditions for a deadly domino effect. The Herald's computer simulations—run by Dr. Lehman and a team at the University of Washington—showed that the chain reaction likely began when the structure's ground-level pool deck separated from the underground perimeter wall around 1:15 a.m., overstressing other weak areas (the result of design), and causing damage to spread across the deck and into the residential tower, which fell seven minutes later. The trigger is still unknown, although computer modeling showed that even moderate amounts of corrosion, resulting from water intrusion, in the joint between the wall and deck would have been enough to cause the connection to fracture, beginning the progressive collapse.
Basically, the pool deck was badly designed and also degraded over time. It caved in (we're still not sure why that happened at that particular moment) and it caused the tower to fall seven minutes later. Normally, a pool deck cave-in would not progress like that, experts say. But it did at Champlain South, at least in part, because of the poor connections between structural elements and weak design of the tower overall.