2021 Hillman Prize for Opinion & Analysis Journalism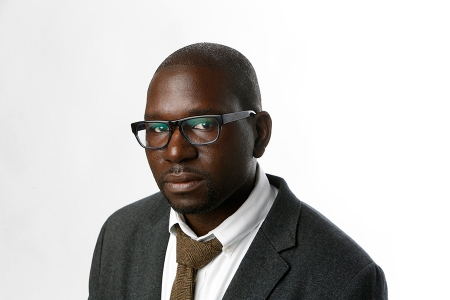 Jamelle Bouie
The New York Times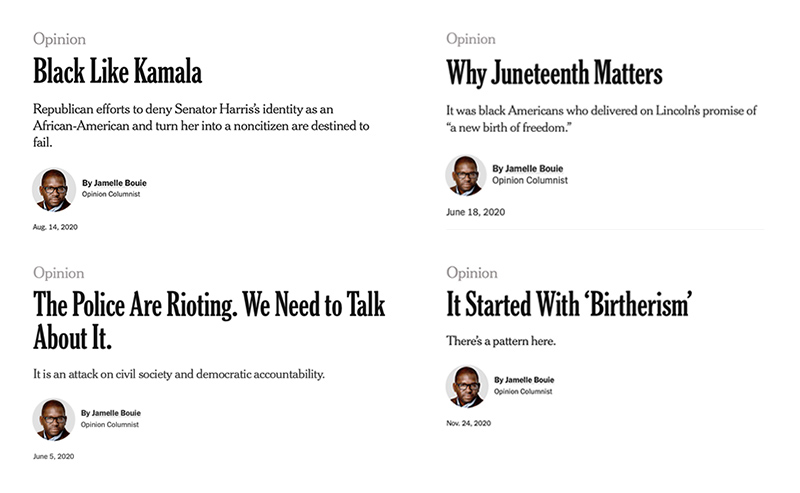 The subject of Jamelle Bouie's Tuesday and Friday columns is political, racial and economic equality and the story of American democracy.
In 2020, Bouie brought his political, historical and personal knowledge to show how Covid-19, the presidential campaign, and the protests and violence after the killing of George Floyd all intersected with Black life in America.
Bouie turned the tables on the conventional narrative after events like the protests of Floyd's killing writing "If we're going to speak of rioting protesters, then we need to speak of rioting police as well." He showed how Trump's policies and rhetoric reinforced two classes of citizens, one favored, and one dispossessed. He wrote, "In truth, black susceptibility to infection and death in the coronavirus pandemic has everything to do with the racial character of inequality in the United States."
Bouie revealed the true significance of Juneteenth writing that the holiday "gives us an opportunity to remember that American democracy has more authors than the shrewd lawyers and erudite farmer-philosophers of the Revolution, that our experiment in liberty owes as much to the men and women who toiled in bondage as it does to anyone else in this nation's history." In retweeting Bouie's column, former President Obama wrote: "Juneteenth has never been a celebration of victory, or an acceptance of the way things are. It's a celebration of progress. It's an affirmation that despite the most painful parts of our history, change is possible—and there is still so much work to do."
Bouie explored Black identity in the U.S. in a resonant column about attacks on Kamala Harris's heritage: "'Black America' is a multitude. There has never been some essential element to blackness, no singular quality or attribute that makes someone a Black American. But there is always…the context of American racism." And he refused to let the story be just about Trump. "What if," he said after the election, "the thing we need some citizens to give up is a sense of superiority, a sense that they are—or ought to be—first among equals?"
Bouie is a native of Virginia who still lives there. He became a Times columnist in 2019 after serving as the chief political correspondent for Slate. As the hosts of the podcast "Know Your Enemy" put it when Bouie was their guest, "Today's political conflicts reflect, to an extraordinary degree, disagreements over the meaning of American history. Jamelle Bouie's New York Times column is one of the places where these lively debates are most effectively narrated and clarified."
Jamelle also has a free weekly newsletter that usually includes a photograph he took and a recipe he's enjoying, along with links for further reading. Sign up for your own edification.
Prior to the Times, Jamelle Bouie was chief political correspondent for Slate magazine. Before that, he was a staff writer at The Daily Beast and held fellowships at The American Prospect and The Nation magazine. He attended the University of Virginia, where he graduated with a degree in political and social thought, and government.