2021 Hillman Prize for Newspaper Journalism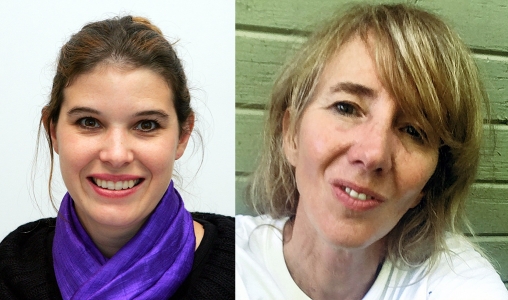 Margie Mason and Robin McDowell
Associated Press
Few people know this, but palm oil has quietly become one of the most ubiquitous commodities on the planet, seeping into almost every aspect of our lives. Though found in roughly half the products on supermarket shelves, it's perhaps best known for destroying rainforests and bringing orangutans to the brink of extinction. The crop soared from just 5 million tons in 1999 to 72 million today. The U.S. alone has seen a 900% spike in demand during this period.
But investigative journalists Margie Mason and Robin McDowell, who have spent much of the last two decades reporting on human rights issues from their homes in Southeast Asia, knew there was another, equally devastating story.
Millions upon millions of invisible workers are hidden beneath the thick canopy of palm oil trees covering large swaths of Indonesia and Malaysia, which together produce about 85 percent of the world's global $65 billion supply.
In a searing exposé of the palm oil industry, they revealed an entire industry built on the backs of some of the world's poorest and most vulnerable people, including Rohingya Muslims who escaped ethnic cleansing in their homeland. They were first to find women and girls who told graphic stories about being raped in the fields, along with those who complained of constant exposure to toxic agrochemicals, and a painful condition known as "fallen womb," resulting from years of heavy lifting.
They documented illiterate children who, working up to 12 hours a day, have never seen the inside of a school. They interviewed victims of trafficking and outright slavery, including some men who had been held against their will and forced to work for years after being sold onto plantations with help from police.
Over more than two years, Mason and McDowell made many trips to these plantations, stretching thousands of miles across Indonesia and Malaysia, interviewing more than 130 current and former workers from eight different countries at more than two dozen companies.
Each visit had to be carefully planned and choreographed. Sometimes the journalists were secreted onto estates, lying down in the back of vehicles with tinted windows, as trusted sources took the wheel. Other times, meetings were held with workers outside in secret, often at night, at cafes or hotels in the closest towns, which could be hours away from their plantations.
The reporters knew if the workers were exposed, the backlash could be devastating for their entire families—past reports from media and rights groups on palm oil had resulted in harsh retaliation.
The journalists, themselves, also had to be careful. They were filmed, photographed and followed by plainclothes police. A local reporter who attempted to help them was called into the station and interrogated for hours. Police also tracked Mason down at a hotel, hours away from where she was reporting—demanding to see her passport to determine whether she had a valid journalist visa.
Mason and McDowell used their expertise in supply chain tracking, culling data from producers, traders and buyers along with U.S Customs records, to trace palm oil harvested by abused workers to the manufacturers of some of the world's most iconic food and cosmetic brands, including Nestle, Unilever, L'Oreal, Procter & Gamble and even the makers of Girl Scout cookies. The reporters also named major Western banks and investment companies that have pumped more than $12 billion into the booming industry in the last five years, from Bank of America, HSBC and Citigroup to the Vanguard Group and CalPERS, California's massive pension fund.
Of the three dozen companies and financial institutions tied to abuses in their stories, not one questioned their findings.
Noting the AP's investigation, two dozen Democratic lawmakers from the House Ways and Means Committee urged the U.S. government to clamp down harder on palm oil imports.
And for the first time, U.S. Customs and Border Protection announced it was blocking all imports from two of the world's biggest palm oil producers—Malaysian-owned FGV Holdings and Sime Darby Plantation—releasing findings of their own investigations that closely mirrored those of the AP.
Fruits of Labor is exhaustive and harrowing. It shines a light on a wide array of labor abuses suffered by men, women and children—some who have been trapped in the same cycle for generations.
Margie Mason is a global investigative reporter for the Associated Press who spent nearly two decades based in Southeast Asia. Her stories often focus on women, children, poverty and human rights abuses. In 2016, she and three other AP journalists won the Pulitzer Prize for Public Service, along with numerous other awards for a series of stories about slavery in Southeast Asia's fishing industry, resulting in more than 2,000 men being freed. In 2020, she co-wrote an investigation that helped free a Minnesota man jailed for life as a juvenile. Mason graduated from West Virginia University and was a Nieman fellow at Harvard.
Robin McDowell spent more than two decades in Southeast Asia, where she covered everything from bloody coups and al-Qaida-linked terrorist attacks to plane crashes, tsunamis and the ethnic cleansing of Rohingya Muslims. She was part of the 2016 team of reporters that won the Pulitzer Prize for Public Service for a series about slavery in the seafood industry that led to the freedom of more than 2,000 men, arrests, seizures of assets and changes to US law. Reporting by McDowell and Margie Mason also led to the freedom in 2020 of a Minnesota man sentenced to life as a juvenile in 2002. She continues to focus on the world's most vulnerable, including minorities and others who are persecuted because of their race, religion, gender or social status.