2021 Hillman Prize for Magazine Journalism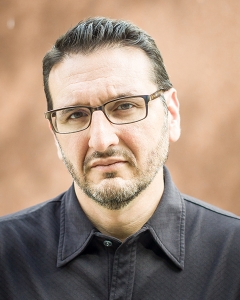 David Dayen
The American Prospect
Due to the coronavirus pandemic, 2020 was a year unlike any other and the American Prospect was early to recognize the importance of this story and the need to chronicle and understand it in real time. David Dayen, the magazine's executive editor, created Unsanitized, a daily report of news and analysis about the pandemic. He wrote it daily, six days a week, since early March, without a break.
Unsanitized explained the impact of the pandemic on our daily lives, from public health, economic, and social standpoints. Critical public policies, from climate and immigration to financial regulation and culture, not to mention one of the most important presidential elections in recent memory, were all wrapped up in it.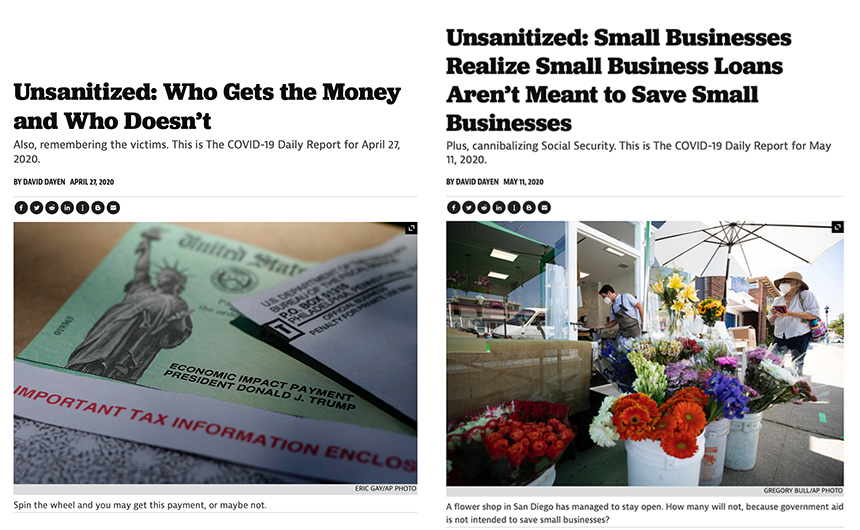 As the pandemic raged, it took the greatest toll in minority communities and among the poor. Inequality surged along class and racial lines and deepened the sense of an unfair and rigged system. Dayen looked at the policy choices taken—and not taken—that led to those outcomes. He turned the spotlight on the people struggling to keep their jobs, find other sources of income, maintain their housing, collect unemployment, and just plain survive during this terrible time.
Unsanitized was both a "first draft of history" and a retelling of the pandemic, for use both now and for future generations confronted with crisis. It filled critical gaps in understanding on a variety of different levels. It was informed by Dayen's deep immersion in real world economics, Congressional procedure and policy, and the kinds of off-the-radar topics that intersected with the crisis, like supply chains and financial regulation.
Dayen's posts had real-time impact. One with particular impact was his investigative story on how banks were granted the ability to take CARES Act direct payments and use them to offset their intended recipients' existing debts. He discovered that USAA Bank had used this provision to take the emergency payments of their customers, and USAA reversed the policy after Dayen's story appeared.  U.S. Bank and Radius Bank were also pocketing these payments, and after his reporting they also stopped the practice.
Dayen ended Unsanitized on Inauguration Day and began First 100 to document in the same meticulous way the first 100 days of the Biden presidency. Maybe after that he will take a break.
David Dayen is the executive editor of The American Prospect magazine. He is the author of Chain of Title: How Three Ordinary Americans Uncovered Wall Street's Great Foreclosure Fraud (2016), winner of the Studs and Ida Terkel Prize, and Monopolized: Life in the Age of Corporate Power (2020), released July 2020. His work has also appeared in The Nation, The Intercept, The New Republic, Vice, HuffPost, the Washington Post, the Los Angeles Times, and more. He has been a guest on MSNBC, CNN, Bloomberg, CNBC, NPR, and Pacifica Radio. He lives in Los Angeles.