2019 Hillman Prize for Magazine Journalism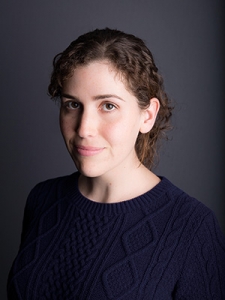 Hannah Dreier
ProPublica, New York magazine, Newsday, This American Life, New York Times Magazine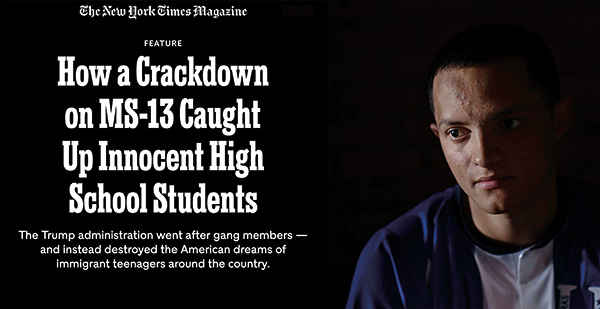 The Central American gang MS-13 accounts for 1 percent of U.S. gang murders. But when Donald Trump became president, he seized on the gang's violence on Long Island to promote tougher immigration policies.
Over the course of a year and a half of difficult and often dangerous reporting, Hannah Dreier reported a series of stories depicting the plight of an entire subculture of Latino teenagers trapped between MS-13 and the government. She showed how the government's bungled crackdown on MS-13 has torn apart the lives of Latino immigrants — deporting innocent teenagers, betraying informants, and failing to prevent further violence.
Dreier's first story featured Henry, a teenage MS-13 member who secretly helped the FBI and Long Island police arrest fellow gang members because he wanted to escape the gang. Dreier worked for months to gain Henry's trust, and he agreed to let her copy years of text exchanges with gang leaders and his FBI handler. Henry believed authorities would help him start a new life, but instead they revealed his identity and handed him over to ICE, which marked him for deportation.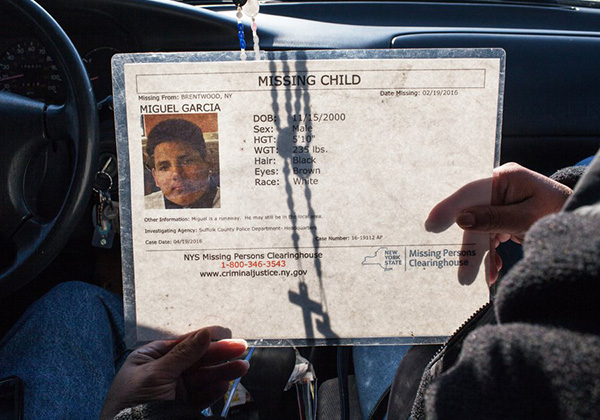 Dreier's next story was an hour-long "This American Life" episode and an 8,000-word text story. It poignantly portrayed Carlota Moran's search for her missing son, Miguel. Suffolk County police dismissed Moran's concerns until Miguel's machete-hacked body was found in a wooded area known as MS-13's "killing fields." Dreier was able to identify Miguel's killer, illuminating how police minimized violence against immigrants and missed opportunities to prevent more MS-13 murders.
Next, Dreier introduced readers to Alex, an asylum-seeker who was suspended and deported for a classroom doodle that was mistaken for a gang symbol, showing how school-based police officers are circumventing student privacy laws and helping ICE detain immigrants on shaky evidence. And in "The Hunted," in an innovative chapter-book approach, Dreier recounted how a group of high school friends were attacked by MS-13 and then victimized by police and ICE.
Together, Dreier's stories showed how even as Trump's speeches stoked public fear of MS-13, the crackdown did little to dismantle the gang, instead making casualties of immigrants who had fled violent homelands.
The pattern of pervasive law enforcement bias and negligence that Dreier exposed was a revelation even to local advocates and officials. The series sparked a flurry of reforms and investigations at the federal and county level. The Department of Homeland Security opened a civil rights investigation into Henry's case. Long Island students, alumni, and staff organized to pressure their schools to better protect students. Under pressure from legislators, Long Island police began investigating the mishandling of MS-13 murders, as well as the detectives who brushed off Carlota Moran. And the Suffolk County police took several steps: they began discussions on how to improve treatment of immigrant crime victims, hired a civilian liaison to work with Latino residents and launched a campaign to recruit more Spanish-speaking employees.
Dreier's persistence, persuasiveness, and courage amplified the experiences of Latino families who are seldom heard from in the debate about border security and MS-13. As Trump's strategy stoked fear and anger, Dreier's stories generated empathy. One reader wrote, "For the first time, I feel compassion for an illegal alien."
Hannah Dreier is an investigative reporter covering immigration for ProPublica. In 2018, she wrote about a botched government crackdown on the gang MS-13 on Long Island. Previously, she served as the AP's Venezuela correspondent for three years. Her reporting has led to the passage of new laws and the implementation of international sanctions. She lives in Brooklyn.