2019 Hillman Prize for Broadcast Journalism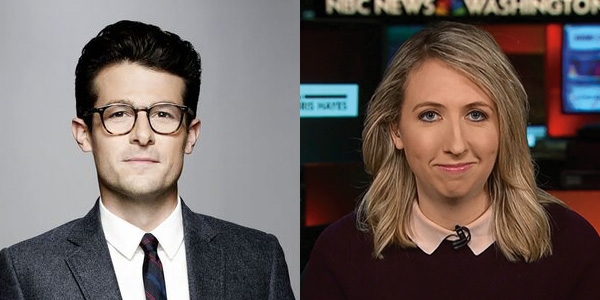 Jacob Soboroff and Julia Ainsley (and team)
NBC News and MSNBC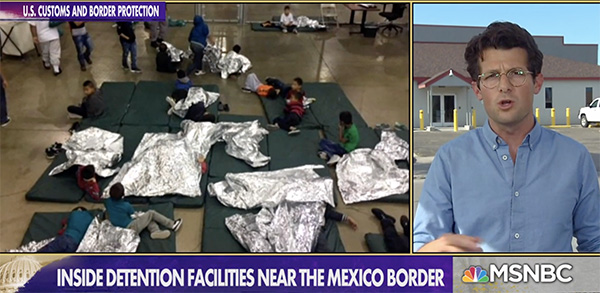 It had been going on for weeks – the Trump Administration's policy of "zero tolerance" for anyone crossing the southern border illegally. Then-Attorney General Jeff Sessions announced the policy in April 2018 and enacted it at the beginning of May. "If you cross the border unlawfully, then we will prosecute you," Sessions said, "It's that simple."
For weeks afterward, the prosecutions – and the separations of migrant families – remained under the radar as thousands of families who crossed the border illegally were torn apart, with the children placed in detention facilities, out of sight and out of mind of most Americans. The American public did not know how many children were separated from their parents. They did not know where the children were taken. And they didn't know the conditions of the facilities where they were being held.
Soboroff and Ainsley, along with several other correspndents and large NBC News and MSNBC teams, helped bring national awareness to the Trump Administration's policy and, ultimately, its reversal.
With Ainsley working from Washington and Soboroff reporting from the border, they were first to report that the policy had been under consideration since the beginning of the Trump administration; that separated children were being held in facilities unfit for long-term care; that the administration was eyeing tent cities to hold children; that the administration did not have a plan for reunifying separated families; and that parents were being coerced into signing away their asylum rights in order to reclaim their children.
Soboroff reported from "Casa Padre," a former Wal-Mart housing 1,400 kids in Brownsville, TX, one of a hundred facilities across 17 states. This one housed boys age 10–17 and spurred the question "where were the younger ones?" And he reported from "Ursula," in McAllen, TX, where 1,100 separated children were detained behind chain link fences.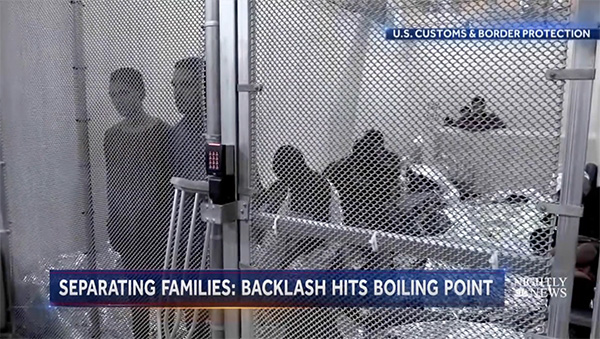 NBC's candid and unrestrained reporting played a leading role in exposing the administration's dubious claims about the policy and provided unprecedented first-hand observation and interviews with asylum-seekers at the epicenter of the crisis. Along with correspondents Gadi Schwartz, Gabe Gutierrez, Mariana Atencio and Lester Holt, they used words, images and sounds from both sides of the border to paint a powerful picture of the traumatic impact on these kids and families. As a result, the policy and the practices came to quickly dominate the national conversation, spark broad outrage, and recast a "simple" border protection measure, as Sessions had put it, as "government-sanctioned child abuse," according to the president of the American Academy of Pediatrics.
Soboroff said in one of his reports: "There's a big mess going on right now … The system is just getting stressed out because the Trump Administration decided to put this into place and the consequences really haven't been worked out." He added, "When you hear the Trump Administration say, 'This has been done before; this is a Democrat policy; this is not unusual' – that's BS, frankly."
On June 20, President Trump reversed the policy citing the coverage of children being kept in poor conditions as a reason. That coverage was brought to him and to the world by journalists.
The choice the Trump administration made to forcibly take children away from their parents was unprecedented and created a moral and logistical crisis that is still ongoing and will not be forgotten.
Jacob Soboroff is an MSNBC correspondent and anchor. He reports across NBC News and MSNBC platforms. Soboroff was part of the network's group of "Road Warriors" covering the 2016 election and was a floor correspondent every day of both the 2016 Republican and Democratic conventions. 
Before joining MSNBC in 2015, Soboroff hosted Vanity Fair's coverage of their 2015 Oscar Party, which he executive produced with Embassy Row Productions. In 2014, Jacob hosted YouTube Nation, YouTube's daily show produced by DreamWorks Animation, and co-hosted TakePart Live, Participant Media's nightly news and talk show, which he also produced.
In 2013 Jacob became a founding host and producer of HuffPost Live, the streaming network of The Huffington Post. Before that he hosted a variety of projects for networks including MTV, AMC, NBC, CNN, PBS and NPR. 
Jacob has been a longtime advocate of protecting the right to vote through the Why Tuesday? organization, and gave a widely-shared TED Talk about election reform. He also serves on the associates board of the education-focused nonprofit City Year Los Angeles and is a service ambassador for Points of Light.
Julia Edwards Ainsley is an NBC News investigative reporter based in Washington, D.C. covering the Justice Department and the Department of Homeland Security. She appears across all NBC News and MSNBC programs and her exclusive reporting is featured regularly on-air and on NBCNews.com.
She is a leading reporter on issues relating to DHS and border security and has broken several stories on these topics, including the first reports on the Trump administration's travel ban and family separation policy. In addition, she was the first to break that the White House was grossly inflating the number of terrorists caught at the southern border; the administration was considering using military personnel and funding on border security; and separated migrant parents were being forced to drop their asylum cases in order to reunite with their children, among others.
Ainsley has also investigated foreign lobbying, influence and espionage, including Russia's meddling in the 2016 presidential election. Ainsley joined NBC News from Reuters where she covered criminal justice, immigration and federal law enforcement as well as spending a year as a White House Correspondent. Prior to Reuters, she covered Congress for National Journal.
Additional Contributors
 

Gabe Gutierrez, Correspondent 
Gadi Schwartz, Correspondent 
Kristen Welker, Correspondent 
Kelly O'Donnell, Correspondent 
Mariana Atencio, Correspondent 
Hallie Jackson, Chief White House Correspondent 
Lester Holt, Anchor, NBC Nightly News 
Kate Snow, Anchor, NBC Nightly News Sunday 
Richard Engel, Chief Foreign Correspondent 
Kerry Sanders, Correspondent 
Kasey Hunt, Correspondent 
Chris Hayes, Anchor
Jennifer B. Suozzo, Executive Producer
Sam Singal, Executive Producer 
Daniel Arnall, Executive Producer 
Stephen G. Lucas, Director 
Aarne Heikkila, Coordinating Producer 
Kori Lynch, Producer 
Kristen Powers, Producer 
Andy Gross, Producer 
Carmen Gonzalez, Producer 
Janelle Richards, Producer 
Alicia Jennings, Producer 
Doug Adams, Producer 
Alexa Keyes, Producer 
Eric Salzman, Producer 
Talesha Reynolds, Producer 
Yuka Tachibana, Producer 
Joel Seideman, Senior Producer 
Meghan Rafferty, Senior Producer 
Danielle Dellorto, Senior Producer 
Eric Marrapodi, Senior Producer 
Chris Strathmann, Senior Producer 
Robert Dembo, Managing Editor, Investigations 
Richard Greenberg, Executive Editor 
Kim Cornett, Senior Anchor Producer
Erika Angulo, Coordinating Producer
Leah Smith, Producer
Cal Perry, Correspondent

Sossy Dombourian, Producer
Mark Schone, Senior Editor, Investigations
Hannah Rappleye, Reporter
Janelle Rodriguez, SVP Editorial, NBC News and MSNBC 
Betsy Korona, Senior Director of News, MSNBC 
Rob Rivas, Coordinating Producer 
James Kraft, Senior Executive Producer 
Mitch Koss, Producer 
Peter Shaw, Producer 
Stephanie Cargill, Producer 
Stefanie Ruhle, Anchor 
Dennis Horgan, Executive Producer, "All In with Chris Hayes" 
Luciana Lopez, Producer 
Lawrence O'Donnell, Anchor 
Greg Kordick, Executive Producer, "The Last Word with Lawrence O'Donnell" 
Christina Arvanites, Producer 
John Nichols, Senior Producer, "The Last Word with Lawrence O'Donnell" 
Melissa Ryerson, Senior Producer "The Last Word with Lawrence O'Donnell" 
Yvette Miley, SVP, MSNBC 
Ben Mayer, Executive Producer, "Kasie DC" 
Matt Frucci, Senior Executive Producer 
Christopher E. Nelson, Coordinating Producer 
Joy Reid, Anchor 
James Holm, Executive Producer, "AM Joy" 
David Verdi, SVP, NBC Worldwide News 
Naomi Karam, Vice President, Domestic News 
Gina Gentilesco, Newsgathering Director 
Polly Powell, Vice President, Western Region 
Rosanna Arlia, Senior Assignment Manager 
Kip Whitlock, Regional Director, Southern Region 
Geoff Tofield, Deputy Director, Southwest Bureau 
Annie Rose Ramos, Producer 
Bianca Seward, Producer 
Mary Murray, Regional Director, Latin America and the Caribbean
John Boxley, Producer
Lisa Riordan Seville, Reporter Investigations
Jackeline Pou, Producer
Christine Romo, Senior Enterprise Producer
Sumiko Moots, Producer