2018 Hillman Prize for Web Journalism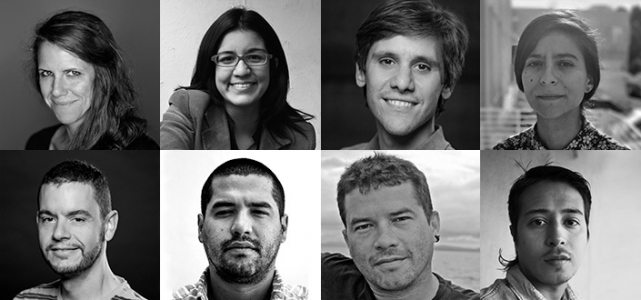 Almudena Toral, Maye Primera, Mauricio Rodriguez, Andrea Patiño, Juanje Gomez, Oscar Martinez, Carlos Martinez, Fred Ramos
Univision News/El Faro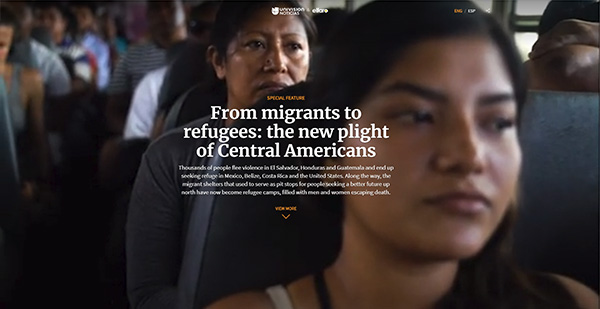 With gang violence intensifying in Central America over the last few years, thousands of people are fleeing El Salvador, Honduras, and Guatemala, seeking refuge in Mexico, Belize, Costa Rica, and the United States. The migrant shelters that were once pit stops for people pursuing a better future have now become refugee camps, filled with people often narrowly escaping death and experiencing profound trauma. In contrast to the plight of refugees in other areas of the world, very little has been told here about the struggles, fear, stress, and desperation that are experienced by refugees from Central America.
For more than a year, Univision News and El Faro, a digital news outlet in El Salvador, extensively covered this underreported crisis. The teams produced long-form narrative texts, audio books, photo galleries, video, and graphics. The scale of the project is truly impressive, with the audio books of the text alone totaling three hours. In rich, nuanced detail, the journalists show the complexities of these migrants' stories.
Their project is divided into four chapters: the first on Mexico, the receptor of the largest number of incoming asylum seekers from Central America, a number that has exploded since 2015; a chapter on Belize, where there's an increasing influx of asylum seekers even though the country has not granted refuge to anyone since the 1980s, leaving people languishing for years, unable to work; a chapter on Costa Rica, the model country in the region dealing with this crisis, despite its shortfalls; and a chapter on El Salvador, one of the most violent points of origin that expels refugees north. Gangs control practically every inch of the country now, and yet the government does not officially acknowledge that violence has caused the forcible displacement of thousands of its citizens.
The reporting shows that even after refugees endured near death escapes and harrowing journeys north, they found systems not prepared to handle their arrival, unemployment due to lack of citizenship, rejection of their asylum applications, and deportation. Some achieved asylum status in their destination country, only to encounter more fear and death threats.
These journalists reported this project at great risk, covering stories in the dangerous situations refugees face every day. Two reporters were targeted and almost kidnapped in Mexico and had to flee the country. Cross-country safety check systems had to be established, and they had to pay particular attention to protecting their sources in danger of imminent torture or death.
This project has served the refugee community so far in ways big and small. By exposing government shortfalls and negligence on the issue, other community and non-governmental actors have been able to increase pressure for change. Yet, despite the exposure, serious measures are yet to be seen. This reporting explodes the narrative of the U.S alone bearing the burden.
Almudena Toral is a visual journalist and filmmaker currently based in Miami. She heads the feature video team at Univision News Digital. The team covers the U.S. and Latin America through documentaries, photography, film, virtual reality, illustration and motion graphics. Her work has also been published by The New York Times, TIME, The Guardian, AlJazeera, VICE, Huffington Post, Marie Claire, Canal+ and other outlets. Prior to joining Univision, Toral taught video storytelling at CUNY Graduate School of Journalism, pursued her own projects worldwide as a freelance journalist and worked at The New York Times and TIME. Toral's work has been recognized by the Emmy Awards, Pictures of the Year International, RFK Human rights journalism awards, PDN Photo Annual, National Press Photographers Association, the Webbys, Ortega & Gasset awards, Overseas Press Club, National Headliner, Deadline Press & New York Press Clubs. She is a member of Fotovisura/GUILD.
Andrea Patiño Contreras is a video journalist from Bogotá, Colombia. She is based in Miami where she works with the features video team at Univision Digital News. She produces, shoots and edits short documentaries, both individually and as part of large team projects. Most of her work focuses on issues of immigration and the Latino community in the United States. Patiño has worked as an anthropologist and journalist across different regions, including the West Bank and West Africa. In 2015, she reported on the Mediterranean refugee crisis from Southern Italy. Since joining Univision, she has worked in the United States and Latin America where she has reported on immigration and gender violence from Colombia, Mexico, Costa Rica, Belize and the U.S.-Mexico border. She holds a B.A. in Cultural Anthropology from Duke University and an M.A. in Media and Journalism from UNC-Chapel Hill.
Mauricio Rodriguez Pons is a visual communicator and motiongrapher with more than 15 years of experience in the audiovisual world. He is passionate about telling stories and constantly learning about the immense possibilities offered by visual language. Venezuelan by birth, he has moved to southern Florida to tell more stories on the digital platform Univision News. In his spare time, he plays football and tries to understand the world of finance.
Juan Jesús Gómez Hinestrosa is a Spanish web designer and developer currently working in Miami. He has been working in the field for more than 20 years and for media outlets for 17 years. He worked for the two major newspapers in Spain, El Mundo and El País, and was part of the founding team of the internationally acclaimed Soitu.es. His profile is especially unique and highly sought after in the industry as it combines artistic and technical skills. This days you can find him in Miami, working at Univision Noticias Digital producing special projects.
Maye Primera, journalist, graduated from the Central University of Venezuela. She was editor-in-chief of the Venezuelan newspaper TalCual and worked as a correspondent in Venezuela and the Caribbean for the Spanish newspaper El País. She is the author of the books La República Alucinada: Conversations about Venezuelan Independence (Editorial Alfa, 2011); Faces and Voices Against Impunity (Cofavic, 2010); and the biography of Venezuelan politician Diógenes Escalante (Biblioteca Biográfica Venezolana, 2007). She is the co-author of anthologies of journalistic chronicles Better Than Fiction (Anagrama, 2012) and It is spoken Venezuelan (Puntocero, 2010). She currently resides in Miami and works as an editor for Univision Noticias Digital in Latin America.
Óscar Martínez is the co-founder, coordinator, and reporter for "Sala Negra" (Black Room), the investigative unit that covers gang violence for Central America's first online-only newsmagazine El Faro. After working as a freelance reporter in Mexico, Martínez joined El Faro in 2008 to help carry out an in-depth investigation of Central American migration across Mexico. For two and a half years, he followed migrants as they traveled north and documented the abuses they suffered, including mass kidnappings, rape, human trafficking, and massacres. The reporting project, first featured on El Faro's website under the name El Camino (The Road), was eventually published as a book in 2013 under the title The Beast, the nickname for a network of freight trains that crosses Mexico.
Carlos Martinez is a journalist with a Masters in Political Science with 15 years of various publications in international media. He received the 2011 Ortega y Gasset Prize. He appeared in the Anthology of current Latin American chronicle (Alfaguara, 2012) and Black Chronicles: from a region that does not count.
Fred Ramos, born in 1986, lives and works in El Salvador. He studied graphic design but began practicing photography in 2005. Currently, Fred is a staff photographer for El Faro.