2010 Hillman Prize for Newspaper Journalism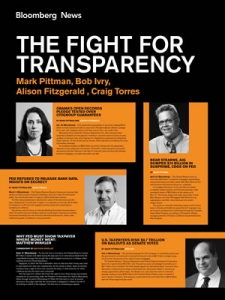 Mark Pittman, Bob Ivry, Alison Fitzgerald & Craig Torres
The Fight for Transparency
Bloomberg News
Mark Pittman, a Bloomberg News reporter, is responsible for coverage of corporate finance and derivative markets. Pittman, a University of Kansas graduate, has been with Bloomberg news since 1997, covering finance, private equity, mergers and acquisitions, energy markets, politics and economics. Pittman's awards include 2008 Gerald Loeb and New York Press Club awards as well as six New York State Associated Press awards on subjects ranging from an investigation into the deaths of nine children in an elementary school building collapse to coverage of the 25th anniversary of the Woodstock Festival. Pittman started his career in Kansas as a reporter and later the city editor of The Coffeyville Journal. He spent two years as a police reporter for the Rochester, N.Y. Democrat and Chronicle and 12 years as a reporter, bureau chief and metro editor of the Times Herald-Record in Middletown, New York. Pittman and his wife, Laura, have three daughters and live in Yonkers, New York. He died on November 25, 2009 at the age of 52.
Bob Ivry is a projects reporter for Bloomberg News, where he began in 2006 covering real estate. He won the Gerald Loeb Award from the UCLA Anderson School of Management in 2007 for "Wall Street's Faustian Bargain," a series of articles on the breakdown of the U.S.
mortgage industry. He also won New York Press Club Awards for that series and another in 2008 for articles detailing the lack of transparency at the Federal Reserve. He has written for Esquire,Washington Post Book World, Popular Science, Maxim, Spin, Details and Self. His short fiction has appeared in Esquire and Ploughshares. Before joining Bloomberg, Ivry worked for the San Francisco Bay Guardian, San Francisco Examiner and The Record of Hackensack, New Jersey, where he won awards for criticism and news feature reporting from the New Jersey Press Association, the Society of Professional Journalists and the Garden State Association of Black Journalists. He lives in New Jersey with his wife, Janelle, and their three children.
Alison Fitzgerald, an investigative reporter at Bloomberg News, writes about the convergence of government and economics in Washington DC. Fitzgerald, a graduate of Georgetown University and Northwestern University's Medill School of Journalism, has
been with Bloomberg news since 2000, covering the U.S auto industry, the Federal Reserve, the U.S. Treasury, economics and tax policy. Her coverage of the international food price crisis in 2008 won her the Overseas Press Club's Malcolm Forbes Award, and her coverage of the financial crisis and ensuing government bailout earned her several honors including being named a finalist for a Gerald R. Loeb award. Fitzgerald started her career at the Philadelphia Inquirer as a reporter covering the New Jersey suburbs and criminal courts. She then moved to The Palm Beach Post where she wrote about coastal development, migrant workers and county government. She spent three years as a reporter and editor at the Associated Press, covering courts and government in Boston and working as editor on the international desk. Fitzgerald and her husband, Drew Kodjak, have three children and live in Takoma Park, Maryland.
Craig Torres has reported on the Federal Reserve, the U.S. financial system and the economy since he joined Bloomberg News in May 2002. Torres also worked for The Wall Street Journal for a decade in a variety of roles. He was a foreign correspondent for seven years, stationed in Mexico and Argentina. Torres was a Pulitzer Prize finalist with a Journal team for his coverage of the 1994 Mexican peso devaluation and economic crisis. He also wrote Heard on the Street and Abreast of the Market for the Journal in New York for three years. He has a Bachelor's Degree in English and American Literature from Harvard University, and was a Bagehot Fellow at Columbia University. Between Bloomberg and The Wall Street Journal, Torres worked on an Internet bank start-up owned by Banco Santander SA. Torres has three boys ages 12-8, and is married to Claudia Castillo de Torres, who teaches social studies and economics at the French International School in Bethesda, Maryland.