May 13, 2011
Winners & Sinners: from Mary Murphy to Mark Mazzetti




Pulitzer winner David Leonhardt, National Magazine Award winner Scott Horton, Filmmaker Mary Murphy, New York Times reporter Mark Mazzetti
Winner: Mary Murphy, for her superb documentary Hey, Boo: Harper Lee and To Kill a Mocking Bird, which opens today at the Quad Cinema in New York and soon in Los Angeles, New Orleans, Boston, Mobile, Long Beach, Palm Springs and Norfolk, Va.  
Murphy, a veteran journalist, fell in love with Scout as a child and has  fashioned a beautiful love letter to her creator and this great American novel.   Watch the trailer here   or listen to Murphy charm her interviewer on NPR here.  And then get yourself to the theatre as soon as possible, for a treat for the whole family.
Sinner: Mark Mazzetti, whose coverage of American torture will forever live in infamy.  His latest contribution to his torture canon, the day after Osama Bin Laden was assassinated, was a story (with Helene Cooper and Peter Baker) which credulously adopted the line of former Bush administration officials (as Mazzetti has done dozens of times before) who  were desperately trying to convince the world that torture was the main reason that Bin Laden had been located.   The offending paragraphs were these:
The raid was the culmination of years of painstaking intelligence work, including the interrogation of CIA detainees in secret prisons in Eastern Europe, where sometimes what was not said was as useful as what was…
It wasn't until after 2002, when the agency began rounding up Qaeda operatives  and subjecting them to hours of brutal interrogation sessions in secret overseas prisons  that they finally began filling in the gaps about the foot soldiers, couriers and money men Bin Laden relied on.
Prisoners in American custody told stories of a trusted courier. When the Americans ran the man's pseudonym past two top-level detainees  the chief planner of the Sept. 11 attacks, Khalid Shaikh Mohammed; and Al Qaeda's operational chief, Abu Faraj al-Libi  the men claimed never to have heard his name. That raised suspicions among interrogators that the two detainees were lying and that the courier probably was an important figure.
This prompted FCP to write the following e-mail to Mazzetti, Times executive editor Bill Keller, managing editor Jill Abramson, and Washington bureau chief Dean Baquet:
Everything I've read today–from Feinstein's press conference to Donald Rumsfeld in NewsMax [Rumsfeld reversed himself under neocon pressure the following day] to Jane Mayer to the round-up in Talking Points Memo–suggests that your strong implication on the front page of today's newspaper that torture played an essential role in developing the information that led to Osama's killing is flatly false… Judging from what everyone else has said today, once again, for the umpteenth time,  all you are doing is repeating the CIA line to protect the people who tortured their prisoners.
I trust  tomorrow's newspaper will either
1) retract the implication of those graphs
or
2) provide some substance to support them?
Keller acknowledged receipt of the e-mail but did not respond to it; Abramson and Mazzetti ignored it.  Baquet wrote, "Good to hear from you again. I'm not sure I read those paragraphs the way you did."
However, in the following day's paper, there was indeed a new story on the front page by Scott Shane and Charlie Savage which seemed to take back the implication of Mazzetti's story:
As intelligence officials disclosed the trail of evidence that led to the compound in Pakistan where Bin Laden was hiding, a chorus of Bush administration officials claimed vindication for their policy of "enhanced interrogation techniques" like waterboarding…But a closer look at prisoner interrogations suggests that the harsh techniques played a small role at most in identifying Bin Laden's trusted courier and exposing his hide-out.
Harper's contributing editor Scott Horton, whose writing about torture always features all of the skepticism and sophistication which Mazzetti's–and, frequently Shane's–so often lack–said this to FCP about the first day story in the Times: 
I'm quite sure that this is precisely the way the folks who provided this info from the agency wanted them to be understood, but there is certainly more than a measure of ambiguity in them, planted with care by the NYT writers or their editors.  This episode shows again how easily the Times can be spun by unnamed government sources, the factual premises of whose statements invariably escape any examination.
Winner: the very same Scott Horton, for winning a National Magazine Award for his blockbuster piece in Harper's which explored the possibility that what had been described as the suicide of three prisoners at Guantanamo may actually have been murders committed by their captors.  FCP first wrote about Horton's piece in January of last year.
Horton's reporting directly contradicted an earlier piece in The New York Times magazine and the Times has alternated between ignoring Horton's story and denigrating it.   Happily, the judges of the National Magazine Awards felt very differently about it.
Sinners: The Pulitzer Board for awarding Joseph Rago a Pulitzer for "for his well-crafted, against-the-grain editorials challenging the health care reform advocated by President Barack Obama."   As the Nation's Greg Mitchell pointed out,  the young Rago's arguments were not only utterly predictable but also frequently "fact-challenged."
Among the editorials for which Rago was honored was one in which he blasted PolitiFact for identifying the right's successful branding of Obama's "government takeover of health care" as its "lie of the year"–which of course, is exactly what it was.
Winner: David Leonhardt, whose Pulitzer Prize for his superb economic analysis in the New York Times was as deserved as Rago's honor was misguided.   For many years, Leonhardt has done a brilliant job of making the field of economics accessible to his lay readers.   And the fact that FCP has known Leonhardt since birth–and shared the same table at Passover for more than three decades–has absolutely nothing to do with this citation.
Winner: Barack Obama, for his splendid interview with Steve Croft for 60 Minutes in which he explained all of the risks in the operation and all of the very sensible reasons for burying the terrorist at sea–and not releasing any photographs of his corpse afterwards.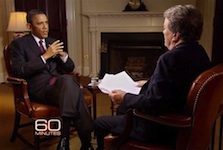 Obama on Osama with Steve Kroft
                                                                       -30-