2020 Canadian Hillman Prize winners
Change Intolerance (Parts 1 and 2)
Garth Mullins, Sam Fenn, Lisa Hale, Alexander B. Kim, Ryan McNeil, Laura Shaver, Chereece Keewatin
Crackdown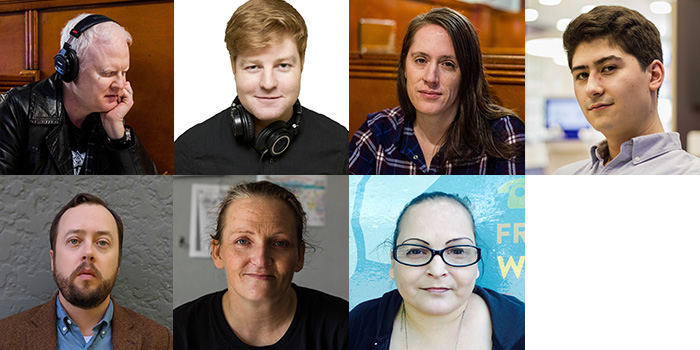 "For us it's a war. And it needs to be covered like a war — by war correspondents. That's us."
Crackdown is a documentary podcast about the drug war — covered by drug users themselves. It is an example of a new kind of collaborative journalism that brings together community members, activists, academics, and journalists to investigate a life-and-death issue in their own community.
About 14,000 people have died of drug overdose in the last four years in Canada. The vast majority were killed by fentanyl, and the scale of this crisis is unprecedented.
Many drug users have found success on Methadone, a medication that for decades has helped people get off heroin and reclaim active and meaningful lives.
Crackdown — in two episodes titled Change Intolerance 1 and 2 — investigated a vitally important but largely ignored event in recent Canadian history that has become known as "the switch."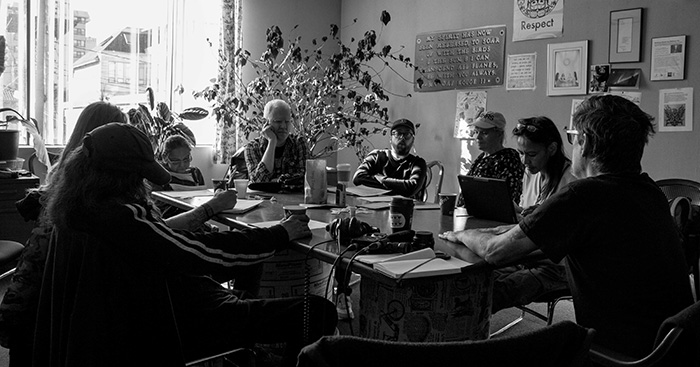 In 2014, the province of British Columbia quietly moved nearly 15,000 methadone patients off so-called "compound methadone" and onto a new, pre-concentrated formulation called Methadose.
Methadose was produced by the American company Mallinckrodt Pharmaceuticals and it provided the province with a minor cost savings.
But to nearly all of the 15,000 patients registered in B.C.'s methadone maintenance treatment program, "the switch" came as a complete surprise.
Patients simply arrived at the pharmacy one day to find their regular mixture had been replaced with something that resembled cherry cough syrup. But soon after, people started to wake up suffering intense withdrawal.  
Activists, doctors and researchers raised the alarm, but, again and again, the B.C. Ministry of Health and the drug company dismissed patients' accounts.
In desperation, patients turned back to heroin, on the black market, to stave off the excruciating symptoms of opiate withdrawal. For many, this was a return to a life they had left behind years ago. And it came right on the eve of the unprecedented fentanyl crisis that took over the drug supply.  
Change Intolerance tells this unknown backstory and makes clear that the crisis was not caused merely by the arrival of new, more potent chemicals but by the loss of access to live-saving medication.
Since Change Intolerance aired in February 2019, "the switch" finally received coverage in the broader news media. The Globe and Mail profiled "the switch" and its fallout, CANADALAND featured a conversation about the reporting and the documentary was featured on the CBC radio program Podcast Playlist.
In November 2019, British Columbia's Health Minister Judy Darcy became the first official to acknowledge publicly the disastrous effects of "the switch." Although the community is still fighting to get a choice over what formulation it receives, it has regained limited access to Metadol-D.
The triumph of this program by the Crackdown team extended beyond the positive impact it had on thousands of individual lives. With compelling authenticity, the team also succeeded in telling the dramatic story of "the switch" as part of a larger narrative about the struggle for health, dignity, and justice in the face of government neglect.
Watch the Video
To watch more, click for full-length remarks
Garth Mullins is a drug user activist and award-winning radio documentarian. He is host and executive producer of Crackdown where drug users cover the drug war as war correspondents. This is Garth's second overdose crisis. He used injection heroin for over a decade and is now on methadone. He is a member of the Vancouver Area Network of Drug Users and is also a trade union organizer and musician.
Sam Fenn is a documentarian, journalist and musician from Vancouver, Canada. He is the Senior Producer and Project Manager of Crackdown, the host and executive producer of Cited (a documentary radio show about knowledge and power), and the director of Cited Media Productions. Sam's work has aired on 99% Invisible, Life of the Law, The Doc Project, and Podcast Playlist and has won awards from the Third Coast/Richard H. Driehaus Foundation, the Jack Webster Foundation, the New York Festivals Radio Awards, and the National Campus and Community Radio Association.
Lisa Hale is a freelance reporter and producer based in Musqueam, Squamish and Tsleil Waututh territories (Vancouver, BC). Her work has aired on CBC's Dispatches and Ideas. She has been a producer on several documentaries for Retro Report and the New York Times. Her written work has appeared in Nedelo and the Tyee. She takes naloxone and a microphone with her wherever she goes.
Alexander B. Kim is a documentary radio producer, photographer, and journalist based in Vancouver. He is a producer of the podcasts Cited and Crackdown. He has reported on Afghan asylum seekers in Turkey, the overdose crisis in Vancouver, and food security in the Canadian Arctic.
Ryan McNeil is an Assistant Professor and Director of Harm Reduction Research in the Program in Addiction Medicine in the Yale School of Medicine and scientific advisor of Crackdown. He was formerly an Assistant Professor in the Department of Medicine at the University of British Columbia. Through his qualitative and ethnographic research, he seeks to identify social, structural, and environmental influences on risk, harm, and health care access among people who use drugs.
Laura Shaver is a member of the Crackdown editorial board. She's been on methadone for nearly 20 years. She is a drug user activist and organizer and has served in leadership positions with the British Columbia Association of People on Methadone and the Vancouver Area Network of Drug Users. Laura is the Peer Navigator Coordinator at the BC Centre on Substance Use and has won several awards for her work in Vancouver's Downtown Eastside community, where she lives.
Chereece Keewatin was a member of the Crackdown editorial board. She was a drug user activist and organizer with the Vancouver Area Network of Drug Users. Chereece passed away February 20, 2019, one week before Crackdown broadcast its second episode. She was a member of the Cree Nation. At the time of her death, Chereece was president of the British Columbia Association of People on Methadone.
Honourable Mention
Les Accents
Andréanne Baribeau, Joanne Belluco, Étienne Fortin-Gauthier, Aime Majeau Beauchamp, Gisèle Quenneville
ONFR+/TFO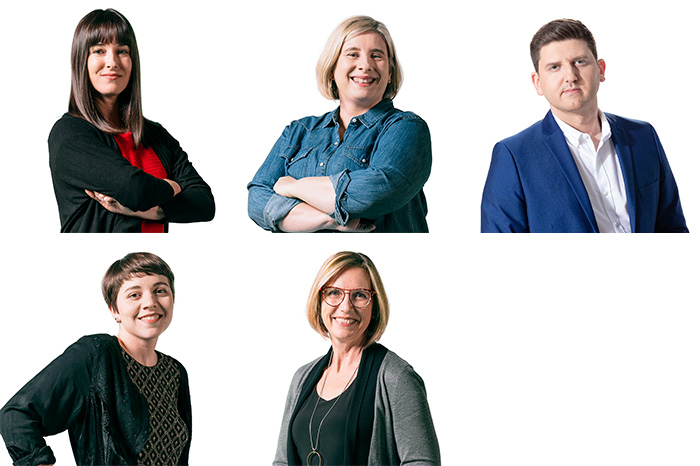 ONFR+, the online current affairs unit of TFO, the French-language public broadcaster in Ontario, covers francophone affairs throughout the province and produces short video documentaries on issues that impact the Franco-Ontarian community.
The ONFR+ team decided to find out how different French accents are perceived in Ontario, and what kind of impact one's accent might have on one's choices and opportunities. ONFR+ produced an impactful 5-part web series that revealed some of the disturbing ways in which Franco-Ontarians and other French speakers are undermined, undervalued, and put in a state of linguistic insecurity.  As a result, they run the risk of being assimilated, with dire implications for the vitality of the francophone population, its institutions and its history.
Indeed, an accent can signal a lot about a person, such as where they're from or their level of education or income. But the team found that, for Franco-Ontarians, the manner in which a person speaks French can have a particularly profound impact. It can dictate where one goes to school or whether or not one can get a job. 
In one episode, we meet a young Franco-Ontarian student, Mélanie Moir, who moved from Windsor to study in French at the University of Ottawa. Once there, she discovered that her way of speaking wasn't considered "good enough" for an academic setting, and that other students in her class didn't want to work with her because of her accent. Some even questioned her fluency, even though French is her mother tongue. After much reflection, Mélanie moved back to Windsor to pursue her studies at the University of Windsor, in English. And her experience is not unique.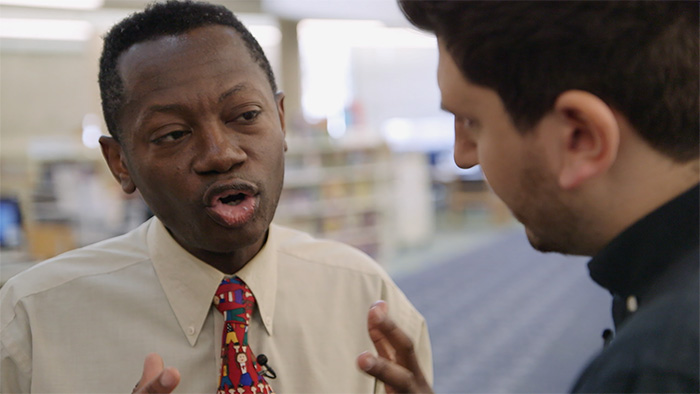 Another investigation uncovered blatantly discriminatory hiring practices that disadvantage Franco-Ontarians and other French speakers in the province. The team discovered that many recruiting companies in Ontario require that candidates, often for francophone call-centre jobs, be able to speak with a 'Quebec French' accent. They found former employees who admitted to being asked by their employers to 'imitate the Quebec accent,' and they spoke to dejected potential candidates who were excluded from applying because of the accent stipulation, many of whom were entry-level job seekers. In a diverse province like Ontario, the team showed how this policy ends up barring French-speaking candidates not only from Sudbury, Timmins, Hearst, or Orléans, but new Canadians from Africa and Haiti. Once exposed, several companies changed their hiring practices as a result of this report.
The series also sparked a wider conversation on social media about accents, discrimination, racism and human rights. And it ended on a positive note. ONFR+ highlighted mentorship programs designed to encourage and support Franco-Ontarians in their post-secondary studies, explored the up-side of the unique Franco-Ontarian culture and language with folk singer Damien Robitaille, and presented solutions from a wide variety of academic and community experts intended to empower Franco-Ontarians and give them concrete tools to protect and strengthen their linguistic and cultural heritage.
Watch the Video
To watch more, click for full-length remarks
Andréanne Baribeau is a journalist and documentary producer at TFO in Toronto with a passion for creative storytelling and solutions journalism, working behind and in front of the camera to bring deep-rooted issues to light. She also worked as a reporter for Radio-Canada in Windsor and as a radio producer and show host in Kigali, Rwanda. When she's not busy crafting new series ideas or video concepts, you can find her camping, hiking or travelling.
Joanne Belluco is a documentary filmmaker. Born and raised in France, she grew up watching Canadian films. She started her career in the film industry in Paris and has been involved in the distribution of major international award-winning feature films with Studiocanal. The heart of her work over the past fifteen years has been showcasing international artists. Her documentaries have been broadcast worldwide. She believes culture is our identity because culture constantly enriches us, questions us and is a necessity in a minority environment. She moved to Toronto in 2014 and considers herself a Canadian filmmaker.
Étienne Fortin-Gauthier reports on important social and linguistic issues at TFO. Étienne is an accomplished newsgatherer who puts the public interest first. With his in-depth stories, he aims to build bridges between people and tries to spark conversations. In the past decade, he has covered stories in Canada but also abroad in Vietnam, Kosovo and Senegal. Before joining TFO, Étienne worked for The Canadian Press and La Voix de l'Est. 
Aime Majeau Beauchamp is currently in charge of podcasts at ONFR+. Prior to this, they worked at ONFR+ as an associate producer on a variety of topics related to social issues, identity, diversity, and culture. With an interest in multimedia storytelling, Aime has been doing live journalism events for the last year as videographer and stage director for the start-up Talk Media, and for the collective Stitched!. A graduate of Political Theory and Feminism at the Université du Québec à Montréal, Aime shares a lifelong passion for theatre and community engagement. 
Gisèle Quenneville is the senior producer of ONFR+. She began at TFO as host of the daily current affairs show, Panorama. She then hosted and produced the weekly information magazine, 360. In 2014, she travelled throughout Canada interviewing francophone personalities from coast to coast, for Carte de visite. And in 2018, she created ONFR+, a multiplatform information hub for francophones throughout Ontario and beyond.