2014 Canadian Hillman Prize winners
Karen Kleiss and Darcy Henton
Fatal Care
Edmonton Journal/Calgary Herald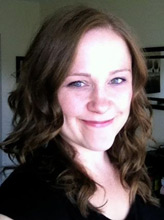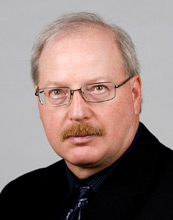 Karen Kleiss has covered crime and courts for the Edmonton Journal and currently works as the newspaper's political reporter. She has investigated dirty restaurants, domestic violence in Aboriginal communities and the abuse of Alberta's taxpayer-funded air service; she has also traveled to Africa to tell the story of a local woman who gambled everything she had in a failed bid to establish a primary school in one of the poorest countries in the world.
Darcy Henton is a veteran Edmonton-based political affairs writer who covers the Alberta Legislature for the Calgary Herald. He is the co-author of two non-fiction crime books: No Kill, No Thrill, about a Mountie who helped convict California serial killer Charles Ng; and Boys Don't Cry, about one of Canada's largest sex abuse scandals involving Christian Brothers and the Catholic Church. He has reported for various Canadian news agencies, including the Toronto Star, Edmonton Journal, Edmonton Sun and The Canadian Press. For various assignments during his 35-year career, he has worked as a prison guard, forest firefighter and taxi driver, trained as a soldier and been locked up as a patient in a maximum-security facility for the criminally insane. (He insists he is better now.) When he is not at his keyboard or spending time with his family, he is often thundering across the West on his Harley. 
---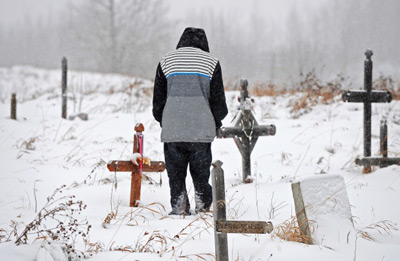 This project started in 2009 with a single question: How many children have died in provincial care? It was a question Alberta journalists had been asking for more than a decade, and one the province would never answer. Government reports did not match up with newspaper archives; the medical examiner's office refused to provide any numbers.
After an Access to Information request, a long negotiation, and an appeal, the four-year legal battle ended in victory in June 2013, when Alberta's Office of the Information and Privacy Commissioner ruled the need for public scrutiny outweighed some privacy protections, and the adjudicator released all of the basic information sought.  In September 2013, the province released 3,000 pages of death records, one for every Alberta child who had died while in foster care between 1999 and 2013.
Kleiss painstakingly built a comprehensive database that documented for the first time the deaths of these children. Henton and Kleiss combed through the database, extracting key details, cross-referencing the death records with lawsuits, news stories and trial records, as well as fatality inquiry reports, which were also released after a fight with the government. The project revealed trends the government had never identified before, such as the fact that the vast majority of these children were aboriginal; that one in three who died in care were infants, and that one third of them were dying in their beds. They discovered that over the last 14 years, 145 children had died in provincial care—nearly triple the 56 deaths reported to the public or to our elected officials. At least one of those "hidden" children was murdered. Their research revealed a byzantine system accountable to no one, which fails to identify or investigate trends. It doesn't even follow through on its own recommendations to prevent similar deaths. 
The series forever changed Alberta's policy on death records, opening up the system, by law, to public scrutiny. Since the series was published, Alberta has changed its policy on death records and held a two-day roundtable on child welfare reform. The Human Services Minister has vowed to lift the province's publication ban with a legal amendment this spring. This well-documented series shone a spotlight on a very dark room where the most vulnerable in the province were left on their own. While the investigation is unfinished, Fatal Care kicked open a door that had been locked because too many people in power felt that it better served their interests to keep this information secret, with no regard to the interests of the victims.  The Hillman Prize celebrates journalism that challenges this view - and tries to give genuine voice to the voiceless.  These Alberta journalists have made sure that these children's short, difficult lives are acknowledged, that their suffering is not hidden from view, and that proper public scrutiny of the care they receive is now possible.
Honourable Mention
Gabrielle Duchaine and Caroline Touzin
Ces Routes qui Tuent (Roads That Kill)
La Presse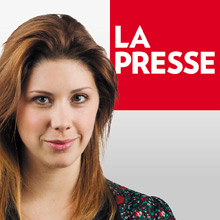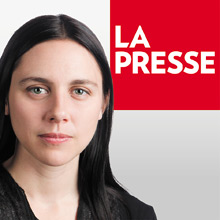 Gabrielle Duchaine
Having graduated with a bachelor's degree in Journalism from UQAM, Gabrielle Duchaine began her journalism career in 2006 at the Journal de Montréal before moving to RueFrontenac.com. She subsequently wrote for a number of magazines including l'Actualité, Québec Sciences, and Les Affaires. She joined La Presse in 2012 as a news reporter focusing on social issues. Gabrielle has won several awards including the Judith-Jasmin Award in the Investigative journalism category, the Arthur-Prévost bursary of the Fédération professionnelle des journalistes, which is awarded in recognition of the remarkable quality of work of a reporter at the start of his/her career, and a prize honouring the best coverage of a Breaking News story awarded by the National Newspaper Award.
Caroline Touzin
Having graduated with a bachelor's degree in Journalism from UQAM, Caroline Touzin has been a reporter for La Presse since 2004. In 2005, she received the Edward Goff Penny Memorial Prize, which is awarded to the best Young Journalist in Canada.
Additional Team Members
Sylvain Gilbert
Statisticien
Statistician
Rhys Halsey-Watkins
Intégrateur Web
Web Designer and Integrator
Thomas de Lorimier
Chef de division, production Web
Web Production Manager
---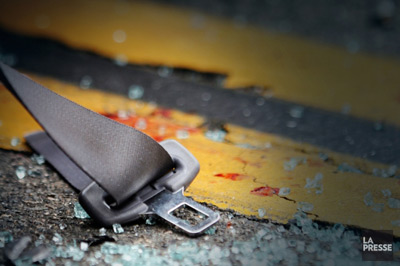 In a groundbreaking operation that not even the Ministry of Transport had ever conducted, the La Presse team set out to pinpoint the exact geographic location of thousands of serious accidents suffered on Quebec's roads and highways that every year claim 500 lives and account for thousands of serious injuries.
The team mapped out all of the 15,000 serious road accidents that occurred between 2006 and 2011 based on a massive database of police reports written up for every accident, obtained through the Access to Information Act.
What they found was striking: hundreds of "hot spots" that, until then, had managed to elude the public's radar. In many cases, the culprit was the road itself, often the result of poor design or poor maintenance.
The investigation revealed, for example, that three out of the four ramps of a highway interchange used by more than 230,000 motorists a day do not meet Quebec standards. This site posted the highest number of serious or fatal accidents in the six-year period.
They also discovered a 26-kilometre span of country highway that saw 13 fatalities and 36 serious injuries resulting from road accidents that locals go out of their way to avoid. Thanks to this report, Quebec finally agreed to modify the signage.
Whereas the government claimed photo radar devices were positioned on the basis of strict criteria including accident severity, the reporting found otherwise: few and in some cases no fatal or serious accidents had occurred at the sites chosen for placement of photo radar technology, and locations where a high incidence of serious accidents occurred remain, to this day, without a radar detector.
"Roads that Kill" is a powerful, original series. The team used freedom of information laws to gather raw data, studied it, charted it on maps, and brought in engineers, urban planners and a racecar driver to help explain why there were so many serious accidents on Quebec roads and highways.  La Presse committed many resources to look at a failure in our system that no one had ever thought about before.  It was original rather than reactive, had big impact and took the print medium to a whole new level with their extensive use of maps and graphics that made the information accessible to a wider range of people. Confronted with so much damning information, the government promised to take action.
Honourable Mention
J.J. Adams, Cassidy Olivier, Cheryl Chan, Elaine O'Connor, Susan Lazaruk, Sam Cooper, Jon Ferry, Erik Rolfsen, Rafe Arnott, Ben Ngai, Katie Mercer, Jason Payne, Arlen Redekop, and Carolyn Soltau
Racism in Paradise
The Province



The Province, Vancouver
The Racism in Paradise project was led by Deputy Editor Ros Guggi and edited by J.J. Adams on the print side, and Erik Rolfsen, who oversaw the ambitious multi-media work on the series. Many staffers at The Province were involved in the project, but the primary team included reporters Cheryl Chan, Sam Cooper, Elaine O'Connor and Cassidy Olivier, columnist Jon Ferry, videographer Rafe Arnott, designer Ben Ngai, photographers Arlen Redekop and Jason Payne and social media editor Katie Mercer.
---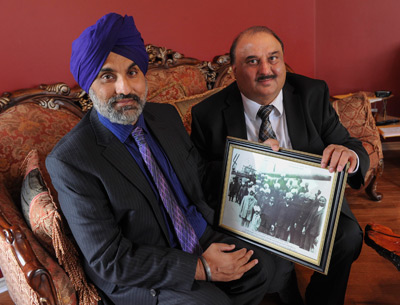 The Lower Mainland's population has changed dramatically. From 2001 to 2011 almost 300,000 new immigrants settled there, transforming the makeup of neighborhoods and entire cities. In Richmond and many Surrey neighborhoods, whites are now the visible minorities. Foreign-born immigrants make up 40 per cent of the population in Metro Vancouver.
Province editors had been noticing a growing undercurrent of racism, particularly in comments on their website. They saw a splintered and segregated community, with a growing number of ethnic enclaves and increasing tension about issues of language and values, and decided to tackle the issues head on.
Reporters, editors, photographers and web staffers worked on the series from June through October 2013. The 15 staffers involved represented almost a quarter of the Province's newsroom, so required a major commitment of time and resources.
Province reporters did ten segments and turned six days of coverage over to readers.  The 16-part series included ten essays from community members and more than 50 letters from readers in print. The project was organic and interactive, allowing readers to set some of the agenda and introduce new ideas and angles. The result was controversial, provocative, and truly engaged the community. It explored a topic that had been taboo. With immigration continuing to rise and the pervasive racism against First Nations people, these are issues Canadians need to deal with if we are to become a more cohesive and integrated community and country. The series tackled a tough topic with courage and sensitivity and kick-started a desperately needed community discussion. "Racism in Paradise" is public service journalism, shining a light on an issue that needed to be explored and provoking people to think and talk about the racism in our midst.