November 29, 2022
2023 Hillman Prize Call for Entries: On Now Through Jan 30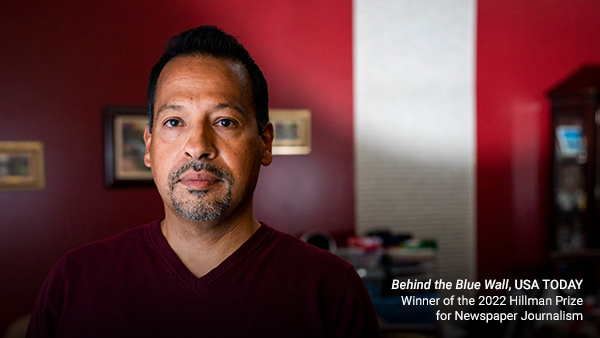 The Sidney Hillman Foundation is now accepting entries for the 2023 Hillman Prizes honoring excellence in investigative journalism and commentary in service of the common good.
The Hillman Prizes celebrate investigative reporting and deep storytelling that exposes social and economic injustice and leads to meaningful public policy change. 
The 2023 Hillman Prizes will be awarded in the following categories:
Book (nonfiction)
Newspaper Reporting (print/online)
Magazine Reporting (print/online)
Broadcast Journalism (story/series/documentary, with at least 20 minutes in total package length)
Web Journalism (story, series or multimedia project, which appeared online and may include text, photo, video, graphics); and
Opinion and Analysis Journalism (commentary and analysis in any medium)
Eligibility: 
Entries must have been published/broadcast in 2022 and have been made widely available to a U.S audience. Your material and a cover letter explaining how the entry meets the requirements can be submitted here. There is no fee to enter. 
Hillman Prize winners will be awarded a $5,000 honorarium and a certificate at an event to be held in person, in New York City, on May 9, 2023. 
Judges: 
The Hillman Prize judges are Jamelle Bouie, columnist, The New York Times; Maria Carrillo, former enterprise editor Tampa Bay Times/Houston Chronicle; Ta-Nehisi Coates, bestselling author and former national correspondent, The Atlantic; Alix Freedman, global editor, Ethics and Standards, Reuters; Harold Meyerson, editor at large, The American Prospect; and Katrina vanden Heuvel, editorial director and publisher, The Nation.
"The Hillman Prizes go to watchdog journalists who bring us the stories of the marginalized and voiceless and hold power to account," said Alexandra Lescaze, executive director of the Sidney Hillman Foundation. "Investigative journalism is a cornerstone of a well-functioning democracy and has the potential to initiate the public policy changes that move societies forward. The Hillman Prize is an acknowledgment and a token of gratitude for their essential work."
Since 1950, the Sidney Hillman Foundation has honored journalists, writers and public figures who pursue investigative journalism and public policy for the common good. Sidney Hillman was the founding president of the Amalgamated Clothing and Textile Workers Union, a predecessor of Workers United, SEIU. An architect of the New Deal, Hillman fought to build a vibrant union movement extending beyond the shop floor to all aspects of working people's lives.