The Sidney Hillman Foundation honors excellence in journalism in service of the common good.
Our awards and programs honor the legacy and vision of union pioneer and New Deal architect Sidney Hillman.
by Lindsay Beyerstein
Notes on journalism for the common good
more
New York Times Reporters Win May Sidney Award for Coverage of Garment Factory Collapse in Bangladesh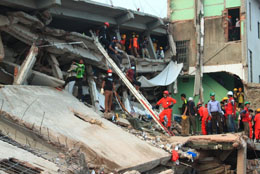 Julfikar Ali Manik, Steven Greenhouse, and Jim Yardley win the May Sidney Award for their coverage of the Rana Plaza factory collapse in Bangladesh, which killed more than 1100 people and focused world attention on working conditions for garment workers.
HILLMAN PRIZES
U.S: 2013 Hillman Officers' Award for Public Service goes to garment workers in Bangladesh in memory of Aminul Islam
The May 7 2013 Hillman Prize ceremony was a great success! See photos here. Video here.
Canada: Stephen Maher (PostMedia News) and Glen McGregor (The Ottawa Citizen) win the 2013 Canadian Hillman Prize for their investigative reporting on the use of robocalls to disrupt and suppress voting during the 2011 federal election. Congratulations! Elise Stolte (Edmonton Journal) and Katie DeRosa (Times Colonist) receive Honourable Mentions. See photos from March 19 award ceremony in Toronto.
New or Notable
Carla Astudillo receives the 2013 Hillman Award for Social Justice Reporting at the CUNY Graduate School of Journalism.
Please note that due to the overlap with the Hillman Prizes, our May Sidney winner announcement will be postponed until Wednesday, May 22.
The 102nd anniversary commemoration of the Triangle Shirtwaist Factory fire was held Wednesday, March 20, 12-1pm at the site of the fire--Washington Place and Greene Street in New York City.
Hillman hosts preview screening of Slavery By Another Name with author Douglas Blackmon and director Sam Pollard, moderated by Gerry Hudson. PBS premiere Feb 13, 2012. Read about it here. See video of Q&A here.
E.J. Dionne receives Hillman Award for Career Achievement. Photos and acceptance speech here.