2015 Hillman Prize for Newspaper Journalism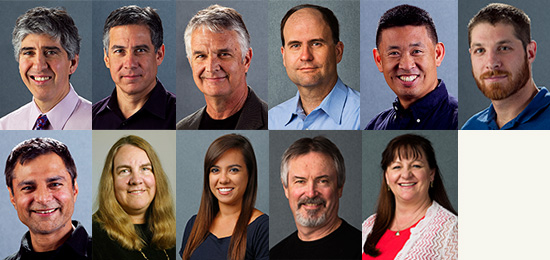 Bob Ortega, Daniel Gonzalez, Michael Kiefer, Daniel Nowicki, Michael Chow, David Wallace, Nick Oza, Erin Kelly, Mariana Dale, Stuart Warner, Cherrill Crosby
---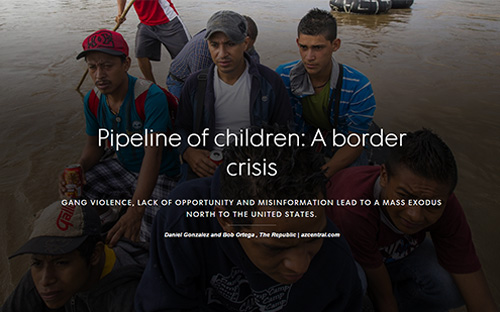 When thousands of unaccompanied, undocumented children from Central America began streaming into the United States in the spring and summer of 2014, their arrival sparked immense controversy, but little dialogue. 
Democrats said it showed how badly we need immigration reforms that had been stalled by Republicans. Republicans blamed President Obama. The Arizona Republic, long a leader in border and immigration coverage, wanted to educate the public on the real causes of this historic migration.
As the crisis deepened in early June, the Republic assigned six reporters, three photographers and almost a dozen support staffers to the project, putting boots on the ground in Mexico, Central America, south Texas, Washington, and all over Arizona to bring the story home.
The resulting series, Pipeline of Children, published just over three weeks after they touched down in Central America and Mexico, documented the root causes of the crisis: Children so fearful of the violence in their hometowns that they fled alone, families willing to pay huge sums to smugglers to help their children escape the violence, and smugglers and cartel members profiting off these refugees' desperation to cross the Rio Grande.
The team also explored the consequences of the surge in the U.S., where courts have been clogged by deportation hearings. 
To foster real-time dialogue, the Republic followed up the series with a town hall meeting at Arizona State University that was live streamed online. 
Then, in the fall, they returned to the story for a two-part follow-up, Revisiting the Immigration Pipeline. They focused on two siblings from Honduras trying to reach their mother in Texas. The youngest, 11-year-old Ebin, arrived safely, and is now hoping to be allowed to stay in the United States. But his 18-year-old sister, legally an adult, was sent back despite her pleas for asylum from the violence she had fled.
A few days after her return to Honduras she was raped by the gang that had threatened her before she left.
"Pipeline of Children" forced all parties in the bitter immigration debate to recognize the human suffering behind the headlines. This compassionate and rigorous journalism exemplifies the values of Sidney Hillman, who was only a year older than Ebin's sister when he fled repression and poverty in Lithuania for a better life in the United States. 
---
Bob Ortega is an investigative reporter at The Arizona Republic, primarily covering the border. He joined the paper in 2011. In 2014, he received a Best of the West award, was named the Arizona Press Club's Journalist of the Year and received the Don Bolles Award for investigative reporting, among others, for his reporting on the use of deadly force by Border Patrol agents and Customs officers. Ortega also received a Sidney Award in February 2013 for stories revealing deadly flaws with one of the most commonly-used tests for cervical-cancer screening. He previously worked for the Wall Street Journal and the Seattle Times, among other news media. Prior to joining The Republic, Bob served as a Knight International Journalism Fellow in Paraguay, and led media-training projects in Georgia, Ukraine and Belarus. He has trained journalists in 17 other countries. Bob also has been an H.F. Guggenheim Criminal Justice Fellow and a National Health Journalism Fellow. He has an M.S. from Columbia University's Graduate School of Journalism and a B.A. from Princeton University.
Daniel Gonzalez has covered immigration, the border and minority communities for The Arizona Republic since 1999. He has reported extensively along the U.S.-Mexico border as well as the interior of Mexico. He has received numerous local and national journalism awards for his work. In 2014, he was a finalist for the American Society of News Editors Award for Distinguished Writing on Diversity. In 2010, he was named the Arizona Press Club's Journalist of the Year for his coverage from Germany, Italy, and Spain about the rise of global migration. In October, 2014, he was invited to speak at the United Nations for the inaugural World Cities Day. Gonzalez also has worked for newspapers in New York, Massachusetts and Illinois. He has taught news writing and ethics and diversity courses at Arizona State University's Walter Cronkite School of Journalism and Mass Communications. He has a journalism degree from the University of Iowa and studied Spanish literature at the graduate level at Syracuse University.
Michael Kiefer has been a reporter at The Arizona Republic since 2003, covering courts and legal issues, especially as they pertain to immigration and the death penalty. Kiefer has followed the court battles over Arizona state immigration law since their inception, and wrote an expose of prosecutorial misconduct in Arizona as part of a John Jay College/Guggenheim fellowship. He led coverage on the trial of celebrity killer Jodi Arias and was one of a handful of journalists to interview her. He reported on the legal proceedings for Jared Loughner, who was sentenced to life in prison for the 2011 mass shooting in Tucson that left six people dead and seriously injured former U.S Rep. Gabrielle Giffords, broke the story that Arizona and other states were illegally buying drugs from Europe to carry out executions and witnessed last year's two-hour-long botched execution in Arizona. Michael has reported extensively from Europe and North and South America. A former staff writer at Phoenix New Times and a former associate editor of Outside magazine, his features, essays and profiles have appeared in a wide variety of newspapers and magazines, including Playboy, Esquire, Vanity Fair, Self, The New York Times and USA Today. Kiefer has taught Spanish, writing and journalism at Arizona State University, Grand Canyon University, The University of Michigan, Columbia College and Roosevelt University in Chicago. He speaks Spanish, Italian and French and is the author of six books.
Dan Nowicki is The Arizona Republic's national political reporter. He has covered federal, state and local politics for more than 20 years. In 2001 and 2002, he was based in Washington, D.C., covering Congress for the Orange County Register and sister newspapers. In 2007 and 2008, he traveled around the country covering Sen. John McCain's presidential campaign. He was a member of The Republic's breaking news teams that covered the Jan. 8, 2011, attempted assassination of Rep. Gabrielle Giffords, D-Ariz., and the June 30, 2013, Yarnell Hill Fire catastrophe that killed 19 Arizona firefighters. The Republic's coverage of the Giffords shooting was a finalist for the 2012 Pulitzer Prize for Breaking News Reporting; its coverage of the fire was a finalist for the 2014 Pulitzer Prize for Breaking News Reporting. Nowicki is a graduate of Arizona State University.
Michael Chow is a senior photographer/videographer at The Arizona Republic covering daily assignments ranging from sports to projects. A 1988 graduate of San Jose State University, Chow has won numerous awards including Arizona Press Club's Photographer of the Year nine times and National Press Photographers Association's Region 10 Photographer of the Years twice. He worked at The Tacoma News Tribune briefly before joining The Phoenix Gazette in 1989 until the newspaper's merger with The Republic in 1997.
David Wallace is a staff photographer/videographer with The Arizona Republic. He has worked as a news photographer for 15 years, the last nine with the Republic. He has covered stories dealing with the U.S. border with Mexico, wildfires including the 2013 Yarnell Hill Fire that left 19 firefighters dead, the 2011 Tucson shooting that wounded U.S. Representative Gabrielle Giffords, Mormon fundamentalism in Arizona, environmental issues on the Navajo Nation, meth addiction, inner city education, mental health and Super Bowl XLII, among many others. He has won over 40 awards in photojournalism, including a two time runner-up Arizona Photographer of the Year, a two time Emmy recipient for his video work and a recipient of the 2013 Gannett Video of the Year. He graduated from the Rochester Institute of Technology with a degree in photojournalism.
Nick Oza joined The Arizona Republic as a staff photographer in 2006. He specializes in covering social issues, among them immigration, child welfare, gangs and mental health. Oza was part of the Knight-Ridder team awarded the Pulitzer Prize for Public Service in 2006 for their coverage of the aftermath of Hurricane Katrina. In 2003 and 2005, he was embedded with the U.S. military to photograph the Iraq war for Knight-Ridder. He has received more than 120 awards for his work, including a 2012 Rocky Mountain Emmy for his video documenting problems in Arizona's Child Protective Services. He has been named photographer of the year three times by the Arizona Press Club. An immigration documentary he produced placed third in the National Press Photographers Association's Cliff Edom New America Award. His photographs also have been showcased on the websites of The New York Times Lens Blog and Time magazine. Oza has photographed extensively along the U.S.-Mexico border, and has worked along the India-Bangladesh border. He previously worked at The Telegraph (Macon, Ga.) for nine years and won Photographer of the Year and Georgia AP Photographer of Year four consecutive years. His recent work from Ferguson was featured in American Photo. 
Erin Kelly is a congressional reporter for USA Today focusing on cyber security, privacy and immigration issues. Before that, she was a regional correspondent, covering Congress and the federal government for a variety of Gannett papers, including The Arizona Republic. Kelly worked as a Metro reporter for the Orange County Register before coming to Washington, D.C.  She graduated from the University of Missouri's School of Journalism.
Mariana Dale is an education reporter and web editor for Arizona Public Media, the NPR and PBS affiliate in Tucson, Ariz. She was a Pulliam Fellow at The Arizona Republic in the summer of 2014 and worked on the border and immigration team. Her experience spans a variety of mediums and includes reporting for the Arizona Daily Star and interning with NPR's Morning Edition in Culver City, Calif. An Arizona native, Dale graduated from the University of Arizona with a bachelor's degree in journalism.
Stuart Warner, senior content coach, supervises coverage of the border, immigration, the environment, higher education and real estate at The Arizona Republic. A veteran of 45 years in journalism, Warner has been part of three Pulitzer Prize-winning efforts, including serving as supervising editor of the 1994 Pulitzer gold medal-winner series "A Question of Color/Coming Together" at The Akron Beacon Journal. He also previously worked at The Lexington Herald-Leader, The Rocky Mountain News in Denver, The Plain Dealer in Cleveland and AOL News/Huffington Post.
Cherrill Crosby is the director of the News Watchdog Center at The Arizona Republic and azcentral.com. She is motivated by a strong sense of right and wrong, giving a voice to those that don't have one, and finding solutions for her community. During her nearly 30 years in journalism, Crosby has honed her ability to identify and hire talent, and inspire her staff to achieve the kind of work they got in this business to accomplish.