2013 Hillman Prize for Web Journalism
Alison Young and Peter Eisler
Alison Young is a reporter on USA TODAY's investigative team and serves on the board of directors of Investigative Reporters and Editors. Before joining USA TODAY in 2009, she reported for The Atlanta Journal-Constitution where she covered the Centers for Disease Control and Prevention, and also wrote a Sunday watchdog column. She was a reporter on Knight Ridder's Washington-based investigative team from 2003-2006, and spent 10 years as a reporter and editor for the Detroit Free Press. She also has reported for The Arizona Republic and the Dallas Times Herald. Her reporting honors include a duPont-Columbia Award, a Barlett & Steele Silver Award, two Scripps Howard awards, two Gerald Loeb awards and two National Headliners, as well as honors from the Associated Press Media Editors, Sigma Delta Chi and the National Press Club. She is a graduate of the University of Kansas journalism school.
Peter Eisler is an investigative reporter at USA TODAY, where he's reported on everything from lax enforcement of U.S. safe drinking water laws to poor security at Russia's chemical weapons stockpiles. His work has helped spur new laws requiring compensation for sick nuclear weapons workers, fire protections in nursing homes, and safety testing for school lunch food. Eisler shared the 2012 Barlett and Steele Silver Award for investigative reporting and the 2012 duPont-Columbia Award for digital journalism. He's been honored previously with awards from the National Press Club, the National Press Foundation and other national journalism organizations. Eisler also lectures for college classes and volunteers as a high school instructor for the News Literacy Project in Washington, DC.
---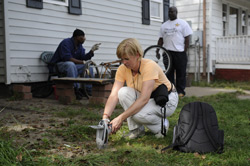 More than a decade ago, the Environmental Protection Agency was warned that soil in hundreds of U.S. neighborhoods might be dangerously contaminated with lead from factories that closed long ago. Yet USA TODAY reporter Alison Young, with additional reporting by Peter Eisler, found state and federal regulators left thousands of families and children in harm's way, doing little to check out the sites or warn residents of the danger.
Lead from old smelters settles into the topsoil, where children can easily be exposed to it. It is a potent neurotoxin. Minute amounts of lead can cause decreased IQ, delayed puberty, and other irreversible damage to children, who are the most susceptible to its effects. According to EPA standards, lead levels in children's play areas should not exceed 400 ppm, but the reporters found lead levels in excess 2,000 ppm in several neighborhoods and lead levels over 3,400 ppm in Cleveland, OH, Portland, Ore., and Carteret, NJ.
The series has resulted in the EPA reexamining risks at 464 sites nationwide, following calls for action by seven U.S. senators. More than a dozen state agencies also have been conducting investigations and several sites are already targeted for cleanups.
"Ghost Factories" stood out in the Web Journalism category because the investigation was reported and written as a digital-first project, harnessing the storytelling power of the newspaper's online platforms. These journalists made effective use of a wide range of innovative reporting and storytelling techniques — combining the research of archival maps, photographs and dusty old records with the use of state-of-the-art scientific instruments and digital publishing technology.
Young and Eisler were trained to test soil with $41,000 hand-held X-ray devices in 21 smelter neighborhoods in 13 states and their work was verified by a laboratory at Tulane University. They also obtained medical records from children living in contaminated areas, proving that the youngsters had accumulated excess lead in their bodies.
In an effort to further reach out to people living in several of the smelter neighborhoods where reporters did soil testing, USA TODAY distributed more than 1,000 free copies of the print newspaper, explaining how to find information about every local site online.
"Ghost Factories" combines journalistic rigor, technical innovation, a humane sensibility, and an implacable drive for accountability.