January, 2017
Worse Than Flint: Reuters Wins January Sidney for Exposing a National Epidemic of Lead Poisoning
Michael Pell and Joshua Schneyer of Reuters win the January Sidney Award for discovering that at least 10% of children in nearly 3000 neighborhoods test positive for lead poisoning, a rate double that seen in Flint, MI at the height of that city's water crisis.
The reporters analyzed neighborhood-level lead tests to pinpoint census tracts where childhood lead poisoning is common. The results were shocking. In one census tract in St. Joseph, MO, 120 children had been poisoned. Thirty-six percent of kids in a Western Pennsylvania neighborhood, and 25% of kids in a zip code on the Gulf Coast of Texas met the same fate.
Even small amounts of lead can stunt a child's brain development, causing permanent learning disabilities, attention deficits, and emotional problems.
"Ever since I caught the lead, I've been messed up in the head. I can't control my anger or feelings," a 20-year-old named Brandon told Reuters. "I could have been better than I am."
Lead exposures started to decline after the government banned lead paint in the late seventies, but children in older houses or neighborhoods with contaminated topsoil are still at risk.
"The winners used unpublished data to expose a nationwide public health threat," said Sidney judge Lindsay Beyerstein. "Some local officials didn't know about their lead problem until Reuters crunched the numbers."
Michael Pell is a reporter on Reuters' data team in New York where he covers a variety of topics ranging from healthcare fraud to workplace safety.
Joshua Schneyer is a New York-based reporter for Reuters focused on investigative projects. He previously worked as a foreign correspondent in Brazil and Venezuela.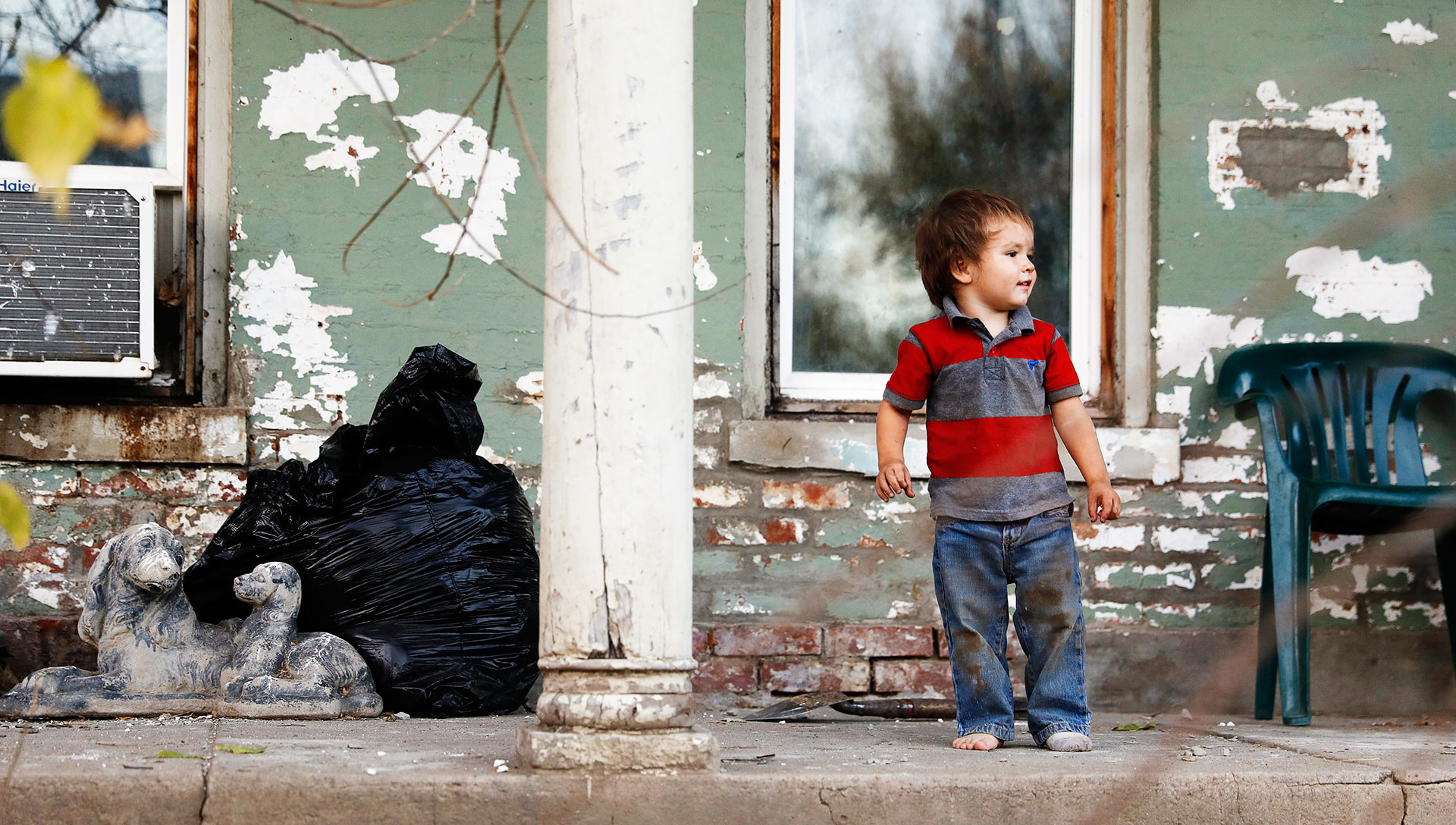 REUTERS/Whitney Curtis
Lindsay Beyerstein interviewed Joshua Schneyer by email
LB: What prompted you to launch a major investigation of childhood lead poisoning?
JS: When 100 people get food poisoning at a restaurant, the health department takes swift action. When 100 children in a community are exposed to lead there's a good chance little will be done until it's too late.
Flint's drinking water contamination showed the world that lead remains a serious and insidious threat to children. It made us wonder: If Flint's problem could go undiscovered for months (and worse yet, be swept aside by negligent officials) where else was lead poisoning happening?
We began looking at the results of early childhood blood tests, the gold standard for identifying kids exposed to the heavy metal. But the publicly available data surveys of blood lead testing results – released by states and the CDC – are dismal at pinpointing communities and neighborhoods at risk. They often paint a picture of low poisoning rates across large populations, giving families, doctors and officials in lead hotspots a false sense of safety.
For an earlier story, we compelled Indiana's health department to release more granular childhood blood testing data, down to the census tract-level. We used it to show how the CDC had botched a safety report in 2011 that endangered children in a lead-tainted housing complex. The CDC had wrongly concluded that these children had lead levels "consistent with the national average." The census tract data told a different story: they had elevated blood lead levels at rates eight-fold the national average, and four times Flint's rate.
Neighborhood-level blood lead testing data is rarely made public. We became obsessed with getting it. We suspected it could point us to many locales with poisoning problems. If at-risk communities had access to this information, it would help them protect children, increase screening rates, find and abate lead hazards.
We sent a surge of records request to health departments in all 50 states, and the CDC. As the previously unpublished data trickled in, we built a comprehensive database and mapped out the recent prevalence of lead poisoning in neighborhoods across much of the country for the first time.
The scope of the lead problem went beyond what we could have imagined. Nearly 3,000 neighborhoods - census tract and zip code areas – had rates of elevated childhood blood tests at least twice as high as Flint's. The places spanned from coast to coast.
One frightening caveat: we've only received neighborhood-level data covering about 60 percent of the U.S. population. There are many more poisoned neighborhoods left uncharted. We're still working on filling in the gaps.
LB: What was the most challenging aspect of this project?  
JS: The data-gathering and analysis was labor-intensive but it was only the first stage, the desk-work.  
Perhaps the biggest challenge was to show readers the human side of a depressing story - one in which our subjects, poisoned children, will grow up with stark disadvantages. Their parents, often plagued by guilt, are beset by the challenges of caring for sons and daughters with learning disabilities, poor impulse-control, or aggressive behavior. As one childhood victim told us, "I could have been better than I am."
We crisscrossed the country to meet with families, letting the data take us to where children appeared at greatest risk. We sought to identify the lead exposure sources in these areas - old paint, contaminated water, tainted soil. Blood tests can show who got poisoned but not how. We also doorstepped local officials. Many weren't fully aware of the problem in their own backyards.
In St. Joseph, Missouri, Mike Pell found a two year old playing in the dirt outside a house with large patches of peeling lead paint. The child, Kadin, had been diagnosed earlier with lead poisoning, but his family couldn't afford to fix all of the paint hazards. At least 120 kids have been lead-poisoned within 15 blocks of his home in recent years.
In South Bend, Indiana, an official lamented that his department didn't have the money or staff to attend more families impacted by lead. "We are the lowest of the low in terms of public health funding," County Health Officer Dr. Luis Galup told me. A short walk from the University of Notre Dame's idyllic campus, we found a low income neighborhood where the rate of elevated childhood blood lead tests was 31 percent.
LB: How did you go about collecting the data for this project and did you encounter any official resistance?
JS:  We submitted open record requests to each state and a Freedom of Information Request to the Centers for Disease Control and Prevention.
Many health departments were recalcitrant. Long negotiations often ensued. Some cited patient privacy laws as a reason they couldn't share the data. Some didn't have it or said they weren't required to create new records in response to press inquiries. Yet others charged us fees for the neighborhood-level data. We argued that the data could help communities – and health departments themselves – identify poisoned places and fix the problems.
LB: What advice would you offer reporters who are interested in embarking on a data-heavy project like this one?
JS:  First, think about what data exists that hasn't been released but could be. This is particularly important if the public data leaves important questions unanswered, such as exactly where children are being poisoned.
Plot out your optimal get, your data-fantasy. What pressing issue could you illuminate if gigabytes of exclusive data landed in your inbox? But manage your expectations. Almost all data has flaws, some of them fatal.
Next, test the waters. Send out a few data requests to different states and see how they reply. Do they all give you the same data? Do they interpret the requests in ways that require clarification? Do they collect the data in a way that you did not expect? Knowing these answers can help you sharpen your requests for the rest of the states. You may learn whether the data is valuable, and whether it's really worth undertaking a 50 state FOIA project. Keep your favorite headache remedy close at hand.
Step away from the computer often. Go and see the issue in person. Visit homes of families affected by lead, or whatever you're investigating, with your notebook open.
LB: What did you learn from this assignment that you will carry forward to your next investigation?
JS: For one, keep asking questions until you hit on the right one. Ask and you shall receive.