March, 2020
Type Investigations and The Intercept win March Sidney for Exposing How a Pipeline Company Bought an Oregon Sheriff's Office
Will Parrish and Alleen Brown win the March Sidney Award for "Paid by the Pipeline" which reveals how a Canadian fossil fuel company paid millions to create a special unit within an Oregon sheriff's office that monitored anti-pipeline protesters. The investigation, which drew on over 15,000 pages of emails, intelligence reports, and other documents, was a co-production of Type Investigations and The Intercept. 
Pembina Pipeline Corp., the Canadian fossil fuel company behind the proposed Jordan Cove liquid natural gas pipeline and export terminal, underwrote the entire cost of the special unit within the Coos County Sheriff's Office dedicated to "security threats" to Jordan Cove. The pipeline hasn't been built yet, so the only "threats" to the project are anti-pipeline activists engaged in peaceful protest protected by the First Amendment.
The company spent over $2 million on the unit over nearly four years, as part of an agreement that might be illegal under Oregon law. The sheriff's office used the cash to buy riot gear, surveil environmentalists and coordinate with Pembina's private intelligence contractors. The company even paid for a 2018 workshop where representatives of GOP-connected security and defense firms taught officers to wage propaganda campaigns against protesters.
Pembina's sweetheart deal is an example of a larger trend of corporations channeling money to police departments. What makes this arrangement unique is that Pembina didn't just cooperate or influence police operations, a Pembina contractor was directing officers to surveil the company's opposition.  
"This investigation lays bare the ties between pipeline companies, police departments and politically-connected intelligence firms," said Sidney judge Lindsay Beyerstein. "How can ordinary people trust the police when corporations are paying the police to crush peaceful dissent?" 
Will Parrish is a San Francisco Bay Area-based investigative journalist whose work appears in The Intercept, The Guardian, and other outlets. His work focuses on policing, militarism, social movements, and the environmental crisis. He is also a Ph.D. student in the History of Consciousness program at the University of California, Santa Cruz.
Alleen Brown is a reporter for The Intercept, where she writes about environmental justice. Her coverage often intersects with Indigenous issues, violence against women, and criminalization of protest. Prior to working for The Intercept, she wrote about education for the Minneapolis based Twin Cities Daily Planet, which is dedicated to amplifying marginalized voices.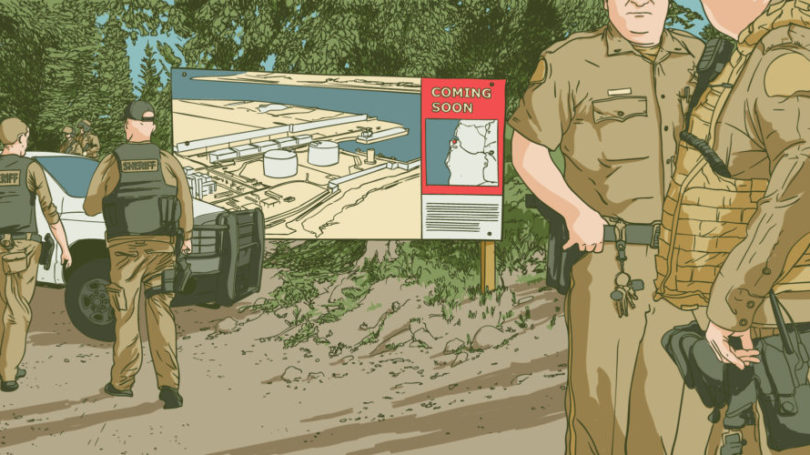 Alex Petrowsky for The Intercept
Lindsay Beyerstein interviewed Parrish and Brown by email:
Q: How did you find out that a Canadian fossil fuel company was paying an Oregon county sheriff's office to spy on protesters opposed to the company's proposed gas pipeline? 
A: We knew from news reports in The World newspaper in Coos Bay that Pembina was funding a sheriff's unit in Oregon, to watch over the controversial proposed Jordan Cove Energy Project, but details in those reports were sparse. Will filed a series of open records requests in Oregon that eventually led to the disclosure of thousands of pages of documents concerning the arrangement.
Q: How exactly does this "partnership" work? 
A: The LNG division of the Coos County Sheriff's Office was established in December 2015, fully funded by the parent company of the Jordan Cove Energy Project, a highly controversial liquid natural gas export terminal and natural gas pipeline. Between 2016 and 2020, the unit spent at least $2 million of Pembina's money to pay salaries and benefits for five deputies, purchase riot control equipment, monitor the activities of Jordan Cove opponents, coordinate intelligence-gathering operations with private security companies that also worked for Pembina, and conduct trainings for dealing with protests against the project. The most notable such training, which we highlighted in the story lede, focused on waging propaganda battles against protesters and was led by veterans of the National Sheriffs Association's aggressive Dakota Access Pipeline spin operation in North Dakota.
Coos County Sheriff Zanni has pointed to the 2005 Energy Policy Act as justification for the unit. The federal law requires fossil fuel companies to come up with a cost-sharing plan with public agencies that have "responsibility for security and safety" at LNG export terminal sites. Zanni shrugged off the fact that the export terminal has not been approved or built yet.
The energy company put the funding on hold in April 2019 but left open the possibility that the arrangement could be revived in the future. Pembina and the sheriff's department are currently discussing how they may continue to work together, and Coos County Sheriff Craig Zanni said he expects the partnership to be renewed.
Local residents, environmental activists, and tribal members have staged rallies and sit-ins and participated in public hearings in opposition to the project, which they say would exacerbate the global climate crisis, damage vital waterways, and violate Indigenous sovereignty. 
Q: What documents and investigative techniques did you draw on to report this story? 
A: Since the inception of Pembina's relationship with the Coos County Sheriffs, watchdog organizations and individuals had filed multiple Oregon Public Records Act to Coos County to try to get records on the arrangement. The Oregon public records law allows agencies to charge considerable money for access to records, so the cost for these organizations ended up being prohibitive.
Will coincidentally obtained details of the November 2018 Oregon propaganda training through an open records request in North Dakota, which gave him enough details to begin filing a series of records requests in Oregon that included enough details so as to keep the cost of processing these requests down to a relatively affordable level.  
Alleen was then able to leverage long-running relationships with sources to uncover audio revealing those propaganda specialists' previous attempts to organize a national pro-pipeline counter-movement.  
Q: Your reporting uncovered a larger trend of resource companies buying influence with police departments. Describe this larger pattern. 
A: We have both been reporting for years about corporate influence on police departments. It's a trend that picked up significantly in the wake of the Standing Rock protests in North Dakota. Our previous reporting unveiled a close collaboration between the private mercenary security company hired to protect the Dakota Access Pipeline, TigerSwan, and law enforcement that was policing the protests. In the wake of Standing Rock, Energy Transfer passed along $15 million to help cover law enforcement costs. 
The Standing Rock movement spooked police departments and fossil fuel companies across the U.S., who began attempting to protect themselves from the financial and reputational risks they associated with Standing Rock style protest. One major example is in South Dakota, through which the controversial Keystone XL pipeline would be built: Lawmakers created a massive fund for law enforcement to cover the costs of policing pipeline opposition. The fund will be paid for in large part by pipeline parent company TC Energy, if the project moves forward. Meanwhile, many pipeline companies rely on off-duty local law enforcement to guard controversial projects, and at times it's impossible to distinguish the police from the fossil fuel companies. In Pennsylvania, for example, Energy Transfer allegedly illegally hired 19 elected constables to guard its Mariner East 2 pipeline. 
In many cases these projects are passing through comparatively small, rural law enforcement jurisdictions, where officers are eager to accept new resources. Whether or not they're already sympathetic to the fossil fuel project, the money creates an incentive to assure that the police protect the project. 
Q: The history of the Pacific Northwest is full of examples of the police defending the interests of resource companies. Is the relationship between Pembina and the Coos County Sheriff's Office a new phenomenon, or the latest iteration of something much older? 
A: The relationship is a significant evolution of an old phenomenon. When we reached out to the Coos County Sheriff, he pointed out that the department used to rely on proceeds from timber harvests on federal land to pay its bills, but that funding dropped dramatically in recent decades. He said that besides Pembina, he also relies on security contracts with private timberland operators to pay the office's bills. We see the Pembina relationship as distinct, however, in that a fossil fuel corporation was fully funding an entire sheriff's unit to protect a controversial proposed project that hadn't even been approved yet, and that a significant portion of its resources were used to monitor First Amendment protected speech opposing the project.
Q: What does it mean for our democracy when corporations are funding the police to defend their private interests? 
A: The political debate around fossil fuel infrastructure has very high stakes, given the dire nature of the climate crisis and the need to end reliance on fossil fuels very rapidly. Fossil fuel companies view themselves as being locked in an existential fight with their political and ideological foes.
On the surface, police are charged with being neutral arbiters of the law and maintaining public order.  Yet, we also know from history that law enforcement can be a very powerful force for quelling dissent. The reason police have been able to play that role in history is that they are assigned a monopoly of legitimate force. When they take one side in a charged political debate, it means that those on the other side become exposed to the likelihood that such force will be used against them. 
That police are being offered multi-million dollar incentives to protect fossil fuel companies has major anti-democratic implications, since it a step further down a road where only those who can afford the police's services will get them, and where the political enemies of those monied interests will be exposed to the force of that police agency.
Q: Can you elaborate on the relationships you uncovered between fossil fuel companies, law enforcement, Republican political operatives, and right-wing media like Fox News?
A: A number of Republican operatives were hired by the National Sheriffs Association during the Dakota Access Pipeline stand-off to conduct propaganda operations targeting protesters.  These include Mark Pfeifle, who helped sell the Iraq War troop "surge" to the public as a national security official in the George W. Bush administration. They also include employees of the company Delve, an extremely well-connected Republican opposition research firm. The company's founder, Jeff Berkowitz, directed the Republican National Committee's multimillion-dollar opposition research operation, where he helped coordinate the GOP's devastating public relations attacks on ObamaCare.
While Delve still performs its staple work in the electoral arena, a significant portion of its business now involves opposition research directed against grassroots social movements. Individuals like Pfeifle and Berkowitz are part and parcel of the Republican Party's powerful propaganda machine, with its extraordinary capacity to drive outrage and resentment against its targets, ranging from immigrants to environmentalists. They fed countless stories to right-wing media during the Dakota Access Pipeline struggle.
They also have worked closely with Rob Rice and Nate Johnson of TigerSwan, the private security contractor for Fortune 500 oil and gas company Energy Transfer Partners. At one point, Rice and Johnson attempted to convince a group of North Dakota residents to form an astroturf group called "Moms Against Violent Activists" with the goal of smearing anti-pipeline activists on Fox News.