July, 2021
Jay Greene and Chris Alcantara win July Sidney for Highlighting Amazon's Deplorable Safety Record in New Analysis
Jay Greene and Chris Alcantara of the Washington Post win the July Sidney Award for exposing high rates of serious injury at Amazon warehouses by conducting an original analysis of newly released government data. The Post's analysis of data from the Occupational Health and Safety Administration (OSHA) reveals that workers at Amazon warehouses are more likely to be seriously injured on the job than workers at other retail warehouses. 
Amazon warehouses reported 5.9 serious incidents per 100,000 hours worked in 2020, which is nearly double the rate for the industry at large. 
Amazon injury rates actually dropped in 2020, perhaps because Amazon suspended its productivity quotas during the pandemic. In 2019, the rate was 7.8 serious incidents per 100,000 hours worked vs. 3.1 for the retail warehouse industry. The most perilous Amazon warehouse, in DuPont, WA, reported a stunning average of 17.9 serious incidents per 100,000 hours since 2017. 
Amazon did not dispute the veracity of the OSHA data, nor did the online retailer object to the methods used to calculate injury rates. The underlying data were supplied exclusively to the Post by a coalition of unions known as the Strategic Organizing Center.
Amazon workers, union officials, and some former OSHA officials blame Amazon's high injury rate on the gruelling pace of work. Workers are surveilled at all times and held to punishing productivity quotas. Amazon acknowledges the physical demands of the work, referring to its workers as "industrial athletes" in an internal brochure.
"This analysis shows the toll that Amazon's relentless pace of work is taking on its warehouse workers," said Sidney judge Lindsay Beyerstein. "These numbers reveal the hidden cost of Amazon's logistical miracle, written on the bodies of its workers." 
Jay Greene is a reporter for The Washington Post who is focused on technology coverage in the Pacific Northwest. He's the author of "Design Is How It Works," a book on design and innovation.
Chris Alcantara is a graphics reporter at The Washington Post, using code and data to tell visual stories about business and technology. Before Chris joined the Post in 2016, he worked at the Miami Herald, where he contributed graphics and reporting to the paper's local and enterprise teams. Chris is a University of Florida graduate.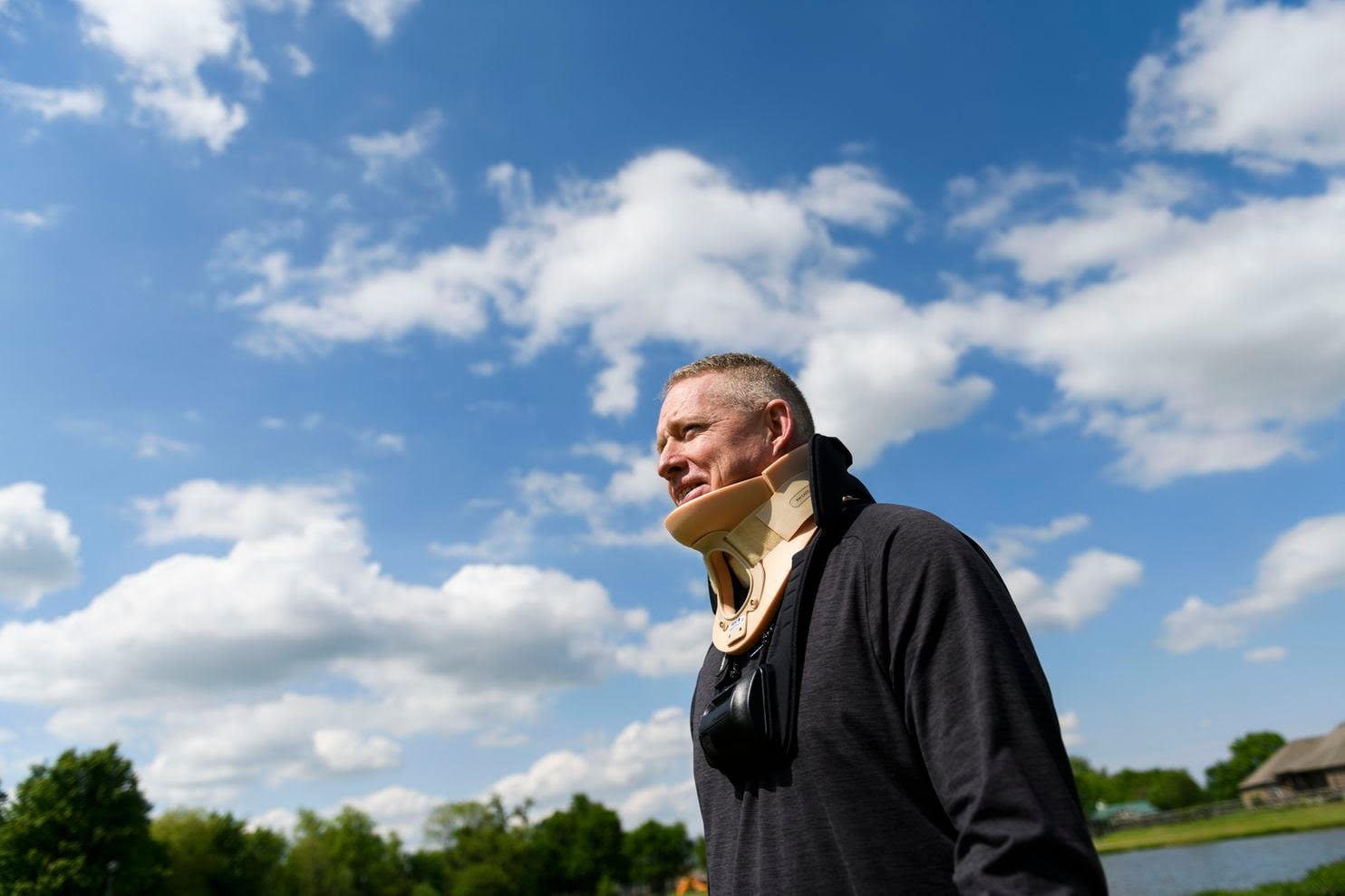 Michael Noble, Jr. for The Washington Post
Lindsay Beyerstein interviewed Jay Greene and Chris Alcantara by email
Q: The story is based on new data on injury rates in the warehousing industry. How did you obtain this information? 
CHRIS: We used work-related injury and illness data from the Occupational Safety and Health Administration. The data has been around since 2020, when Reveal from The Center for Investigative Reporting as well as Public Citizen, a nonprofit watchdog group, filed a lawsuit that led to OSHA releasing more detailed information about workplace injuries. We reported on the latest iteration of the data that came out this spring.
Q: Why does Amazon have such a high rate of serious injuries compared to the warehousing industry at large? 
JAY: The OSHA data doesn't provide details about how workers got injured. But several of the workers with whom we spoke, as well as a former OSHA official who has studied Amazon warehouses, place the blame on productivity pressure. Amazon closely monitors warehouse worker productivity, pushing them to meet specific targets for the number of packages they stow, pick, and pack each hour. Workers that don't meet those rates can receive demerits that can get in the way of promotions, and even lead to firing. Some workers as well as Amazon's critics say those targets are too onerous and are the reason that the company's injury rates are nearly double the rate of non-Amazon warehouses.
Q: You looked at the Amazon facilities that have the highest injury rates of all Amazon warehouses. Why does the facility in DuPont, WA have a serious injury rate of 17.9 serious injuries/100,000 hours worked when the rate for Amazon warehouses as a whole is 5.9/100,000? What the heck is going on in there? 
JAY: It's unclear exactly why those numbers are so much higher because the data doesn't offer details about the types of injuries. But earlier this year, Washington state's Department of Labor and Industries cited Amazon for the hazardous conditions in that warehouse. The agency specifically cited Amazon's productivity targets, saying there is a "direct connection" between Amazon's monitoring of worker productivity and the injuries workers suffer at that facility.
Q: On average, Amazon warehouses are more dangerous than the warehouse industry at large, but you found that a few Amazon warehouses are actually less dangerous than the industry average. What are those plants doing differently? 
JAY: Amazon has more than 600 facilities in the United States that report data to OSHA. With so many, it's inevitable that there will be a wide range of safety performance among them. The company said it spent more than $1 billion last year on safety measures, and some facilities are likely better than others at using those funds effectively and implanting safety protocols. One other interesting detail the data showed is that Amazon's rate of serious injury cases actually declined in 2020 from the previous year. That may be because Amazon dispensed with performance tracking for part of the year to give workers more time to wash their hands and sanitize work areas during the coronavirus pandemic. Amazon resumed tracking productivity later in the year.
Q: Infographics are a big part of this story. Can you describe your overall approach to designing the visual elements of this story? 
CHRIS: Our story's main finding was that Amazon reported a higher rate of serious injury incidents than other warehouse operators in retail since 2017. We wanted to visualize that disparity. That chart showed the rate of serious injury incidents among Amazon warehouses was higher than the rest of the industry since 2017, despite a drop in 2020 because of the pandemic.
We were also interested to see how the rate varied among Amazon-owned warehouses. The second graphic showed how, as the company's warehouse network expanded, more facilities reported higher-than-normal rates of serious injury incidents.
Q: Are you confident that Amazon is recording its injury rates accurately? 
CHRIS: Amazon, as well as other large employers, are required to submit a variety of injury data to OSHA each year. The burden of reporting falls on each of these facilities. It's difficult to say if Amazon is accurately reporting information because we don't have access to the actual injury reports from all the company's facilities. We, and anyone interested in working with the data, must rely on aggregate counts each facility submits to OSHA, which is an improvement over what was available previously, but those counts can still be messy.
There's also the risk that facilities might report the same injury differently. For example, if a warehouse worker pulled a muscle, one facility might decide to send him home, while another might put him on restricted duties. Both of these situations would be submitted to OSHA. In a perfect world, Amazon, and other retail companies with warehouse operations, would release detailed reports for each recorded injury at all warehouses. That way, we could verify what they're submitting to OSHA is accurate.