January, 2019
The Hechinger Report wins January Sidney for Exposing For-Profit Cosmetology School Racket
Meredith Kolodner and Sarah Butrymowicz of the Hechinger Report win the January Sidney for "A $21,000 Cosmetology School Debt and a $9-an-Hour Job," an investigation published in collaboration with the New York Times that reveals how private cosmetology schools, lobbyists and legislators saddle graduates with crippling debt, in Iowa and across the country.
In Iowa, a cosmetology certificate costs about $20,000, or twice the cost of a two-year community college degree. Aspiring stylists have no choice but to enroll because they can't ply their trade without a license.
While some states require as little as 1000 hours of cosmetology training, Iowa demands 2100 hours. An Iowa EMT is sent out to do CPR with about 1/16th as much training as an Iowa cosmetologist.
Lobbyists for private cosmetology schools have defeated attempts to shorten the training requirements. Longer programs pad the schools' profits because they can extract more tuition and more free labor from students.
"Private cosmetology schools lobby state governments to impose onerous training requirements while students go into debt to provide free labor to salons," said Sidney judge Lindsay Beyerstein, "It's an absolute racket."
Longer programs don't necessarily produce more qualified graduates. A lot of the so-called "training" is just sitting around a salon, waiting for customers to show up. During that time, instead of honing their skills, students are literally paying to do nothing.
Longer programs put graduates deeper into debt without boosting their future earning power. Most cosmetology school grads end up making just above minimum wage. A program that looked like a path to independence can easily become a source of crippling debt.
While Iowa's regulations are particularly onerous, the story reveals a nationwide pattern of exploitation.
Meredith Kolodner is a staff writer at the Hechinger Report. She previously covered schools for the New York Daily News and was an editor at InsideSchools.org and for The Investigative Fund at the Nation Institute. Kolodner is a graduate of Brown University and Columbia University's Graduate School of Journalism and an active New York City public school parent.
Sarah Butrymowicz is senior editor at the Hechinger Report. She's won several awards for her work, including the 2012 New York Press Club's Nellie Bly Cub Reporter Award and a Sigma Delta Chi award for investigative reporting.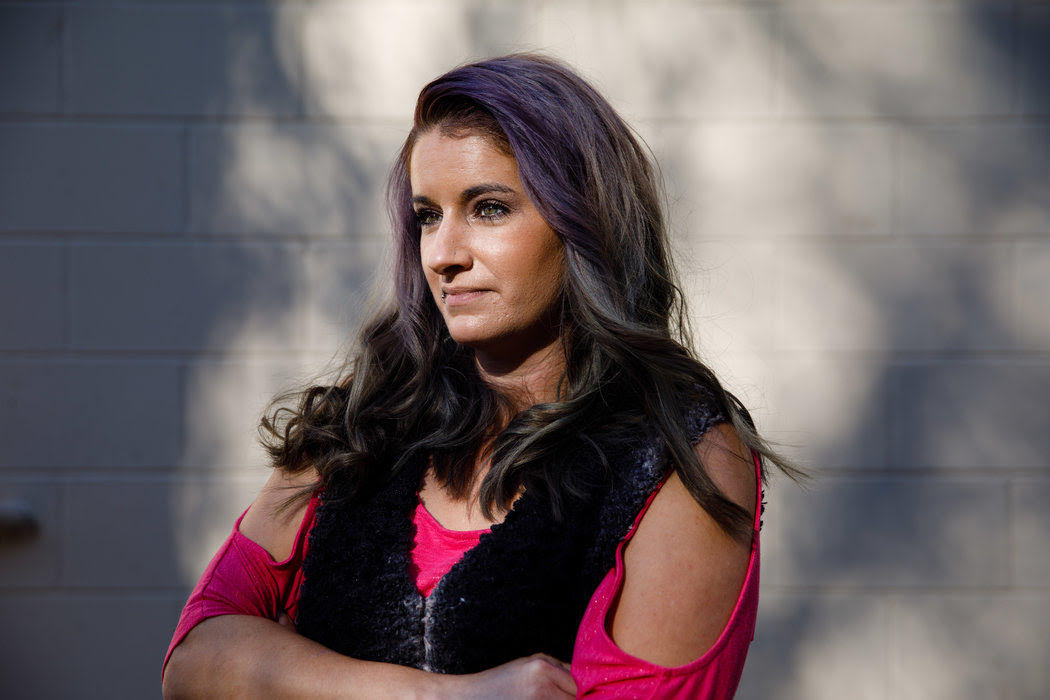 Scott Morgan for The New York Times
Lindsay Beyerstein interviewed Meredith Kolodner and Sarah Butrymowicz by email:
Q: What made you decide to focus on cosmetology schools?
A:  At the beginning of this process, we started looking at debt loads and earnings data for students who enroll in schools that primarily grant certificates. Cosmetology schools made up a large chunk of these institutions, and some of their numbers piqued our curiosity. As we started taking a deeper look and talking to former cosmetology students, we began to realize that there was a really important story to tell here, and one that is often overlooked.
Q: Describe the business model of cosmetology schools
A: For-profit cosmetology schools have two streams of revenue. One comes directly from students, mostly in the form of federal grants and loans. Nationally the schools took in $1.2 billion in these grants and loans during the 2015-16 school year. The second way they make money is from the beauty products they sell and the cosmetology services they provide in their salons. The schools get to keep all the money they bring in from the services students provide – like haircuts, manicures and facials – but they don't have to pay the students for the work they do; in fact, the students are paying tuition for the hours they work there.
Q: What role do states play in maintaining the business models of for-profit cosmetology schools?
A: In most states, the legislature sets the number of hours that students must be in school before they can take the exam to get their cosmetology license. Schools have lobbied legislators to keep the hours high. From what we could tell, it isn't a partisan issue, meaning the opposition to bringing down the hours doesn't fall along party lines. State attorneys general also have the power to investigate schools they believe might be defrauding students, as happened in Iowa.
Q: Your investigation focused on Iowa, but does the problem extend beyond that one state?
A: The issue of high tuition, burdensome student debt and long hours required to obtain a license to practice extends beyond Iowa. More than 177,000 people enroll in cosmetology programs every year and the average cost of attendance is more than $17,000, according to an analysis we did of more than 900 cosmetology school websites. And regardless of the state, the more hours that students are forced to be in school, the more debt they accrue.
Q: You mention in the piece that there are extensive lobbying efforts afoot to keep laws on the books that force aspiring stylists to undergo extensive training. Can you expand on who's behind those efforts and how they work?
A: The Iowa Cosmetology School Association wields significant influence in the legislature. The group has lobbyists and a Political Action Committee, and it did an impressive job mobilizing school owners and others to testify against a bill that would have lowered the number of hours required for a cosmetology certificate in Iowa. In both Texas and Ohio, school owners also organized to testify against legislation that would have reduced their hour mandates and were successful in blocking the bills.
Q: What resources did you use to tease out the business model of the cosmetology schools and their ties to the government?
A:  We looked at federal data to see how much cosmetology schools earn through their salons and from loans and federal aid. We also combed through lawsuits against cosmetology schools, transcripts of school owners testifying in several states, and spoke with people with knowledge of the business including school owners and lawyers who were privy to internal financial statements because of the lawsuits. In some ways, though, specifics of the business model were hard to tease out. Most cosmetology schools are private companies, and we had to piece together a picture from whatever public sources we could get our hands on, as well as interviews with schools and experts.
Q: Did anything funny or unexpected happen in the course of your reporting?
A: Neither of us had ever been to Iowa before July, when we spent a week driving around the state, meeting people, visiting salons and looking up court records. We also got a crash course in Iowa weather when we showed up at a government building in Des Moines just as the entire staff was being herded into the basement due to a tornado warning. We had no choice but to go along with them, and ended up spending about 15 minutes underground with dozens of state employees.
Q: Was there anything you wished you could have included in the story but ended up leaving out?
A: There were so many things we wish we could have followed up with! We found more than 100 community colleges that offered cosmetology programs that usually had much lower tuitions than the for-profit schools. Students from many of those schools graduated debt-free, according to the federal data we looked at. We also found states with public high school vocational programs where graduates could take their license exam when they graduated, and those programs were free. We would have liked to explore further how those programs prepared students and why there aren't more of them.
Q: What did you learn from this investigation that you will carry forward to future projects?
A: We learned so much from reporting this story. The working cosmetologists and the cosmetology students we spoke with taught us much about the profession itself and what it takes to make it in such a competitive industry. The lawsuits we dug up helped us to better understand how litigation affects people's lives, often without their knowledge. We also learned how incomplete federal data is in this industry and how necessary it is to find overlapping data sources to ensure accuracy. We probably knew this going in, but we were reminded once again how long some agencies take to return Freedom of Information Acts requests. That being said, we also will carry forward the knowledge of how much data and information is already public, and you can find it by talking with people who know what's going on inside agencies and companies.