October, 2020
Angelika Albaladejo wins October Sidney for Exposing Deadly Medical Neglect Aboard ICE Air
The Sidney Hillman Foundation announced today that Angelika Albaladejo of Capital & Main has won the September Sidney Award for "Death, Miscarriage, and COVID-19: Inside ICE Air's History of Medical Neglect," (español) which reveals how Immigration and Customs Enforcement (ICE) neglects basic medical needs while transporting detainees by plane. The story was produced with financial support by The Fund for Investigative Journalism and the USC Center for Health Journalism.
The ICE Air Operations Unit is responsible for shipping immigration detainees across the United States and around the world, using a heavily privatized network of subcontractors. Albaladejo uncovered a pattern of medical neglect aboard these flights. 
An HIV-positive woman miscarried triplets on an ICE flight to El Salvador, a tragedy that ICE's internal watchdog ascribed to negligence on the part of ICE Air. Another woman, who hadn't been eating or sleeping, died on an ICE deportation flight to Honduras. Last year, a man with a documented cardiac condition suffered a heart attack on a deportation flight. A Cuban woman named Marta recounted how ICE put her on a plane while she was still COVID-positve, without informing the flight crew about her condition. 
ICE field offices have been reprimanded at least a dozen times since 2016 for withholding detainees' prescribed medications during their flights, including asthma inhalers and insulin. 
This investigation is based on numerous complaints and other agency records obtained under the Freedom of Information Act, including notes taken during ICE meetings. 
"Albaladejo challenged ICE's notorious secrecy and won," said Sidney judge Lindsay Beyerstein. "She litigated to obtain critical documents that the agency wanted to keep hidden." 
Angelika Albaladejo is an award-winning investigative journalist based in Los Angeles. Her reporting on immigration, criminal justice and gender issues has been published by the Guardian, Univision, CNN and the Miami Herald, among other major outlets. She has been a fellow with the Fund for Investigative Journalism and the USC Annenberg Center for Health Journalism. Prior to joining Capital & Main as a staff reporter, she reported from Latin America as an independent foreign correspondent.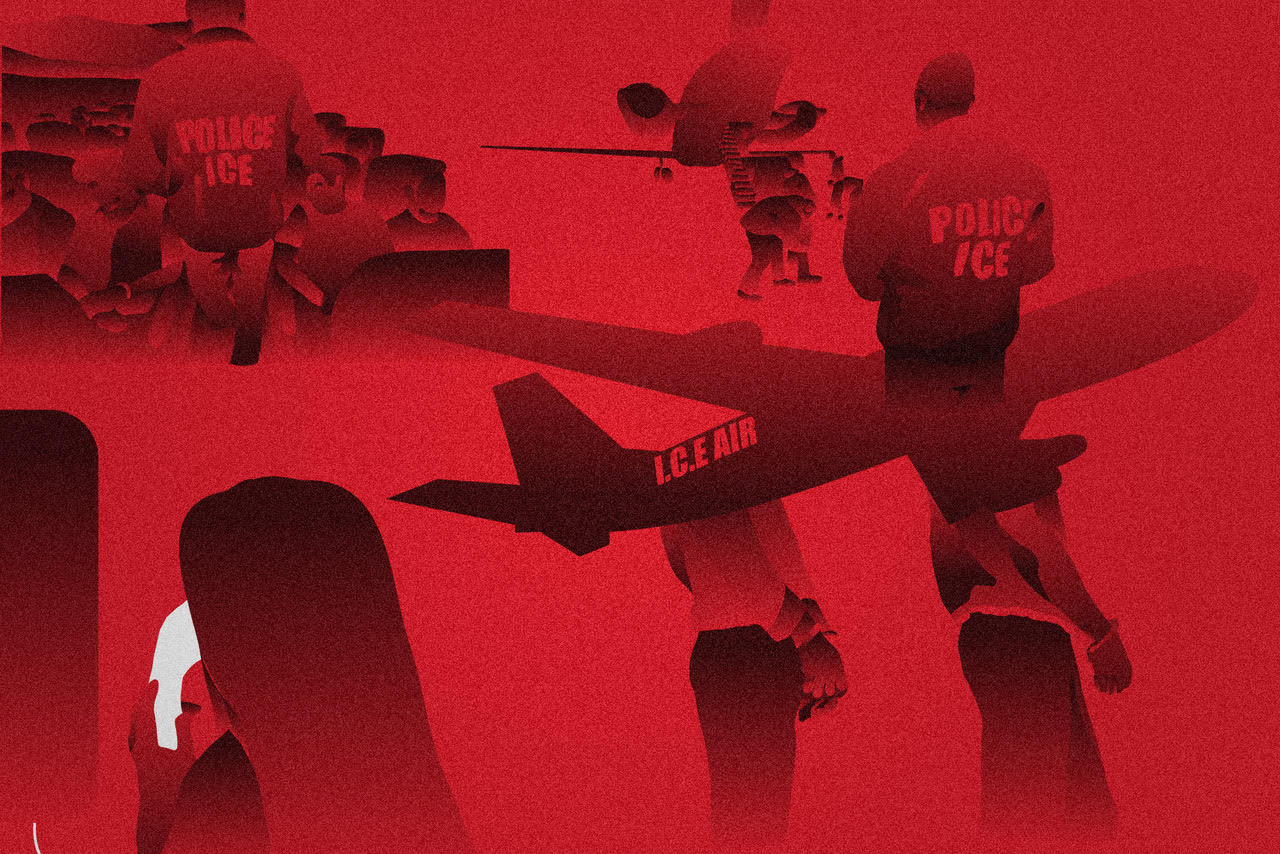 Illustration by Define Urban
Lindsay Beyerstein interviewed Angelika Albaladejo by email:
Q: What is ICE Air? 
A: ICE Air Operations is a unit of the federal immigration enforcement agency that manages the logistics for arranging private charter flights and purchasing tickets on commercial flights. In many ways, ICE Air is like an in-house air travel agent.
Q: What are all these flights for? 
A: ICE Air's flights transport immigration detainees between detention facilities across the country and for deportation around the world.
Q: You learned about mishaps on ICE flights through complaints filed with the agency. Can you tell us a bit about these documents, how you obtained them, and what you learned from them?
A:  I found these accounts while sifting through thousands of pages of government documents obtained through the federal Freedom of Information Act. These particular complaint records were shared with me by the University of Washington Center for Human Rights, which is researching the human rights implications of ICE Air's operations.
On their own, these complaints may have seemed like anomalies. But a broader pattern of medical negligence emerged as I continued my reporting.
Q: What were some other resources you used to understand the inner workings of this notoriously secretive bureaucracy?
A: I paired the complaints made by detainees with other internal agency records I obtained through FOIA, including notes taken during internal ICE meetings, to build out a clearer picture of the agency's actions. I've filed dozens of requests for ICE records over the last two years, and have been persistently appealing and litigating to get these documents publicly released. I've also cast a wide net when seeking out sources. The opacity of ICE's increasingly privatized systems of detention and deportation make it essential to reach out to a diverse array of sources across the spectrum of involvement and experience to get the full picture. I've interviewed dozens of current and former detainees, retired agency employees, medical experts, immigration lawyers and advocates. 
Q: What are some of the medical crises that have happened on ICE flights?
A: Since 2012, heart attacks, a miscarriage and even a death have all allegedly happened on ICE flights. An HIV-positive woman with a high-risk pregnancy miscarried triplets on a 2012 deportation flight to El Salvador, according to a complaint made to a departmental watchdog unit, which blamed the emergency on ICE's negligence. That same year, another complaint alleged that a Honduran woman who hadn't been sleeping or eating in ICE custody due to depression and emotional trauma was deported anyway; she died on the flight, the complaint says. On a 2019 deportation flight, a man with a severe heart condition fell ill, according to interviews with his lawyer, who said the agency recklessly sped up his removal and deemed him safe for flight despite his record of medical emergencies while in custody.
Q: Did anything unexpected happen in the course of reporting this story? 
A: I started reporting on ICE flights in 2019, thanks to support from the Fund for Investigative Journalism. During that time, I came across accounts that ICE might be administering sedative drugs to people in its custody without their consent. So I got support from the USC Annenberg Center for Health Journalism to dig into that issue.
Yet, my best-laid plans were derailed by the coronavirus pandemic and obfuscation by ICE and its private contractors. I was limited in many ways from reporting in the field and ran into roadblocks with closed offices and delayed response times. I forged ahead with a community call out to people currently or formerly in ICE custody. I called, emailed and reached out to dozens of sources. I filed records requests. I even tracked down some solid leads. Overall though, responses were few and confusion abounded. 
With my deadline approaching and serious reporting gaps remaining, I decided to shift gears and tell a different story by leaning on records I'd already obtained and lessons I'd learned while reporting on ICE.
Ultimately, I was able to tell a broader story about medical negligence that has increased significance during the pandemic. 
Q: What did you learn in the course of this investigation that you'll carry forward to future assignments?
A: I've largely come to expect that ICE and the private companies it contracts for services will stonewall my questions and public records requests. This has taught me to be patient and persistent, and to diversify my reporting tactics and sources, to ensure I'm getting as full of a picture as possible.