July 24, 2013
Palm Oil is Unhealthy, Especially if You Make It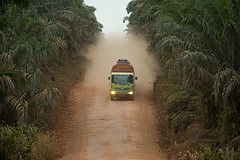 As the world market for palm oil expands rapidly due to strong demand for cooking oil in China and India, human rights abuses proliferate in the industry, including child labor, debt peonage, and wage theft:
As it's grown, the palm oil industry has drawn scrutiny from environmental activists in Europe and the U.S. They decry the destruction of rainforests in Indonesia and Malaysia to support oil palm expansion, which threatens the natural habitats of endangered species such as pygmy elephants and Sumatran tigers. The human costs of the palm oil boom, however, have been largely overlooked. A nine-month investigation of the industry, including interviews with workers at or near 12 plantations on Borneo and Sumatra—two islands that hold 96 percent of Indonesia's palm oil operations—revealed widespread abuses of basic human rights. Among the estimated 3.7 million workers in the industry are thousands of child laborers and workers who face dangerous and abusive conditions. Debt bondage is common, and traffickers who prey on victims face few, if any, sanctions from business or government officials. [Bloomberg]
E. Benjamin Skinner of Bloomberg documents abusive labor practices at KLK, one of the world's largest palm oil producers, which has sold its products to the likes of Archer Daniels Midland, Cargill, and Unilever. Palm oil and its derivatives find their way not only into processed foods, but also into familiar consumer products like Crest toothpaste and Gillette shaving cream. 
[Photo credit: A truck on a palm oil plantation in Indonesia. Rainforest Action Network, Creative Commons.]