August, 2010
Edward Luce Wins July Sidney for FT Story "The Crisis of Middle Class America"
NEW YORK: The Sidney Hillman Foundation announced today that Edward Luce has won the July Sidney Award for the Financial Times story "The Crisis of Middle Class America," a stunning portrait of the "slow economic strangulation" of millions of middle class Americans. Luce writes that this decline started long before the great recession, "which merely exacerbated the 'personal recession' that ordinary Americans had been suffering for years."
At the center of Luce's story is a portrait of a typical Minneapolis family, Mark and Connie Freeman, and their son Andy, who, despite a gross annual income of $70,000 a year, are still fighting off foreclosure of their house. Interspersed with the travails of the Freeman's life, which have turned their American Dream into a "fitful American reverie," are devastating quotes and statistics about the state of the American economy.
"Luce does a brilliant job of encapsulating many of America's most pressing problems in one 3,900 word piece," said Sidney Award judge Charles Kaiser.
Among Luce's sobering statistics:
The annual incomes of the bottom 90 per cent of

US

families have been essentially flat since 1973 – having risen by only 10 per cent in real terms over the past 37 years.
Over the same period the incomes of the top 1 per cent have tripled. In 1973, chief executives were on average paid 26 times the median income. Now the multiple is above 300.
In the last expansion, which started in January 2002 and ended in December 2007, the median

US

household income dropped by $2,000 – the first ever instance when most Americans were worse off at the end of a growth cycle than at the start.
Worse still: the long era of stagnating incomes has been accompanied by something profoundly un-American: declining income mobility.
Harvard economist Larry Katz, put it this way to Luce: "Think of the American economy as a large apartment block. A century ago – even 30 years ago – it was the object of envy. But in the last generation its character has changed. The penthouses at the top keep getting larger and larger. The apartments in the middle are feeling more and more squeezed and the basement has flooded. To round it off, the elevator is no longer working. That broken elevator is what gets people down the most."
Edward Luce is the Washington Bureau Chief of the Financial Times, where he has been a reporter and editor since 1995, except for a year starting at the end of 1999, when he took a short sabbatical to be a speech writer for Larry Summers, then Treasury Secretary in the Clinton Administration. He is the author of "In Spite of the Gods: The Strange Rise of Modern India" (Doubleday). He has a degree in Politics, Philosophy and Economics from New College, Oxford, and a graduate degree in journalism from City University, London. He lives in Washington, D.C. with his wife, Priya Basu, a Senior Financial Economist at the World Bank.
The Sidney Award is given once a month to an outstanding piece of socially-conscious journalism by the Sidney Hillman Foundation, which also awards the annual Hillman Prizes every spring. For more information please click here.
Since 1950, the Sidney Hillman Foundation has honored journalists whose work fosters social and economic justice. Our prizes and awards celebrate the legacy and vision of Sidney Hillman, founder of the Amalgamated Clothing Workers of America, a predecessor union to Workers United, SEIU.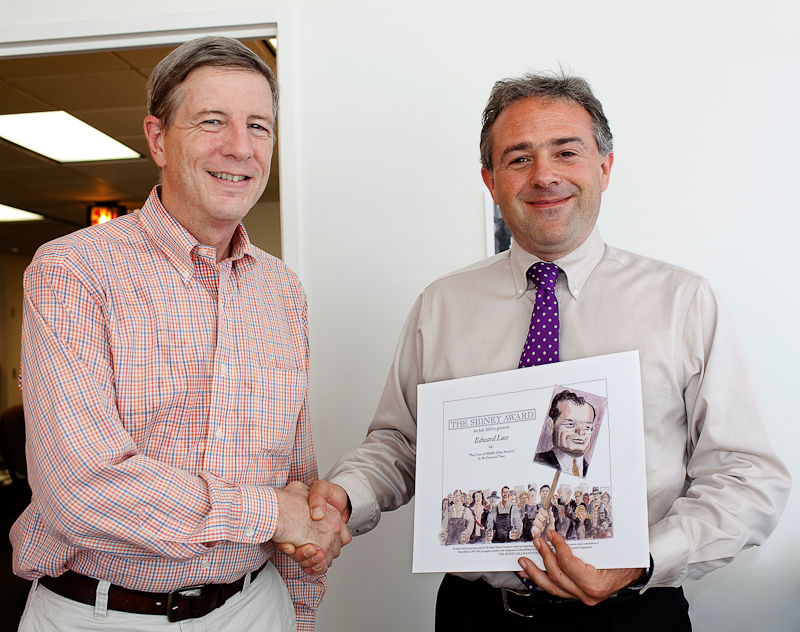 Michelle Frankfurter
Interview with Edward Luce
Edward Luce discusses his story about the crisis in middle class America.
 1. Why did you decide to look into the crisis facing middle-class Americans?
The struggles of America's middle classes has struck me for a while as the central fact of America's political economy. Prior to the Great Recession, the stagnation of median incomes was something that I wrote about for the FT. But the abrupt removal of that cushion of rising asset prices, and inflated house values, has added an urgent new dimension to the problem. The difficulties of middle America can no longer be disguised through easy credit.
2. What surprised you as you did your research?
I am continually surprised at how difficult daily life is for the typical middle class family in America. I'm in awe at how hard people work, how many jobs they do and yet how close their are to bankruptcy and ruin. In Europe we've been raised to think about America as a wealthy nation, which of course in aggregate it is. It is a constant shock to me to observe what a struggle life is for such large numbers of Americans to keep their heads above water.
3. What has the response been since you published it?
The piece has clearly tapped into a broad vein of concern around America and beyond. I have had as much response to this article as to any I have written since moving here in 2006. The response has been largely positive and also constructive. Many people have emailed to tell their very poignant and illuminating stories or to recommend original ways of looking at the situation. In my experience feedback from readers is a constant source of good ideas (usually better than trying to think them up myself).
4. Is there something you wish you had room to include in the piece but could not?
Yes. But as a reporter, you often have way more material than you have room to use. Being selective is part of the process.
5. If you went back to this story in another year, what would you want to follow-up on?
There are so many angles to this story that it would be a difficult choice. But the stagnation of college completion rates in the US and the rising cost of further education is a theme I would like to pursue in much more detail. America has always championed the cause of equality of opportunity, which hinges on providing an education system that can provide roughly equal advantage to the majority of children from a young age - a feature that is no longer anywhere close to being true in the US. Reporting on attempts to change this - both at the college level and K-12 - are worth any amount of effort. The success or failure of these reform efforts will play a huge role in determining whether America can bely its doubters.