May, 2012
Reuters Team Wins Sidney Award for Exposé on Lobbying and Childhood Obesity
The Sidney Hillman Foundation announced today that Duff Wilson and Janet Roberts of Reuters have won the May Sidney Award for their special feature, "How Washington Went Soft on Childhood Obesity."
The story explores how Congress killed proposed industry guidelines for marketing junk food to children, even as the White House claimed to be fighting for children's health.
The Reuters team analyzed records which reveal that the food and beverage industry has spent $175 million on lobbying since Barack Obama took office, up from $83 million during the previous 3 years. This money has been well-spent; the industry has yet to lose a significant political battle.
For example, in recent years 24 states and five cities have considered "soda taxes," but the industry, sparing no expense, has defeated them all.
Some experts warn that today's children could have shorter life expectancy than their parents, thanks in part to calorie-dense diets and sedentary lifestyles.
"In the political arena, one side is winning the war on child obesity. The side with the fattest wallets," Wilson and Roberts write.
"These reporters have produced an outstanding piece of investigative journalism that illustrates how corporate money trumps science in public health policy," said Sidney judge Lindsay Beyerstein.
Duff Wilson is an investigative reporter with Reuters in New York and previously with the New York Times and The Seattle Times. He has won numerous national awards, including the Heywood Broun Award from the Newspaper Guild and two Goldsmith Prizes for Investigative Reporting from Harvard University. Duff also teaches investigative reporting at the Columbia University Graduate School of Journalism. He webmasters the Reporter's Desktop, a collaborative nonprofit internet launch pad. His 2001 book, Fateful Harvest, exposed heavy industries recycling hazardous waste through fertilizer.
Janet Roberts is a reporter on Thomson Reuters' data team, where she specializes in analytical reporting, harnessing information and analyzing data for news stories. Before joining Reuters in October 2011, she spent almost seven years on the computer-assisted reporting team at the New York Times, where she won a Silurian community service award for a project examining the plight of people exonerated after wrongful conviction. Another Times project, examining doctors' involvement in pharmaceutical marketing, was published in America's Best Science Writing. She started her career at the Star-News in Wilmington, N.C., followed by a stint as the computer-assisted reporting editor at the Saint Paul Pioneer Press in Minnesota.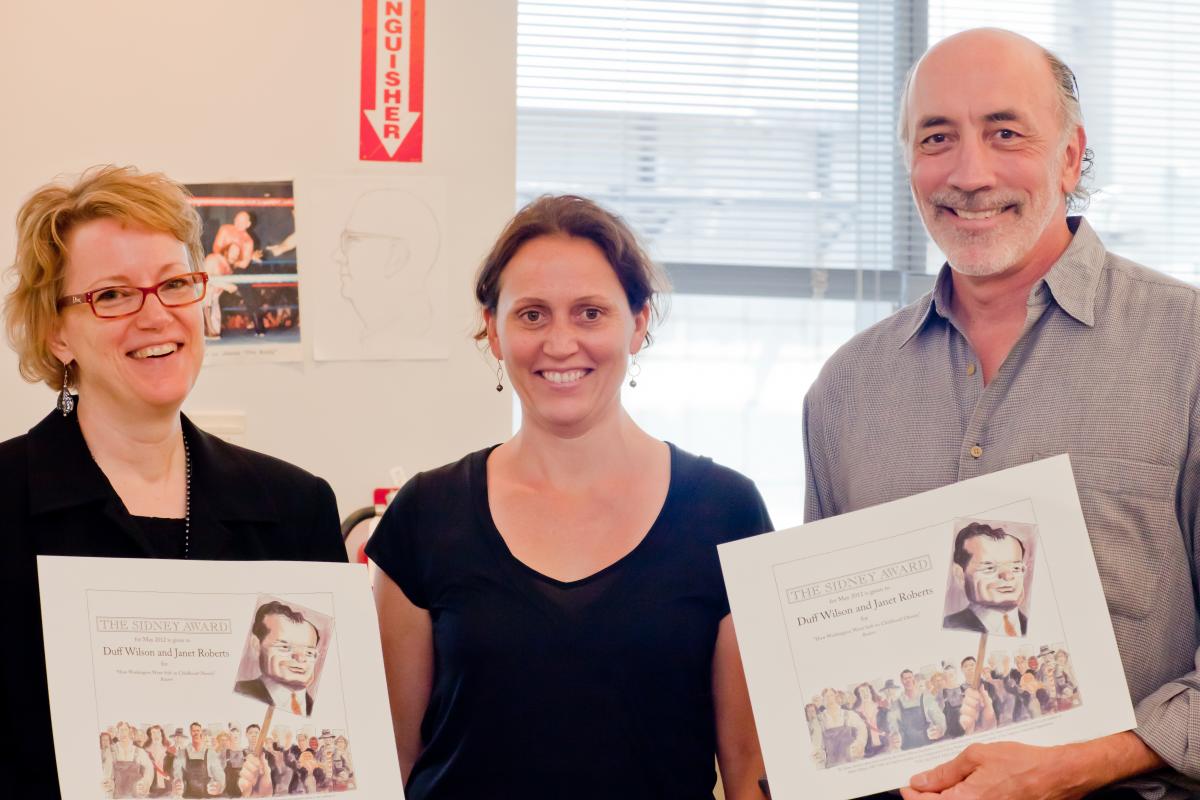 Lindsay Beyerstein interviewed Duff Wilson about the story:
1. You note that today's kids may be the first generation to have a shorter life expectancy than their parents. How come? 
Experts are blaming the surge in childhood obesity for cutting lives short in the future. Obese and overweight children are much more likely to get Type II diabetes, high blood pressure, heart conditions and other illnesses. While the outcome remains to be seen, studies suggest the new generation could live 2 to 5 years less than their parents' generation.
Childhood obesity has tripled since 1980.
2. The food and beverage lobby spent $175 million on lobbying under Obama compared to just $83 million during the last 3 years of the Bush administration. What accounts for this increase?
The industry has faced new political challenges in the Obama administration and doubled its overall lobbying spending to protect its interests. In Obama's first year as president, he and the Congress were considering a tax on sweetened beverages to help pay for the health care overhaul. Beverage industry lobbying shot up to $40 million in 2009 from $4.8 million the year before. The soda tax idea died.
In the past two years, four agencies have considered tighter voluntary standards for sugar, salt and fat in food to be marketed to children. The industry defeated that, too, preferring its own voluntary standards.
3. Pizza is officially a vegetable in school lunches. How did that happen? 
The US Department of Agriculture was doing the first overhaul in the past 15 years of the nation's school lunch program. It added a lot more fruits and vegetables and reduced salty, sugary, fatty foods. But special interests got involved late in the process, turning to Congress to insert language into larger legislation to help protect pizza and French fries on the menu. Schwan Food, the nation's largest frozen pizza maker, enlisted its home state senator, Amy Klobuchar (D-Minn.), to help push through the change.
4. Michelle Obama has made healthy eating her signature initiative as first lady. Yet, when an FTC/FDA/CDC working group put forward voluntary guidelines for marketing food to children, neither the president nor the first lady publicly championed the report. Why not? 
They won't say. The White House claims to have supported its inter-agency working group on food marketed to children, but there is no evidence it supported the report. Lobbyists for both business and health groups say the White House went silent on the working group's report while Congress killed it, in effect accepting and, in the First Lady's case, praising the industry's own voluntary standards, which were less strict.
5. A White House spokesman told you that Congress caved to industry pressure and put new demands on the joint FTC/FDA/CDC working group. What kind of demands? 
Congress passed a budget rider that required the working group to do a cost-benefit analysis on its recommendations. But the Federal Trade Commission, which led the working group, said that was virtually impossible. The FTC said the recommendations were only voluntary and did not meet the definition of government regulations for such an analysis.
Industry disagreed, but the net effect was to kill the report before it was issued.
6. Michelle Obama's "Let's Move" program abruptly shifted its focus from promoting healthy eating to increasing physical activity. What happened? 
We don't know. In early 2010, Mrs. Obama exhorted food makers to improve their products and kids' marketing. By 2011, she was praising them for successes and emphasizing exercise, an approach that food and beverage companies prefer to one that continues to press them to make healthier foods and market less junk food to kids. Some well-connected health groups tied the change in emphasis to the political season. The $1.5 trillion industry is obviously powerful. The First Lady's office says it did not wobble.
7. Studies show that people already overestimate the number of calories they burn by exercising and underrate the number of calories they eat. Could this new focus on exercise as the primary strategy for maintaining a healthy weight be counterproductive? 
Exercising more is a proven method of balancing caloric intake and reducing weight gain. So, no, it would not be counterproductive to the overall anti-obesity movement unless it was diverting resources and attention from other important factors.
8. According to one lobbyist you interviewed, it's okay for the government to tell people to eat better in the abstract, "But if you start naming foods, you cross the line." What did he mean by that? 
It's politics. The food and beverage lobbies fought against the proposed stricter government recommendations by emphasizing they would potentially reduce marketing of 88 of the 100 most popular food products, including Cheerios, whole wheat bread and yogurt. They argued it was too extreme. And the argument found traction with Democrats and Republicans alike who could not imagine why some particular products were not considered healthy enough to market to kids. (Cheerios had a little too much sodium and added sugar for the new recommendations, which would have gone into effect in five years.)
9. How do the tactics of the food and beverage industry on childhood obesity resemble those of Big Tobacco on cigarette regulation? 
Some public health experts say both industries dispute links between their products and ill health – the food industry denies sugar causes obesity; both industries have rewritten product labels without major changes; both relied on marketing to kids; and both used "front groups" with consumer-oriented names that would not show their industry connections. The food and beverage industries hotly deny they are using the tobacco playbook to protect their products from health concerns. Tobacco kills half of its regular users; food is a necessity of life.