January, 2016
Las Vegas Review-Journal wins January Sidney for Unmasking the Shadowy Buyer of Their Own Newspaper
James DeHaven, Howard Stutz, and Jennifer Robison with the Las Vegas Review-Journal win the January Sidney Award for unmasking GOP powerbroker Sheldon Adelson's secret acquisition of their newspaper.
Adelson's furtiveness is puzzling in an era when billionaires buy media properties as openly and casually as they buy yachts, but the Sidney winners' coverage might help explain it.
A month before Adelson was unmasked, three Review-Journal reporters were mysteriously ordered to drop everything and monitor three Clark County judges for two weeks. The team reported that one of those judges is hearing a wrongful termination suit against Adelson.
Soon after the sale, the paper's manager wrote that reporters should not worry about the new owner's identity and advised them instead to focus on doing their jobs—a statement that was later expunged from the story.
"The team was brave to forge ahead, against the owner's wishes," said Sidney judge Lindsay Beyerstein, "Their coverage is a coup for transparency, accountability, and journalistic independence."  
The fallout from the acquisition and the subsequent exposé is still being felt at Nevada's largest newspaper. Editor Mike Hengel resigned on December 22.
"Mike's leadership, along with the support and guidance of deputy editor Jim Wright, helped make our reporting on this story possible," Jennifer Robison told The Backstory.  
The paper has since adopted a new set of guidelines for covering the Adelson family and their interests in the paper and the state.
James DeHaven covers state government for the Helena Independent Record. He reported from two city halls in his nearly three years at the Las Vegas Review-Journal, covering Nevada's first and fourth-largest cities.
Business reporter Howard Stutz has covered the gaming industry on a local, state, national and international level for 11 years. He writes a twice-a-week column on the gaming industry for the Review-Journal.
Jennifer Robison has worked as a business journalist in Las Vegas for more than 15 years. She has reported for the Review-Journal since 2005.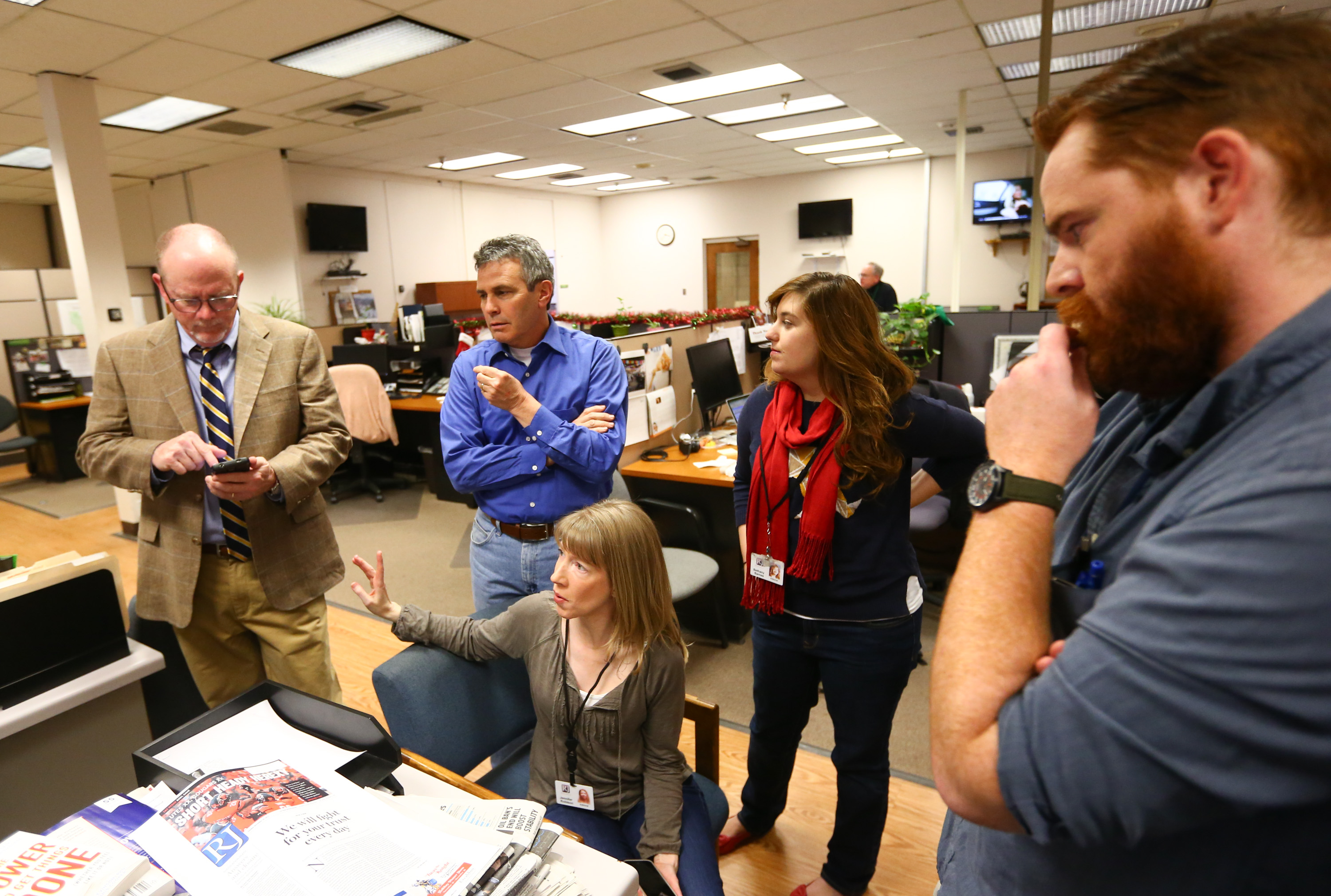 Chase Stevens, Las Vegas Review-Journal
Lindsay Beyerstein interviewed Jennifer Robison by email
Q: When did you realize that the Las Vegas Review-Journal had changed hands?
A: We did not have even an inkling of the sale until Dec. 10. We first learned about it at the newspaper's monthly town hall session. Publisher Jason Taylor announced it at the end of an hour-long meeting that was mostly about sales/revenue numbers and plans for future publications and events.
Q: Describe the process whereby your team launched your investigation to unmask the paper's true buyer.
A: The process began before the town hall meeting ended. Jim Wright, the RJ's deputy editor for metro and business, assigned Howard Stutz and Jennifer Robison an A1 story on the announcement. Howard and Jennifer used their smartphones to begin researching the ownership LLC and its manager, Michael Schroeder, before the meeting disbanded. James DeHaven joined the project the next day, Dec. 11, to help track down additional information about the manager and to help write the story.
We strongly and immediately suspected the Adelson family was involved because they had the money, the local connection and a history of offering to buy the Review-Journal.
To break the story took several days of constant but basic beat reporting – working business and gaming sources that we've cultivated over more than a decade of local coverage; researching the Adelson family's extensive business and personal ties to track down new sources; and coaxing reticent sources into talking to us and confirming what we already suspected.
Q: Patrick Dumont turned out to be the architect behind the deal. How did you know to look at him?
A: Several sources suggested we look for a link through Mr. Dumont, because he had coordinated several other large deals for Mr. Adelson.
Q: Lots of wealthy, politically connected people openly own newspapers. Why do you think Sheldon Adelson was so keen to hide his ownership of the LVRJ?
A: Only Mr. Adelson can speak to his personal motivations. But the attempt at secrecy, combined with the "courtroom-watching" assignment that involved scrutiny of a judge overseeing a high-profile case in which Mr. Adelson is a defendant, was and is still very worrisome to all of the Review-Journal's reporters and editors.
Q: Has day-to-day life at the LVRJ changed since the paper changed hands?
A: Aside from the distraction of becoming a national news story, not really. We did lose our editor, Mike Hengel, who resigned on Dec. 22 after a disagreement with the paper's management. Mike's leadership, along with the support and guidance of deputy editor Jim Wright, helped make our reporting on this story possible. We miss Mike a great deal.
Glenn Cook, our senior editorial writer, is on hiatus from his editorial duties to serve as our interim editor. Glenn is a steady and well-respected hand who's helping oversee a sizable jump in newsroom staffing. We are bringing back our in-house design desk, lost to former owner GateHouse Media's Austin design center in July, and filling key reporting positions in education, healthcare and municipal beat coverage. We are excited about the potential for real strides in the quality of a newspaper in which we already personally take great pride.
Q: Do you think the 13 new guidelines for covering the Review-Journal's ownership are enough to safeguard the editorial independence of the paper?
A: Only time will tell. We developed strong ethical protocols for the newsroom to follow, but the paper's ownership also has a responsibility to be transparent with the newsroom. We are deeply committed to our editorial independence, and the reporters and editors who work in the newsroom today are highly unlikely to stay with the RJ if they feel its coverage is compromised in any way.