February, 2018
Kiera Feldman wins February Sidney for exposing New York City's deadly private garbage racket
Kiera Feldman wins the February Sidney for "Trashed: Inside the Deadly World of Private Garbage Collection," published by ProPublica in collaboration with the Investigative Fund.
Each night, an army of privately owned garbage trucks rolls out to collect trash from every bar, bodega, and office building in New York City. Drivers hurtle through the street at 45 mph with their helpers hanging off the backs of their trucks. Drivers regularly nod off at the wheel while clocking 10- to 18-hour shifts, 6 days a week, to finish routes that can snake through multiple boroughs and include over 1000 stops. Many workers earn a flat rate per shift, often as little as $80 or $120, so they have an incentive to race through.
New York's private sanitation workers are crushed by dumpsters, slashed by glass, and run over after falling from their trucks. Drivers report regular brake and steering failures on their ancient 40,000-pound vehicles. Some employers allegedly falsify maintenance reports to keep their decrepit rigs on the road.
The private garbage fleet also endangers the public. Private garbage trucks, which ply their trade by night, killed 7 New Yorkers in 2017, whereas city garbage trucks, which operate by day, haven't killed anyone since 2014.
Most of the city's private sanitation workers either lack union representation, or belong to so-called "independent" unions that have sweetheart deals with employers. Feldman revealed that LIFE 890, an independent union that represents workers at several major waste companies, is headed by a convicted criminal who runs the union out of his house and keeps his family on the payroll.  
Garbage collection is linked to organized crime in the popular imagination, and indeed, insiders told Feldman that the mafia ruled the city's commercial trash trade from its inception in 1957 until the 1990s when aggressive prosecutions and reform legislation loosened organized crime's grip on the industry. Crooked trash firms returned in new guises, but without the city-wide Teamsters contract that used to protect the workforce.
"This story drew attention to spectacular abuses that are taking place in plain sight," said Sidney judge Lindsay Beyerstein, "This reporting calls attention to the need for reform in the private carting industry to protect workers and the public."
Kiera Feldman is a Brooklyn-based reporter for the Investigative Fund. She has written for Harper's, ProPublica, The Nation, The New Republic, The New York Times Sunday Review, This Land Press, Mother Jones, n+1, Playboy, New York Magazine, VICE, and elsewhere. Her New Republic story "Sexual Assault at God's Harvard" won the Livingston Award in 2015.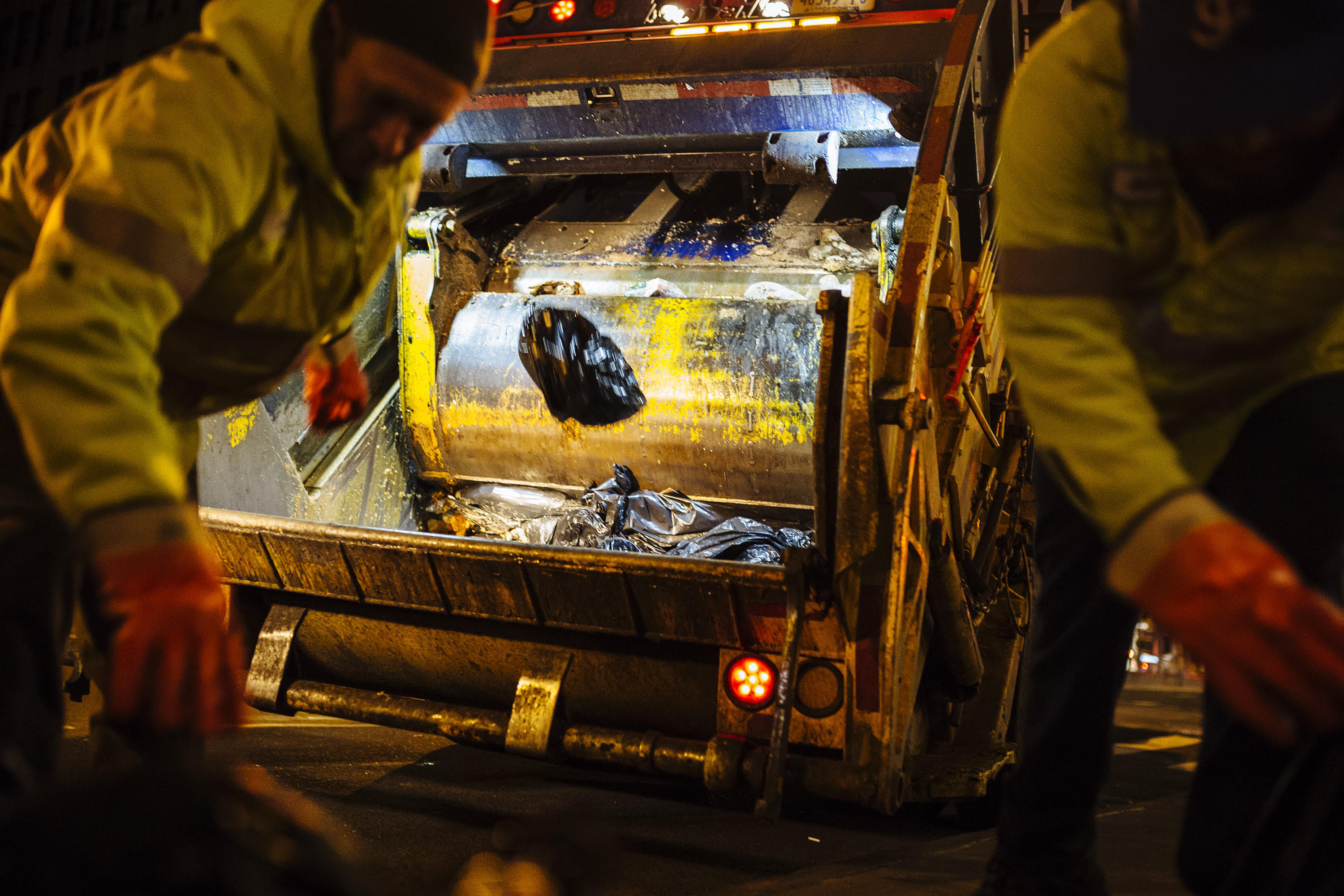 Michael Santiago for ProPublica
Lindsay Beyerstein interviewed Feldman by email
Q. How did you get interested in the gnarly world of private garbage collection in New York City?
A. I'm drawn to stories that are hidden in plain sight. I had lived in New York City a full seven years before I even realized that there was this whole world of private sanitation and a largely invisible workforce that set out across the city each night. Like many New Yorkers, I assumed that municipal workers from the city's Department of Sanitation picked up all of the trash. But I happened to meet someone from Transform Don't Trash, a coalition of New York City labor and environmental groups that's been working to reform the commercial waste sector. I couldn't believe I'd lived here so long and been totally oblivious to the conditions faced by an entire workforce.
Q. How did you persuade a driver to risk his job by letting you tag along on his route?
A. Sometimes I wonder why anyone ever talks to a reporter. It's a real leap of faith–and all the more so when your livelihood is at stake. I knew that finding a worker who would agree to being followed would be like finding a unicorn. The short of it is that I was tracking down contacts through a Teamsters organizer and asking everyone I could. Alex, the driver who ended up participating in my story, had been part of an organizing drive at another company where the owners had successfully union busted. Ultimately, my task wasn't persuasion so much as it was simply looking for the person who already wanted to share his story and let the public know what he and other workers were going through. As a reporter, you have to trust that those people are all around you, just waiting to be asked.
Q. What were the most alarmingly unsafe things you saw during your ride-along?
A. The worker on the back of a truck is called a helper. When the squeeze was tight with a parked car, I couldn't believe it when he swung from the side step up into the hopper. The helper was actually perched inside the hopper. If the machinery had malfunctioned or the compactor began running, he could easily have been crushed to death. Since then, I've seen many workers perched inside the hoppers of garbage trucks barreling down the road. Recently, I saw two helpers standing inside the hopper of a westbound truck on Fulton Street in Brooklyn. If you pay attention, you'll see the most alarming things every single night on just about any street in New York.
Q. Was there anything that you wished you could have included in the piece, but had to leave out?
A. I have two more waste industry stories in the works, so there's a lot more left to be said. But I really wish that "Trashed" had included a mention of how the City licensing agency has a Trade Waste Advisory Board that meets monthly, is not open to the public, and is comprised of carting company owners and industry lobbyists. The co-owner of Five Star Carting, the 3rd biggest company in New York, is on the advisory board. Five Star is notorious for wage theft and is one of the many companies that has a sweetheart union called LIFE 890.
Q. In the late 90's, New York fought mobbed up carting companies and won. What effect did that have on working conditions in the industry?
A. The fall-out was that citywide collective bargaining became a thing of the past. Previously, most of the companies were Teamsters shops. The new licensing requirements broke up mob control of the industry, but then many non-union companies rushed in. Wages plummeted. Working private sanitation used to be a well-paying job that offered the promise of upward mobility. There are still good union jobs to be had, but they're out of reach for many workers.
Q. What are independent unions and what role do they play in New York's private carting industry?
A. Independent unions are rampant in New York City across many industries. They're unions in name only: they cut sweetheart deals with employers, and then the union officers and their family members end up drawing these high salaries. In New York's carting industry, an independent union will seemingly collude with company owners to raid a Teamsters shop or a Laborers shop. The owners then threaten their employees into voting for the sweetheart union, which in turn signs a crappy collective bargaining agreement that might stipulate, for example, minimum wage in perpetuity or a mandatory arbitration clause so that you can't sue your boss for the wages they plan to steal from you. And then workers never see anyone from their so-called union. In the carting industry, the effect is that immigrants and people of color are locked into these dangerous, low-wage jobs. Once a sweetheart union is installed, it's very hard to drive them out.
Q. Mayor Bill de Blasio wants to reform the private carting industry by separating the city into zones and contracting out waste collection to one company per zone, do you think that would make garbage collection safer for drivers and the general public?
A. The studies are very convincing that zoning would reduce truck traffic and cut down the miles each truck drives, which would likely improve safety for pedestrians and workers. But the main question for the City is this: what exactly will be required of the companies to win a bid for a zone? The City needs to take measures so that these will actually be good jobs—not simply more dangerous, low-wage positions. In a zoned system, a local city government can make a winning bid contingent upon a company meeting agreed-upon benchmarks, like paying a living wage, a cap on daily hours, safety training and equipment, and so forth. Zoned collection seems an inevitability in New York City, but forcing companies to meet labor and environmental standards will have to be fought for.