September, 2017
HBO's VICE News Tonight wins September Sidney for Charlottesville: Race and Terror
Elle Reeve, Tracy Jarrett, Josh Davis, Zach Caldwell and Orlando de Guzman win the September Sidney Award for Charlottesville: Race and Terror, a documentary short produced by HBO's VICE News Tonight, which has received over 50 million views across all platforms including HBO, Facebook, YouTube and VICE's Video Player.
Charlottesville follows the white supremacist organizers of last month's Unite the Right rally in Charlottesville, VA, which opened with hundreds of torch-waving protesters chanting "Jews will not replace us!" and culminated with a far-right protester ramming his car into a crowd of peaceful anti-fascist protesters, killing one person and injuring 19 others.
The crew obtained remarkable access to high-ranking organizers who spoke frankly about how they came heavily armed from out of state and eager to confront counter-protesters.
"This documentary galvanized national consciousness about Charlottesville and the threat of white supremacist violence, racking up millions of views in its first week," said Sidney judge Lindsay Beyerstein, "It also connects the dots between the anguish of the community and our nation's long history of white supremacy."  
Elle Reeve is a correspondent for Vice News Tonight. Her writing has appeared in New York magazine, The Atlantic, and Racket Teen.
Tracy Jarrett is an Emmy nominated, Peabody award-winning producer for Vice News Tonight on HBO. She covers politics and policy in the Vice News Washington DC bureau.
Josh Davis is a producer for Vice News Tonight. He is an award-winning visual journalist and educator who has led ambitious documentary and interactive projects for Vice News Tonight, The New York Times, NPR and MediaStorm.
Zach Caldwell has been a director of photography for Vice News Tonight since August 2016.  Before shooting for Vice News Tonight, he was responsible for creating documentary and interactive content at Tribeca Film Institute, where he also taught editing and cinematography in public schools across New York City.
Orlando de Guzman is the co-director of photography for "Charlottesville: Race and Terror." de Guzman is a Filipino journalist and filmmaker who has produced numerous films for Vice News, Al Jazeera, PBS and Fusion.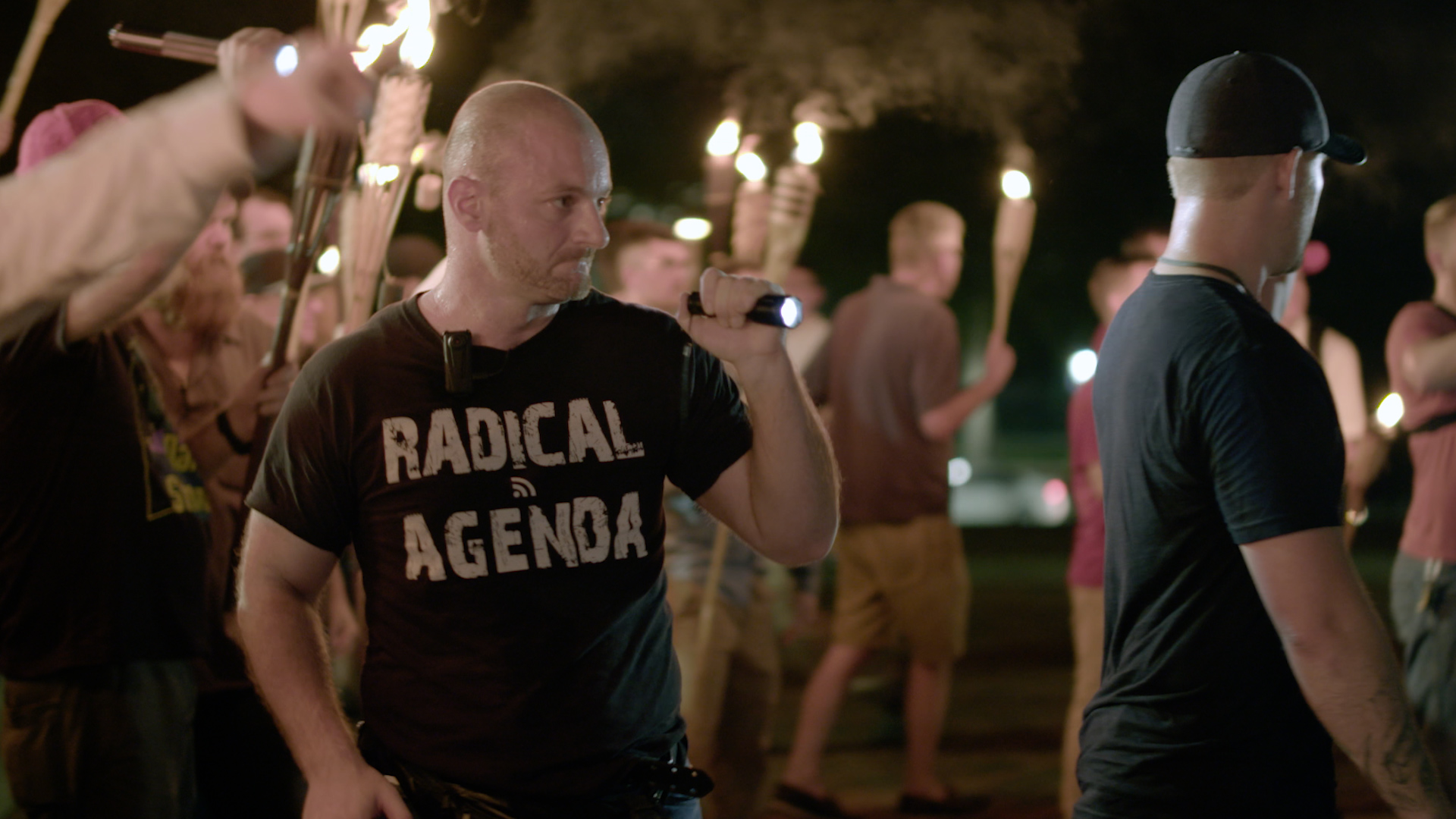 HBO's Vice News Tonight
Lindsay Beyerstein interviewed the VICE team by email
Q: What kind of research and did you do to prepare yourself to cover the Unite the Right rally?
Elle: I've been covering the alt right for 18 months. I've closely followed their message boards, publications, and podcasts, and have interviewed many leaders within the movement. So we knew who to talk to before the rally.
Q: You got astonishing access to event leaders including Chris Cantwell, Matthew Heimbach, and even David Duke. How did you negotiate access?
Elle: I used my network of sources to secure an interview with Cantwell before the march. Cantwell thought our questions were substantive and allowed us to follow him through the weekend. We have been covering these groups for awhile, and they have noticed that coverage. So in some cases, we saw them at the rally sites and just asked for interviews.
Q: As a journalist, how do you feel when white nationalists like Jason Kessler drape themselves in the First Amendment?
Tracy: As journalists the first amendment is obviously very important to us and is something we respect. We sometimes find ourselves reporting in situations where the line between free speech and hate speech feels thin, blurred, or even non existent. However, it is our job to report what we see and present it as accurately as possible despite any personal opinions we may have, so we try to do that to the best of our abilities allowing our audience to form their own opinions.