February, 2011
The Committee to Protect Journalists Wins January Sidney
February 15, 2011
NEW YORK: The Sidney Hillman Foundation announced today that the Committee to Protect Journalists has won the January Sidney Award for its extraordinary contributions to the protection of journalists around the world, including its recent work in tracking the plight of journalists during the recent protests in Egypt. Since the beginning of the uprising, the Committee has documented fifty-two assaults on journalists and seventy-six detentions in that nation.
Ahmad Mohamed Mahmoud, a journalist working for the newspaper Al-Ta'awun, died February 4th from gunshot wounds sustained on January 29th. Mahmoud's wife, Inas Abdel-Alim, told Al-Jazeera that it happened while he was shooting a video from his balcony of a confrontation between security forces and demonstrators on the street. She said that they told him to stop filming, but was hit by a sniper shot before he could react.
"They meant to kill him; they aimed at his head with live ammunition," Abdel-Alim said on Al-Jazeera. "The perpetrator did this to him because he was filming what was happening. They didn't want us to cover the massacre that happened that day."
Sidney Award Judge Charles Kaiser said, "Since 1981 CPJ has brought crucial attention to the persecution of journalists in every corner of the world. By publicizing arrests, assassinations, and assaults, CPJ has focused international attention on the policies of dozens of repressive governments. It played a particularly important role in the past month as dozens of foreign and Egyptian journalists have been attacked in Egypt."
Since the beginning of the Egyptian uprising, CPJ has attracted 3,000 new followers on Twitter, for a total of more than 11,000.
"The campaign of violence and intimidation waged against journalists in Egypt was unprecedented," CPJ executive director Joel Simon said on the day that Hosni Mubarak finally resigned the Egyptian presidency.  "The government's goals were to prevent Egyptians from communicating with one another and to hide their own brutal actions from the world. They failed on both counts."
Since becoming CPJ's executive director in 2006, Simon helped the committee launch the Global Campaign Against Impunity which seeks out justice in cases where journalists are murdered.  He also helped establish the Journalist Assistance Program which provides legal, medical, financial and relocation assistance to journalists in need.
In 2010, the committee spent more than $3.5 million keeping track of attacks on journalists around the world.  It has twenty-five full-time employees, as well as consultants and representatives around the world. It will celebrate its 30th anniversary this spring.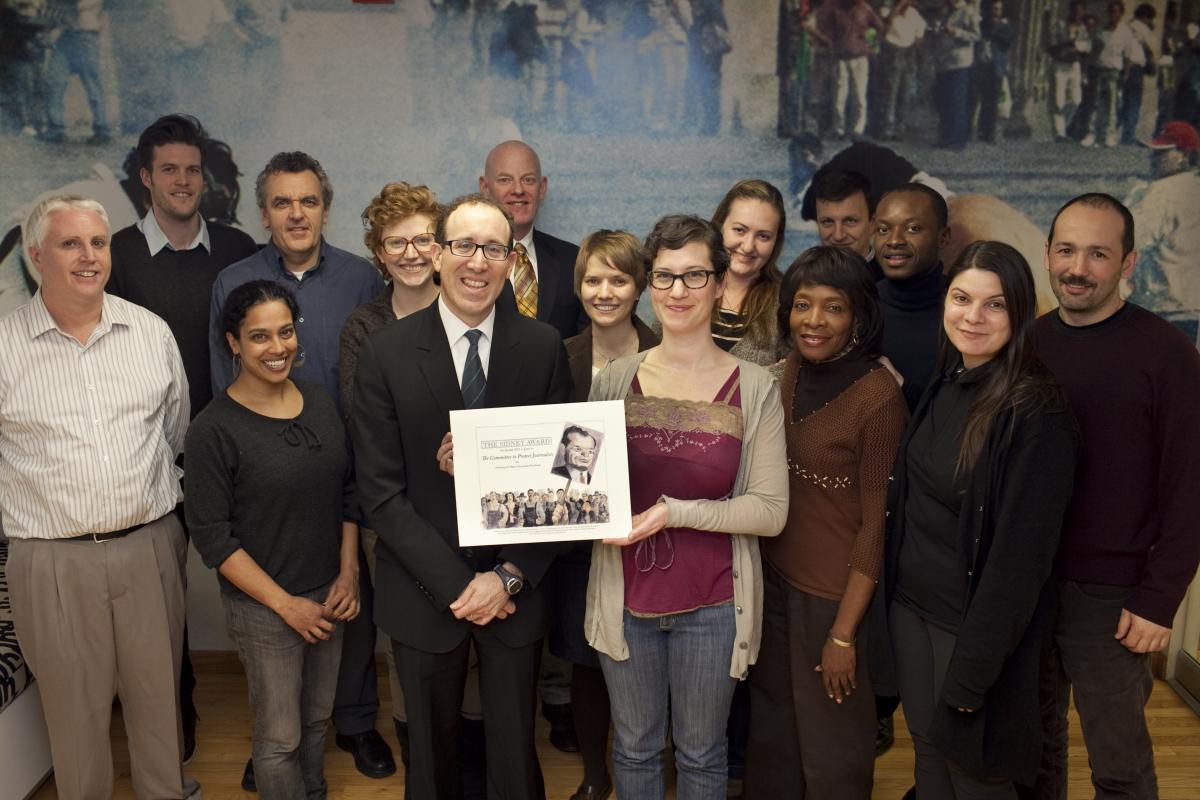 Interview with Joel Simon
JANUARY, 2011
What is the situation like for journalists in Egypt? How has it changed over the past two weeks?
As CPJ documented in real time over the last couple of weeks, both foreign and local journalists were subjected to an unprecedented campaign of censorship, assaults, detentions, and worse. At least one journalist was killed by uniformed agents while covering the unrest, according to news reports. Journalists also displayed admirable levels of courage as they–initially as individuals and small groups, and eventually in droves–made statements and took actions that exposed them to immense personal and professional risk. On the same day as President Hosni Mubarak stepped down we received confirmation that Karim Amer, a blogger and longtime critic of Mubarak who was seized by state agents on Monday February 7 was released from custody. Amer had recently served a four-year prison term for his writing. That means that all detained journalists whom CPJ had been tracking since the beginning of the uprising are now free.
How does it compare to the way journalists have been treated during times of political unrest elsewhere?
We are calling this an assault against journalists because of the scale and systematic nature of the violence. Certainly, there are many other places where journalists face repression on a daily basis, but I can't recall a situation when the situation changed so rapidly for journalists. The closest comparison might be the crackdown on Iranian and international journalists covering the unrest spawned by the disputed election results in June 2009.
How does the CPJ gather information on the experience of journalists on the ground in Egypt?
CPJ relies on a large number of contacts on the ground. Often we are in contact with these people on a daily basis. A lot of this communication is through email and phone. But, in the case of Egypt, our two-person Middle East program was able to document more than 150 press freedom violations, including 76 detentions and 52 assaults, in no small part thanks to Twitter. A huge number of journalists, ranging from Egyptian bloggers to international correspondents on the ground in Cairo, now maintain personal Twitter feeds that they update constantly. By following these feeds, we were able to get real time information about specific abuses, ranging from smashed cameras to detentions.
For example, on February 4, Egyptian blogger Wael Abbas tweeted live that he had been detained by the military. His 20,000 followers quickly spread the word and CPJ was one of many groups to respond immediately. He was released a few hours later. Likewise, when Al Jazeera English correspondent Ayman Mohyeldin was detained on February 5, the news spread within minutes by his concerned colleagues including Ben Wedeman from CNN and Jon Williams from the BBC. Mohyeldin was released after around eight hours. International journalists also used Twitter to spread the word when security agents and Mubarak supporters raided the Cairo Hilton, confiscating and smashing equipment. NPR's Andy Carvin was a great resource for many journalists covering this story with his "curated" Twitter feed of news from journalists and bloggers on the ground.
While CPJ continues to send out email "alerts" each day, we also disseminate more and more information using Twitter and other social media. This has allowed us to directly reach the frontline reporters more easily, many of whom have access to Twitter while they are out reporting.
Any stories of individual journalists that you would like to share?
Last week in Cairo one of CPJ's contacts was demonstrating outside the headquarters of the state broadcaster. In his immediate vicinity was a journalist who, in an effort not to stand out, was discreetly using a small flip-camera to film the scene and a small notepad to take notes. As the official announcement was made that Mubarak had stepped down, the crowd roared in approval. Almost immediately, our contact relayed, a military officer went up to the reporter and handed him a professional camera with a massive lens. The officer said: "We were made to confiscate this camera from a journalist the other day. We had no choice. I don't even know who that guy was and there is no way to track him. You're a journalist; you'll make good use of it. Take it and document the people's revolution."