March 6, 2013
The Observer Profiles Hillman Prize-Winner Ta-Nehisi Coates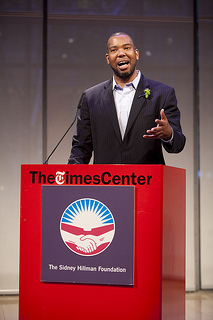 Ta-Nehisi Coates, the winner of a 2012 Hillman Prize for analysis and opinion journalism, is profiled in the New York Observer, and the Hillman Foundation gets a shout out:
At 37, Mr. Coates is the single best writer on the subject of race in the United States. His Atlantic essays, guest columns for The New York Times and blog posts are defined by a distinct blend of eloquence, authenticity and nuance. And he has been picking up fans in very high places.
Fans like Rachel Maddow, who tweeted: "Don't know, if in US commentary, there is a more beautiful writer than Ta-Nehisi Coates." The New Yorker's Hendrik Hertzberg described him as "one of the most elegant and sharp observers of race in America," when announcing that Mr. Coates had won the 2012 prize for commentary from The Sidney Hillman Foundation. MSNBC's Chris Hayes, who recently hosted a book reading at MIT with Mr. Coates, a visiting professor at the school, said that "he is as fine a nonfiction writer as anyone working today."
You might be surprised to learn that Coates turned down the New York Times' offer of a regular column:
"I won't go so far as to say I'd fail," he wrote. "But I strongly suspect that the same people who were convinced this would be a perfect marriage, would—inside of a year—be tweeting, 'Remember when that dude could actually write?'" Of course, that humility is exactly what makes readers want to see Mr. Coates on the op-ed page twice a week. The fact is, wherever he writes next, the man has arrived.
Coates has indeed arrived, and we at Hillman look forward to seeing him go from strength to strength.