April 10, 2013
Gantz Brothers Win April Sidney for "American Winter"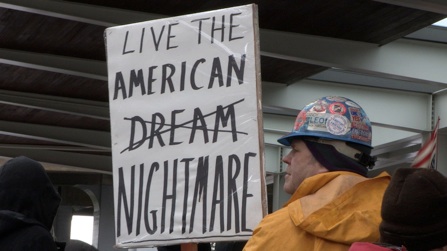 Joe and Harry Gantz won the April Sidney Award for American Winter, a documentary that follows eight Portland, Oregon-area families struggling to survive the winter of 2011/2012 in the grip of the Great Recession.
At a time when 46.2 million Americans are living in poverty nationwide and the top one percent accumulate wealth at record-breaking rates, the filmmakers sought to cast a light on the fragility of the middle class and the threadbare state of our social safety net.
The families in American Winter cope with stagnant wages, the mortgage crisis, medical bills, death and disability. They suffer from budget cuts that have frayed the social safety net in the name of austerity.
American Winter follows hardworking families who, like so many Americans, are one crisis away from poverty. A woman struggles to raise her son alone after her husband's sudden death; another loses her job because of her daughter's chronic illness. A couple with young children must decide whether to pay their mortgage or keep their lights and heat on in the dead of winter.
"The film is heartbreakingly wonderful. Every American needs to see it," said Hillman Executive Director Alexandra Lescaze.
Read my Backstory interview with Joe Gantz about the making of American Winter.
[Photo courtesy of American Winter.]