June 18, 2013
Did a Child Slave Process Your Walmart Shrimp?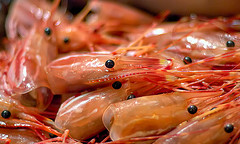 It's been a hard spring for socially conscious foodies. Last month, we learned that our unctuous Greek yogurt is polluting the enviornment. Today, we find out that our plump, juicy shrimp might be processed by child slaves in Asia. Tom Philpott delivers the bad news in Mother Jones:
Over the past 20 years, the rapid rise of South Asian shrimp farms has transformed our relationship to the tasty crustaceans, shifting it from an occasional luxury to an all-you-can-eat commodity. Twenty years ago, most of our shrimp came from domestic wild fisheries. Today, we import 90 percent of it, almost all of it farmed. But who works on these foreign farms and processing facilities—and under what conditions? A new briefing paper by the well-respected International Labor Rights Forum and the Warehouse Workers United (WWU) alleges serious labor abuses, including illegal use of underage workers, at the Thai shrimp producer Narong Seafood, at least until recently a major supplier of Walmart and a leading shrimp processor for the US market, according to a recent analysis by the consultancy Accenture for Humanity United. [MoJo]
WalMart claims it stopped buying from Narong, but Philpott's reporting suggests otherwise. 
If you're looking for a more ethical and environmentally sustainable alternative to farmed Asian shrimp, the Marine Stewardship Council recommends wild-caught pink shrimp from Oregon.
[Photo credit: Phú Thịnh Co, Creative Commons.]