August 26, 2013
90% of Critical Chemical Safety Data is Wrong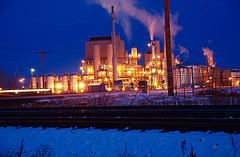 Disturbing revelations the state of the nation's chemical plants from the Dallas Morning News, which combed through three quarters of a million federal records in the wake of the disastrous explosion at the West chemical plant:
Even the best national data on chemical accidents is wrong nine times out of 10.
A Dallas Morning News analysis of more than 750,000 federal records found pervasive inaccuracies and holes in data on chemical accidents, such as the one in West that killed 15 people and injured more than 300.
In fact, no one at any level of government knows how often serious chemical accidents occur each year in the United States. And there is no plan in place for federal agencies to gather more accurate information. [DMN]
In other words, nobody has any idea how many serious chemical accidents happen every year. 
[Photo credit: bulliver, Creative Commons.]