February 25, 2013
Sex Assaults in the Shadow of a North Dakota Oil Boom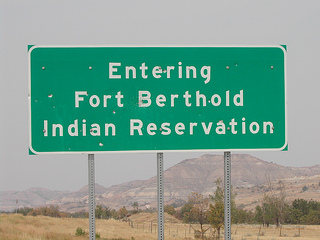 Thanks to a 1978 Supreme Court decision, non-Indians who rape on Indian reservations operate with near impunity, Sierra Crane-Murdoch reports:
In 1978, the Supreme Court case Oliphant v. Suquamish stripped tribes of the right to arrest and prosecute non-Indians who commit crimes on Indian land. If both victim and perpetrator are non-Indian, a county or state officer must make the arrest. If the perpetrator is non-Indian and the victim an enrolled member, only a federally certified agent has that right. If the opposite is true, a tribal officer can make the arrest, but the case still goes to federal court.
Even if both parties are tribal members, a U.S. attorney often assumes the case, since tribal courts lack the authority to sentence defendants to more than three years in prison. The harshest enforcement tool a tribal officer can legally wield over a non-Indian is a traffic ticket.
The result has been a jurisdictional tangle that often makes prosecuting crimes committed in Indian Country prohibitively difficult. In 2011, the U.S. Justice Department did not prosecute 65 percent of rape cases reported on reservations. According to department records, one in three Native American women are raped during their lifetimes—two-and-a-half times the likelihood for an average American woman—and in 86 percent of these cases, the assailant is non-Indian.
Indian tribes have their police forces who could be making arrests, were it not for the legal shackles imposed upon them by the court's decision. The Senate inserted language into the Violence Against Women Act that would have allowed tribal courts to prosecute non-Indians who commit crimes on reservations, but the House Republicans opposed the measure.
Sine 2008, outsiders have been streaming to rural North Dakota to get a piece of the Bakken Shale Oil Boom, and the Fort Berthold reservation is at its epicenter. Federal prosecutors have received additional resources to deal with criminal complaints on the reservation. Case filings on North Dakota reservations rose 70% between 2009 and 2011. The rise crime reporting tracks the influx of non-Indians to the oil patch. The reservation's population has more than doubled, and the tribal police have little legal control over the new residents. For local women, the newfound prosperity represents an ongoing threat to their safety.
[Photo credit: Hansen.Berlin, Creative Commons.]