April 26, 2013
Special Hillman Foundation Officers' Award Honors Bangladeshi Garment Workers in Memory of Aminul Islam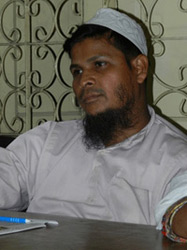 On May 7th, the Sidney Hillman Foundation will present a special Officers' Award for Public Service to the garment workers of Bangladesh struggling for safety and justice at work in memory of the late Aminul Islam, a garment worker and trade unionist with the Bangladesh Center for Worker Solidarity. Mr. Islam was kidnapped, tortured, and killed, presumably for his tireless activism on behalf of apparel workers. 
The Hillman judges had decided to honor Mr. Islam's memory weeks before the most recent building collapse in Bangladesh, the worst industrial accident in the nation's history. We hope that by drawing attention to violence against labor activists like Mr. Islam and to the dangerous working conditions he opposed, we can help make the garment trade safer in Bangladesh. 
Our namesake, Sidney Hillman came to prominence by leading a garment workers' strike in Chicago in the early 20th Century. The work of Aminul Islam and his brothers and sisters in Bangladesh represents the values that Hillman himself held dear.