September 22, 2014
People's Climate March Draws Hundreds of Thousands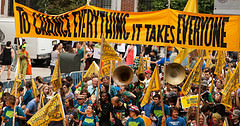 Up to 400,000 people took to the streets of New York City on Sunday for the People's Climate March, making it the largest environmental protest in history. The march brought together indigenous peoples, organized labor, and many other constituencies, in addition to more traditional environmental activists. 
On Sep 23, world leaders will gather at the United Nations for an emergency summit on climate change. The People's March is a plea for action on soaring temperatures, melting ice caps, rising sea levels, and the deadly human cost of global warming. If carbon emissions aren't controlled we can expect climate change to fuel droughts, floods, and other natural disasters that will kill or displace untold numbers of people in the years to come. 
Democracy Now! has extensive coverage of the event.
[Photo: southbendvoice, Creative Commons.]