May 18, 2015
Massive International Diploma Scam Exposed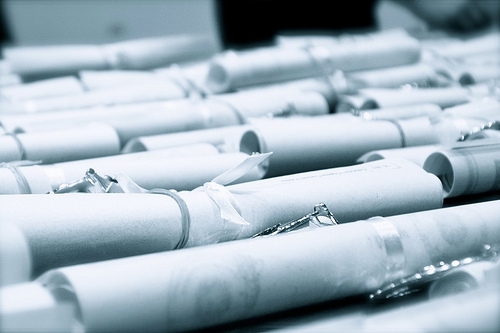 Photo credit:
Ser g/o, Creative Commons.
As this year's graduates are celebrating their hard-earned degrees, the New York Times has exposed a massive faux diploma scam shipping pseudo-sheepskins to slackers worldwide. 
"Newford University" presents itself to the internet as an institution of higher learning, but closer examination reveals it to be an educational Potemkin Village, a front for academic fraud:
Yet on closer examination, this picture shimmers like a mirage. The news reports are fabricated. The professors are paid actors. The university campuses exist only as stock photos on computer servers. The degrees have no true accreditation. [NYT]
A Pakistani software firm called Axact is raking in tens of millions of dollars for bogus degrees. For a price, the customer can even get a degree "authenticated" by a fake U.S. official, even an ersatz Secretary of State.