December 3, 2014
Blankenship Indictment Makes History in Coal Country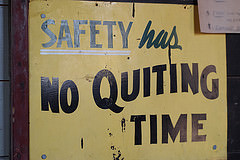 The history of coal mining is full of disasters and deaths caused by management negligence, but former Massey Energy CEO Don Blankenship is the first U.S. coal executive to face criminal charges for his role in the deaths of miners:
Legal experts call the case against Mr. Blankenship, a figure both feared and renowned for his power in West Virginia, a turning point after a century in which the power of coal barons over politicians, courts and the economy protected them.
"Those responsible for managing mines in a way that caused multiple deaths were never held responsible," said Patrick McGinley, a law professor at West Virginia University.
"It shocks the conscience." The Charleston Gazette, a newspaper with a history of reporting on coal's costs to the state, said simply, "This indictment is momentous." [NYT]
This could be a watershed moment in labor history.
[Photo credit: Wendy Cooper, Creative Commons.]