January 26, 2015
Journalist Who Reported on Argentine Prosecutor's Death Flees Country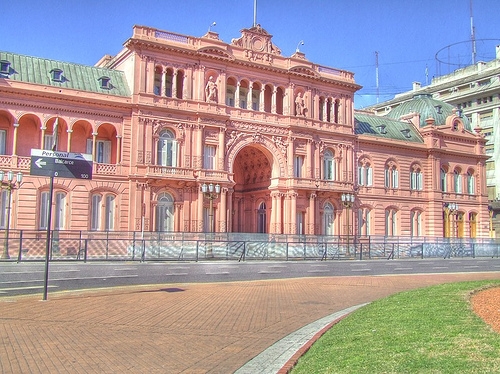 Photo credit:
Casa Rosada, official workplace of the president of Argentina, by Sliff, Creative Commons.
A journalist who investigated the death of a prosecutor investigating a 1994 bombing of a Jewish center has fled the country for Israel. The journalist, Damián Pachter, says that he was being persued by Argentine intelligence agents and feared for his safety.
The prosecutor, Alberto Nisman, was found dead the night before he was scheduled to testify about the the bombing, which he alleged was perpetrated by Hezbollah and covered up by the Argentinian government. Nisman alleged that the Argentina colluded with Iran to cover up the bombing as part of a deal in which Iran would supply oil to Argentina.
Bizarrely, the twitter feed of the Argentine Presidential Palace (@CasaRosadaAR) published purported details of Pachter's flight to Israel.
Jorge Capitanich, Argentina's cabinet chief, defended the publication of Mr. Pachter's movements on the Twitter account of the presidential palace. At a news conference on Monday morning, he said, "If a journalist says that he feels threatened, it's important to publish his whereabouts." [NYT]
The government answered Pachter's coverage with an even more bizarre counter-conspiracy theory:
In a letter this week, [President] Kirchner also wrote that Mr. Nisman had, unknowingly, been fed false information by Mr. Stiusso to sully the government as part of a plot that would end with his death. "The true operation against the government was the death of the prosecutor after accusing the president," she wrote. [NYT]
So, the government is saying that there was plot to murder the prosecutor and make it look like a suicide, but the government didn't do it. They say the government was framed by an ousted former spy who wanted to make the administration look bad.
By tweeting a journalist's flight details, the Kirchner administration is making itself look bad.