December 7, 2010
WikiLeaks, Obama and Beck
 .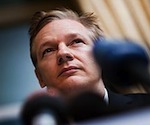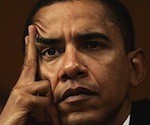 Hendrik Hertzberg, Julian Assange, Mark Lilla, Barack Obama
Above the Fold
             The document deluge from WikiLeaks is a unique event: vastly larger than any previous security breach in the history of the world.
             Ever since the first batch of secret cables was published, there has been no shortage of "experts" who have proclaimed their certainty about the effects of their publication–and an equally large number of commentators thrilled by the size of this gigantic wrench, aimed at the heart of American diplomacy in every corner of the globe.
            But the truth is, it will be a very long time before we know all the consequences of this act of anarchy.
            Of the hundreds of articles already written about this, one of the calmest and wisest was the op-ed piece in The New York Times,   from Paul W. Schroeder, a retired history professor and the author of "The Transformation of European Politics, 1763 -1848."
            Schroeder focused on the difference between "targeted leaks"–like the one made by Bismarck in 1870, which led to a war with France which ended in a total Prussian victory–and untargeted ones, like the opening of the floodgates by WikiLeaks.  Schroeder explains:
            Releasing confidential diplomatic correspondence to influence foreign relations…is like using dynamite in a construction zone. Carried out by experts after a careful analysis of the risks involved, it may be effective, like blowing off part of a hillside to build a road.
            But what WikiLeaks has done is entirely different: more like the work of irresponsible amateurs using dynamite to expand a tunnel that also contains…a city's electrical lines.
            The leaks will probably not cause war or even a serious crisis, but they will badly damage America's diplomatic machinery, processes and reputation.
            That's because an essential function of diplomacy is get people tell you things that they shouldn't, so that you can get a more accurate portrait of the country you are reporting on.  And whatever else WikiLeaks may have accomplished, it has certainly made that task vastly more difficult for American diplomats everywhere.
            The New York Times says it was careful to redact any information which it thought could jeopardize the life of an American source.   But WikiLeaks itself has probably been a lot less assiduous about that than The Times was.   And the truth is, no outsider can be certain which leak points to a particular individual, and which one does not.   Already, Newsweek is reporting (admittedly unconfirmed) rumors that the Taliban is drawing up new lists of Afghani collaborators to target for assassination–lists which may or may not have been assembled with the help of these previously secret documents.
            The other piece about this which is replete with sensible observations is Rick Hertzberg's comment    in the current New Yorker.
            Hertzberg focuses on what the leaked cables tells us about US efforts to prevent Iran from getting The Bomb, he also includes these broader, wise conclusions:
            *  We have learned that our Foreign Service officers can be vivid writers, though their future prose is bound to be duller and their interlocutors more guarded, at least for a while.
           * There are no grand revelations of epic lying, deceit, or criminality—nothing remotely on the scale of the Tonkin Gulf "incident" that justified the escalation of the Vietnam conflict, in 1964, the C.I.A.'s role in bringing Pinochet to power in Chile, in 1973, or, more recently, the Bush-Cheney embrace of torture.
         *  Perhaps the two biggest secrets that the WikiLeaks leaks leaked are that the private face of American foreign policy looks pretty much like its public face and that the officials who carry it out do a pretty good job. Both are true with respect to Iran and its nuclear ambitions, to judge from the cables, which add a great deal of textural detail to what was already known.
             One irony here is that the monumental embarrassment suffered by the State Department is yet another victory for the "terrorists"–because the leak apparently stemmed from a government-wide decision to share much more information among all departments, to try to prevent the sort of multiple intelligence failures which may have made 9/11 possible in the first place.
       Somehow, as part of that effort, the Army managed to create a system in which an extremely low-level enlisted man was able to download hundreds of thousands of secret State Department cables, without the knowledge of any of his superiors.   
            The apparent culpability of the Army is the source of another, less-widely noted irony: this  event is also the single greatest fucking the State Department has ever gotten from the Army, since the beginning of the republic.
                                                        -0-
            The deal with Congressional Republicans which extends the Bush tax cuts for everyone is bad policy, dispiriting politics–and probably the best combination of economic stimulus and obscene waste which Obama could salvage from a terrible situation.
            It's easy to blame the president for caving–and cave he did–but it was the Congressional Democrats who failed all year to renew the tax cuts without giving them to those making more than $250,000 a year.   The reason they failed was the almost total incapacity of a large Democratic majority in the Senate to prevail over the angry, idiotic Republican minority, which has clung so fiercely to just two disgusting goals: undermining the president, regardless of the worthiness of his proposals, and coddling the richest two percent of the country, which literally invested hundreds of millions of dollars this year to improve the Republicans' fortunes.
            It is, frankly, beyond the belief, that roughly half of our citizenry is now so dumb or so brainwashed that there is no outrage among them when the Republicans decide to shut down Senate business until millionaires and billionaires are promised the continuation of tax cuts, which will balloon the budget deficit, probably without creating a single new job.    But that is how dumb half the country has become.
            If, by breaking this roadblock, Obama is now able to get the Senate to pass the START Treaty  and to repeal Don't Ask, Don't Tell, there will be a much stronger argument for this compromise.  But if he fails to accomplish either of those goals during the balance of the lame duck session, it will be that much harder to defend his decision.
                                                        -0-
            A review by Mark Lilla   of five books by or about Glenn Beck in The New York Review of Books does a better job of explaining what "the most gifted demagogue America has produced since Father Coughlin" is really about than anything else I have read this year.
            Lilla explains that rather being static like Limbaugh or O'Reilly, "with Glenn Beck you never know what you'll get.  He is a perpetual work in progress, a billboard offering YOUR MESSAGE HERE."   Lilla points out
              The truth is, demagogues don't have cores. They are mediums, channeling currents of public passion and opinion that they anticipate, amplify, and guide, but do not create; the less resistance they offer, the more successful they are. This nonresistance is what distinguishes Beck from his confreres in the conservative media establishment, who have created more sharply etched characters for themselves.
            What makes [Beck] particularly appealing to his audience is not his positions, it is that he appears to feel and fear and admire and instinctively believe what his listeners do, even when their feelings, fears, esteem, and beliefs are changing or self-contradictory. This is the gift of the true demagogue, to successfully identify his own self, rather than his opinions, with the selves of his followers—and to equate both with the "true" nation.
            This is a crucial observation–and about twenty times smarter than anything David von Drehle or Mark Leibovich wrote about Beck, in their respective cover stories about him in Time and The New York Times Magazine.
                                                                               -30-
Correction:  FCP was wrong to assume that WikiLeaks has been less assiduous than the The Times in redacting information which might endanger American sources.  According to this AP story, WikiLeaks "is releasing only a trickle of documents at a time from a trove of a quarter-million, and only after considering advice from five news organizations with which it chose to share all of the material…Each publication suggested a way to remove names and details considered too sensitive, and 'I suppose WikiLeaks chooses the ones it likes,' El Pais Editor in Chief Javier Moreno [told the AP] in a telephone interview from his Madrid office."  (H/T Glenn Greenwald, who wrote about this here.)