The Sidney Hillman Foundation Announces 2011 Prizes for Exemplary Reporting that Fosters Social and Economic Justice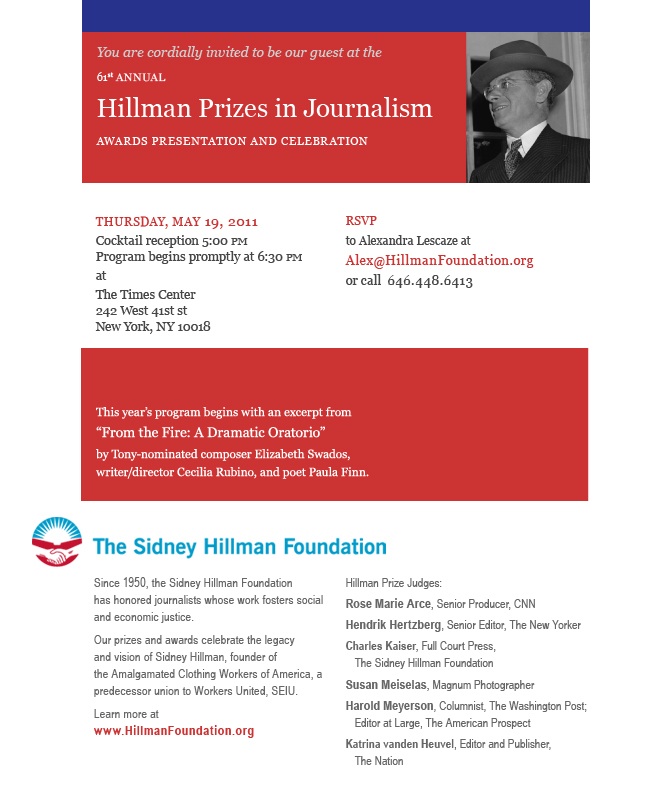 FOR IMMEDIATE RELEASE: April 20, 2011
Awards Ceremony May 19th in New York City
The Sidney Hillman Foundation will present its distinguished annual journalism prizes at the Times Center in Manhattan on May 19th. The Hillman Prizes are given in the categories of books, newspaper reporting, magazine reporting, broadcast, photography, and blogs. The prizes have been awarded every year since 1950, when Murray Kempton, the great liberal columnist, was the very first winner. 
This year's winners are: 
 
Book
For a beautifully written story of the migration of six million southern black citizens to the North—an unforgettable portrait of race, class and politics in 20th century America:
Isabel Wilkerson
The Warmth of Other Suns, Random House
 
Newspaper
For an investigative series revealing the scope of federal prosecutor misconduct:
Brad Heath and Kevin McCoy
"Justice in the Balance,"
USA
Today
Magazine
For a 10-part series about one of the most important economic, political, and social issues of our time, the 30-year trend toward greater income inequality:
Timothy Noah
"The Great Divergence," Slate.com
Broadcast
For a daring investigation into the organized sexual abuse of adolescent boys by elite men in Afghanistan:
Najibullah Quraishi
"The Dancing Boys of Afghanistan,"
FRONTLINE
/
WGBH
Photojournalism
For video and still photography as part of an investigation into two hospitals where students and residents were treating the poor and uninsured without their consent:
Mona Reeder
"A Surgery Gone Wrong: A Life Changed Forever," The Dallas Morning News
Blog
For its trenchant analysis and inclusivity as an online community for feminists and their allies:
Jessica Valenti, Samhita Mukhopadhyay, Vanessa Valenti, Courtney E. Martin, Miriam Perez, Chloe Angyal 
Feministing.com
*********************************
Since 1950, the Sidney Hillman Foundation has celebrated the legacy and vision of union pioneer and New Deal architect Sidney Hillman. As founder and president of the Amalgamated Clothing Workers of America, a predecessor union to Workers United,
SEIU
, and a founder of the Congress of Industrial Organizations (
CIO
), Hillman is considered one of America's greatest labor leaders. His tireless efforts to bring dignity and respect to working people left a lasting legacy for the American public.
The Hillman Prizes honor journalists demonstrating a similar sense of social responsibility, those who seek out stories that highlight important social and economic issues and help bring about change for the better.
Past winners include prominent figures in the field, as well as young journalists or publications that have yet to receive adequate recognition. Each winner receives $5,000 and a certificate designed by Edward Sorel and lettered by Seymour Chwast. Finalists for the prizes will be named on the website.
This year's distinguished panel of judges consists of Hendrik Hertzberg, senior editor, The New Yorker; Harold Meyerson, editor-at-large, The American Prospect and columnist for the Washington Post; Katrina vanden Heuvel, editor and publisher of The Nation magazine; Susan Meiselas, Magnum photographer; Rose Marie Arce, senior producer,
CNN
; and Charles Kaiser, Full Court Press, The Sidney Hillman Foundation.
"The enterprising work of these writers demonstrates how critical journalism is to a democracy that represents all of us. As these winners illustrate, there is little difference between new and old forms of journalism when you are reporting the truth," said Alexandra Lescaze, Executive Director of the Foundation.
The reception and award ceremony will be held Thursday May 19, 2011, 5:00-8:30
PM
, at the Times Center, 242 West 41st Street, New York City.
To find out about our monthly Sidney awards go
here
.