How our blog got its name
Sidney Hillman was a powerful national figure during the Great Depression, a key supporter of the New Deal, and a close ally of President Franklin D. Roosevelt.
When the rumor spread that President Roosevelt ordered his party leaders to "clear it with Sidney" before announcing Harry S. Truman as his 1944 running mate, conservative critics turned on the phrase, trumpeting it as proof that the president was under the thumb of "Big Labor."
Over the years, the phrase lost its sting and became a testament to Hillman's influence.
It's hard to imagine a labor leader wielding that kind clout today, but we like the idea—and we hope Sidney would give thumbs up to our blog.
Close window
NYT: GOP Strangling the Consumer Financial Protection Bureau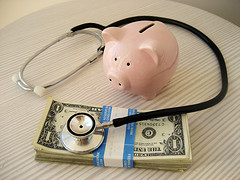 This New York Times editorial pulls no punches. It bluntly states what everyone knows, but what some have been too delicate to spell out in so many words, namely, that the Republicans are using the filibuster to strangle Consumer Financial Protection Bureau:
The bureau cannot operate without a director. Under the Dodd-Frank law, most of its regulatory powers — particularly its authority over nonbanks like finance companies, debt collectors, payday lenders and credit agencies — can be exercised only by a director. Knowing that, Republicans used a filibuster to prevent President Obama's nominee for director, Richard Cordray, from reaching a vote in 2011. Mr. Obama then gave Mr. Cordray a recess appointment, but a federal appeals court recently ruled in another case that the Senate was not in recess at that time because Republicans had arranged for sham sessions.
That opinion, if upheld by the Supreme Court, is likely to apply to Mr. Cordray as well, which could invalidate the rules the bureau has already enacted. The president has renominated Mr. Cordray, but Republicans have made it clear that they will continue to filibuster, using phony arguments to keep the agency from operating. [NYT]
Forty-three Senate Republicans wrote a letter to the president threatening to filibuster his nominee until "major structural changes" are made to the CFPB. Needless to say, the Republicans are holding out for structural changes that would cripple the bureau. In its short life so far the CFPB has won an $85 million settlement against American Express for deceptive marketing practices, cracked down on some predatory mortgage-lending tactics, and opened an investigation into dubious credit card marketing on college campuses. Some critics say the bureau hasn't done enough, but the Republicans want to see it doing even less.
[Photo credit: 401(k) 2013, Creative Commons.]