How our blog got its name
Sidney Hillman was a powerful national figure during the Great Depression, a key supporter of the New Deal, and a close ally of President Franklin D. Roosevelt.
When the rumor spread that President Roosevelt ordered his party leaders to "clear it with Sidney" before announcing Harry S. Truman as his 1944 running mate, conservative critics turned on the phrase, trumpeting it as proof that the president was under the thumb of "Big Labor."
Over the years, the phrase lost its sting and became a testament to Hillman's influence.
It's hard to imagine a labor leader wielding that kind clout today, but we like the idea—and we hope Sidney would give thumbs up to our blog.
Close window
Jina Moore Wins November Sidney Award for Inquiry Into American Poverty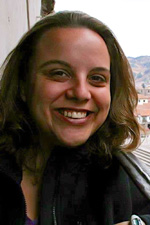 What does it mean to be poor in the richest nation on earth? Jina Moore explores this question in her Sidney Award-winning Christian Science Monitor story, Below The Line: Poverty In America. Moore juxtaposes official poverty statistics and academic constructs with the stories of real people. Full-time daycare attendant Linda Criswell has to take fruit from the snack bowl at work because she can't afford to buy her own, but her income wouldn't necessarily qualify her for food stamps or Medicaid.
How we measure poverty reveals a lot about our values. Is poverty an absolute measure of material deprivation, or is it something more complicated? Moore and I explore these questions in this month's Backstory.
[Photo credit: Nicola Moore.]