May 9, 2013
2013 Hillman Prizes: Photos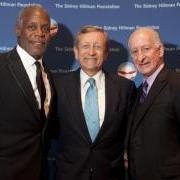 Left to right: Hillman board member Danny Glover, Broadcast winner Brian Ross, and foundation president Bruce Raynor.
On Tuesday night, the Sidney Hillman Foundation recognized excellence in journalism in service of the common good at our annual Hillman Prize ceremony and reception in New York City.
Click here to see all the photos of Tuesday's event.