October 14, 2014
Grim Vindication: Autopsy Proves Miner's Black Lung Claim, Shames Company Shill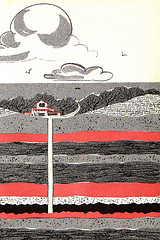 Steve Day, a 35-year veteran of the underground coal mines of West Virginia, had the worst case of black lung anyone had ever seen. But the doctor handpicked by the coal company to assess Steve's black lung disability claim refused to acknowledge the obvious. He claimed that the huge scarred-out areas of Steve's lungs were caused by a tuberculosis, or a fungal infection, or anything but the coal dust that Steve had been breathing every day for over three decades. So, Steve got no compensation for his crippling shortness of breath. 
Steve had to die before doctors could cut open his lungs and prove once and for all that coal dust choked him to death.
Chris Hamby, who started his Black Lung coverage at the Center for Public Integrity, continues his coverage as a staffer for Buzzfeed. The same doctor who misdagnosed Steve has been a consultant for countless other miners who have been denied black lung disability. Perhaps this story will help unseat the doctor as an expert in future cases. 
[Photo credit: gentlepurespace, Creative Commons. Image from a children's book about coal mining.]