July 31, 2014
Greek Court Acquits Farmers Who Shot 28 Striking Bangladeshi Strawberry Pickers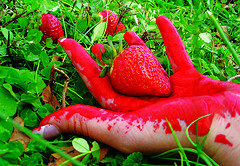 A court in Greece has acquitted two farmers accused of shooting 28 Bangladeshi strawberry pickers after they demanded 6 months of upaid wages:
Scores of migrants, many sobbing in disbelief, protested outside the court house after magistrates allowed two of the men, including the owner of the farm who had been accused of human trafficking, to walk free.
Two others, accused of aggravated assault and illegal firearms possession, were handed prison sentences of 14 years and seven months and eight years and seven months but were also freed pending appeal.
The Bangladeshis were shot at in April last year when they demanded to be remunerated for six months of unpaid work at a farm in Manolada in the southern Peloponnese. Four of the strawberry pickers were badly injured in the attack. [Guardian]
The decision has sparked outrage in Greece, Bangladesh, and around the world. Greek trade unionists, anti-ractist activists, and politicians are condemning the verdict. 
[Photo credit: Shannon Kline, Creative Commons.]