March 14, 2013
Kidnapping Rings Strong-arm Eritrean Immigrants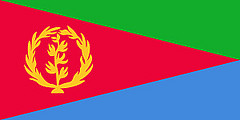 Imagine getting a voicemail from a teenage cousin you've never met telling you that you must pay a $25,000 ransom or her kidnappers will torture her to death and sell her organs on the black market. You know she's telling the truth because you can hear another victim screaming in agony in the background as his captors pour molten plastic on his back.
Refugees have been streaming out of Eritrea since the country gained independence from Ethiopia two decades ago. Highly organized gangs capture the refugees as they try to cross the border and extort their relatives who have already established themselves in the United States. Thousands of Eritrean refugees have been kidnapped by these syndicates.
Joel Millman reports on the operations of the gangs in the lawless Sinai Peninsula and the desperate attempts of Eritrean Americans to raise money to free their relatives.