November 24, 2010
Winners & Sinners: Theatre-Film-TV Edition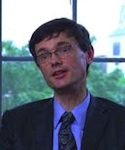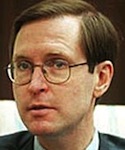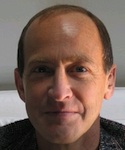 Harvard's John Cambell, Columbia's Glenn Hubbard, Columbia's Frederic Mishkin; Charles Ferguson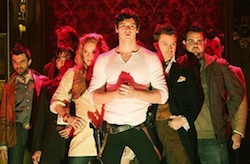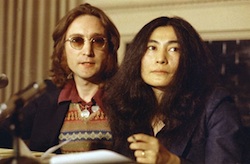 Bloody Bloody Andrew Jackson; John and Yoko in American Masters' John Lennon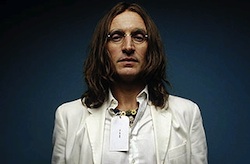 That Hopey Changey Thing; Christopher Eccleston in "Lennon Naked"
Winner: Inside Job, in theaters now.
    If you only see one movie this fall, buy a ticket to Inside Job, Charles Ferguson's devastating exploration of the $20 trillion meltdown caused by the conscious malfeasance of the wizards of Wall Street.
     A classic piece of investigative journalism, Ferguson traveled the world to interview everyone from French finance minster Christine Lagarde–whose reaction to Lehman's collapse was "holy cow"–to a Wall Street psychiatrist whose high-rolling patients freely described their symbiotic addictions to prostitutes and cocaine.
    Ferguson has a B.A. in mathematics, a Ph.D in political science, and the very special gift of knowing how to take a hugely complicated subject and breaking it down into small, digestible parts.
    Here is the director's own synopsis of his film, which is narrated by Matt Damon:
    The progressive deregulation of the financial sector since the 1980s gave rise to an increasingly criminal industry, whose "innovations" have produced a succession of financial crises. Each crisis has been worse than the last; and yet, due to the industry's increasing wealth and power, each crisis has seen few people go to prison. In the case of this crisis, nobody has gone to prison, despite fraud that caused trillions of dollars in losses. I hope that the film, in less than two hours, will enable everyone to understand the fundamental nature and causes of this problem. It is also my hope that, whatever political opinions individual viewers may have, that after seeing this film we can all agree on the importance of restoring honesty and stability to our financial system, and of holding accountable those to destroyed it.
    The number of crimes committed by the financial industry and the abject failure of the Obama administration to bring criminal prosecutions against any of the executives responsible for them are two of the most depressing aspects of Ferguson's story.   Although Ferguson does not make this point explicitly, it's now obvious that this failure to prosecute by the Obama Justice Department was both bad policy and extremely bad politics.   Because the administration never sent any Wall Street executives to jail, it was easy for the Republicans to attack the administration for coddling the financial industry–even though many Republicans had united with Democrats to enact the bailouts which sparked such primal rage across America.
    One of the more original aspects of the film is its portrayal of the utter corruption of economics professors and business school deans, who  seem to have been bought lock, stock and barrel by the financial industry and/or foreign governments in need of a clean bill of health– usually just before they go bust.
    Columbia Business School dean Glenn Hubbard, Harvard economics chair John Cambell, and Columbia Business School professor and Frederic Mishkin are each shown in the film to be either personally corrupt, absurdly in denial about their own conflicts and those of their colleagues, or both.
    The film begins with a concise description of how bank de-regulation in Iceland quickly brought that country to its knees.   Among Professor Mishkin's many accomplishments is a report he co-authored for the Icelandic Chamber of Commerce to deflect sharp criticism of that country's economy in 2006.  The report, entitled "Financial Stability in Iceland" asserted that the fundamentals of Iceland's economy remained strong–and it earned Mkiskin the tidy sum of $124,000.
    A year later Iceland's economy suffered a spectacular collapse–and a couple of years after that, the title of Mishkin's report had a small but spectacular transformation: Ferguson discovers "Financial Stablity in Iceland" is now listed on Miskin's c/v as "Financial Instability in Iceland."
    Oh, Miskin replies–"just a typo," I guess.
    As the movie's own publicity puts it, "This is the film that cost over $20,000,000,000,000 to make." 
   A.O. Scott noted in his rave review  in The New York Times, the film includes "pervasive obscenity, though not the verbal kind."
Winner: Bloody Bloody Andrew Jackson, now at the Bernard Jacobs Theatre in New York.
     This musical transplant from the Public Theatre to Broadway is a campy history lesson done with  charm and enormous energy. With music and lyrics by Michael Friedman, and a book by its director, Alex Timbers, the musical views the modern preoccupations of the Tea Party through the Lens of Jackson's early-19th century populism.
    Twenty-something Broadway veteran Benjamin Walker gives an ironic and beguiling performance in the title role.
Sinner: That Hopey Changey Thing at the Public Theatre Lab in New York.
    Written and directed by Richard Nelson, this new political play  opened on the very night it portrays–election night, 2010.  But it isn't even ripped from the headlines; it just regurgitates them.  This makes for an endlessly didactic evening about one family of mostly liberal Democrats dining in the Hudson Valley and bemoaning the state of the world.   Most of the actors are just fine; unfortunately they  have woefully little to work with.
Winner: Fair Game, in theaters now.
    Directed by Bourne Identity veteran Doug Liman, this is a taut political thriller about the outing  of Valerie Plame as a covert CIA agent by the Bush administration in retaliation for her husband's completely accurate op-ed piece, which undermined the Bush administration's phony WMD rationale for going to war in Iraq. 
    All the cravenness of Karl Rove (who dodged prosecution for the illegal leak) and Scooter Libby (who was convicted for it, only to have his sentence commuted  by Bush) comes flooding back in this strongly-told morality tale.   Sean Penn is splendid as  Ambassador Joseph Wilson and Naomi Watts is superb as Plame, the working mother who tries to balance visits with covert operatives around the world with the demands of her two children–and a husband who is dangerously addicted to the truth.
Winner: John Lennon from American Masters on PBS.
    Written and directed by Michael Epstein and first broadcast earlier this week on PBS, this excellent two-hour documentary focuses on the last year's of Lennon's life with Yoko Ono in  New York City, and his long and ultimately successful battle against deportation by the thugs of the Nixon administration.  It also includes his Day of the Locusts period in Los Angeles, when the briefly single Lennon descends into alcoholism and madness.  
     The does a fine job of reminding us of Lennon's admirable obsession with peace–and how wrong reporters like Gloria Emerson of The New York Times were to denigrate him for it (Emerson's condescending questions are included here though she is never identified.)
Watch the whole film online here.
Sinner: Lennon Naked, from the BBC via PBS.
    This bio pic directed by Edmund Coulthard and starring Christopher Eccleston, also broadcast earlier this week on PBS, is occasionally compelling but generally much less interesting than its nonfiction counterpart.  Eccleston struggles valiantly to recreate the great troubadour, but ultimately his version is never quite as interesting as the real thing.
                                                                -30-