October 27, 2010
The Three Billion Dollar Election
Campaign spending graphic courtesy of NBC News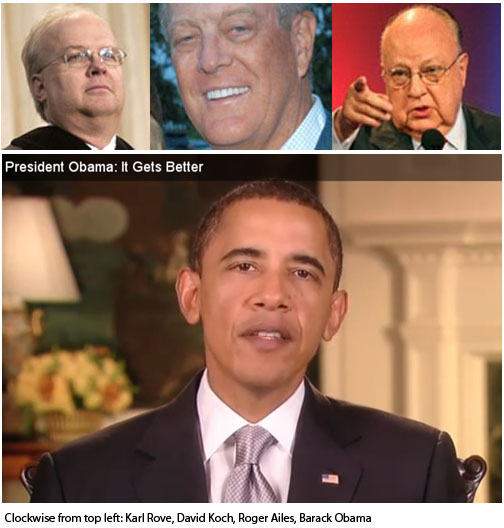 Above the Fold
    If corporate control of the state is a pillar of fascism–and it is–it's hard to imagine what could have pushed us faster in that direction than last January's decision by the Supreme Court in Citizens United vs. Federal Election Commission. 
    That decision made it possible for every corporation and fat cat from Boeing to David Koch to spend without limit to destroy any candidate they wish to destroy.  If that strikes you as hyperbole, listen to what Rob Collins, the president of American Action Network, one of the leading Republican groups in this campaign season, said to Jim Rutenberg a couple of days ago in a great  story in The New York Times:
    "We carpet-bombed for two months in 82 races, now it's sniper time.  You're looking at the battle field and saying, 'Where can we marginally push — where can we close a few places out?'"
    Sniper time indeed.  Together with Karl Rove's two "carpet-bombing" organizations, the American Action Network has spent $45 million on television ads.   Bob Perry, the man behind the Swfit Boat Veterans, has contributed $7 million this year to Collins' group.  All by himself.
    The day the Supreme Court's decision was announced in Citizens United, Barack Obama called it "a green light to a new stampede of special interest money in our politics" and "a major victory for big oil, Wall Street banks, health insurance companies and the other powerful interests that marshal their power every day in Washington to drown out the voices of everyday Americans."  
    Nothing he has said as president has proved to be more prescient.
    Last night on NBC's Nightly News Chuck Todd said that the newest estimate of spending on television ads by all sides by the time the election is held is now $3 billion.
    Three Billion Dollars.  That obscene figure–unlike anything allowed in any other "advanced" democracy in the world–is $300 million more than was spent two years ago (a presidential election year) and $600 million more than was spent in the last mid-term election, according to Todd's report.
    As Justice John Paul Stevens predicted in a blistering 90-page dissent to the majority's god awful opinion
     The court's blinkered and aphoristic approach to the First Amendment may well promote corporate power at the cost of the individual and collective self-expression the Amendment was meant to serve."  He pointed out that the majority's approach to corporate electioneering marked  "a dramatic break from our past. Congress has placed special limitations on campaign spending by corporations ever since the passage of the Tillman Act in 1907…The Court's opinion is thus a rejection of the common sense of the American people, who have recognized a need to prevent corporations from undermining self-government since the founding…Few outside the majority of this Court would have thought its flaws included a dearth of corporate money in politics.
    Of course, the Republicans prevented the passage of any law this year that would have made more disclosure necessary, much less imposing any limits on campaign expenditures by corporations which do business with the federal government, which might be one way to temper the impact of this appalling decision.   
    So corporate America can now spend as many billions as it wants to distort democracy through television ads–and the biggest winners of all are General Electric, the Walt Disney Company, Sumner Redstone and Rupert Murdoch–the owners of NBC, ABC, CBS and Fox, which will collect more of this flood of money than anyone else.
    Besides having bottomless pockets to promote their agenda, the Republicans also have an enviable unity, which includes the decision by the Republican establishment to support some of the most extreme and incompetent candidates ever to present themselves for public office in our lifetimes.
      That includes no less than five Senate candidates who oppose abortion in all circumstances, including rape and incest.    Joe Miller, the Republican primary winner in Alaska, has been exposed for having so many ethical lapses in his background, his pitch to the voters, according to  the indispensable Steve Benen of The Washington Monthly, now goes something like this:
   "Never mind my background, never mind my qualifications, never mind my record, never mind my inexperience, never mind my record of professional misconduct, and never mind my scandalous campaign tactics. Vote for me anyway, because I'm really right-wing." 
    As Benen says,  "That this guy, largely unknown to voters up until very recently, is poised to win a U.S. Senate seat is more than a little bizarre."
    Add to the Republican advantage the 24-hour a day, seven day a week support of the Fox network, whose parent company has donated millions to the Republican governors' campaigns and the U.S. Chamber of Commerce, and you have a juggernut poised to oust dozens of Democrats from the House and Senate.
    Whether or not this Tsunami of money will be enough to switch control of both houses remains to be seen.   The guess here is that the Senate, at least, will remain in Democratic hands, while Republican gains in the House may be a good deal smaller than the most extravagant Republican predictions.   But what makes a Republican triumph all the more likely is the shocking attitude of the left towards this election.
    As it has so many times before in the last four decades, the left is once again far more eager to eat its own young than it is to vanquish the appalling candidates the Republicans are running for office.
    Now it is certainly true that Barack Obama's administration has made some terrible mistakes.   The biggest ones on FCP's list are the surge in Afghanistan, the failure to prosecute any of the bankers who created the financial catastrophe which brought the nation to its knees, and the continuation of some of the previous administration's most heinous "anti-terrorist" policies.
    But this is also a president who enacted health care and financial reform against the united opposition of the Republicans.  And whatever the deficiencies of those bills may be–and there are many–they are still two of the most impressive achievements of any president in the last fifty years.   
    The fact that thousands or millions of Americans may  sit home next Tuesday instead of voting is just the latest proof of the incredible political immaturity of my fellow progressives.   This is an attitude the right wing has been able to rely upon, all the way back to 1968, when just enough Democrats stayed home to elect Richard Nixon, because Hubert Humphrey had not opposed the Vietnam War loudly enough or quickly enough to suit them.
    The truth is, Barack Obama is probably the best president we will elect for a very long time to come.   Can you really imagine any Republican president recording a video for a campaign to prevent gay teenagers from comitting suicide?
     So while it is certainly necessary to hold the president's  feet to the fire on everything from Afghanistan to the banking industry, it is even more important to make sure we do everything we can to prevent a frightful group of extremists from seizing control of the House and Senate. 
     This president is our president.  And he needs us now more than he has ever needed us before.
    As Frank Rich wrote in another brilliant column last Sunday,
     Even as the G.O.P. benefits from unlimited corporate campaign money, it's pulling off the remarkable feat of persuading a large swath of anxious voters that it will lead a populist charge against the rulers of our economic pyramid — the banks, energy companies, insurance giants and other special interests underwriting its own candidates. Should those forces prevail, an America that still hasn't remotely recovered from the worst hard times in 70 years will end up handing over even more power to those who greased the skids.
    That is an outcome that should be repellant to all of us.
                                                          -30-