WNYC Radio Rookie Named Winner of First Hillman Foundation Sidney Award
For Immediate Release: July 15, 2009
Contact: ChangeCommunications
Elissa Strauss
[email protected]
310-909-9250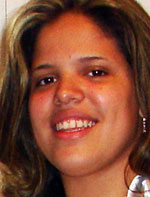 The Hillman Foundation announces 17-year-old Victoria Cruz as the winner of The Sidney for her June 25, 2009 WNYC segment "Best Couple." In the radio piece, done for the station's Radio Rookies program, and broadcast on "Morning Edition and "All Things Considered, " Ms. Cruz reports on how she and her girlfriend became the first same-sex couple at their Bronx, NY high school to receive the "Best Couple" award in their yearbook.
The Sidney is a new monthly award from the Hillman Foundation given to an outstanding piece of socially-conscious journalism that seeks to foster social and economic justice. Winners receive $500, a certificate designed by New Yorker cartoonist Edward Sorel, and a bottle of union-made wine. "Not only was Vikky Cruz brave enough to tackle teenage homosexuality on public radio, she also took it on in a far more intimidating environment--high school," said Charles Kaiser, Sidney Award judge. "Her commitment to honesty and justice in both of these settings earned her The Sidney."
Radio Rookies is a New York Public Radio program that provides teenagers with the tools and training to create radio stories about themselves, their communities and their world. "Best Couple" was produced by Kaari Pitkin and edited by Marianne McCune.
Since 1950, the Sidney Hillman Foundation has celebrated the legacy and vision of union pioneer and New Deal architect Sidney Hillman. As founder and president of the Amalgamated Clothing Workers of America, and a founder of the Congress of Industrial Organizations (CIO), Hillman is considered one of America's greatest labor leaders. His tireless efforts to bring dignity and respect to working people left a lasting legacy for the American public.
The Sidney, along with the annual Hillman Prizes in Journalism, honor journalists who demonstrate a similar sense of social responsibility, investigating and telling the difficult stories that need to be told. The Hillman Prizes are currently in six categories. Beginning today, One Sidney will be awarded each month in any category the judges choose.
For more information and to apply please go to: http://www.hillmanfoundation.org/thesidney
###

Certificate designed by Edward Sorel
The Sidney is awarded monthly to a piece published in an American magazine, newspaper, on a news site, or a blog. Television and radio broadcasts by an American news outlet are also eligible, as are published photography series.
Deadlines are the last day of each month. The piece must have been published in the month preceding the deadline. In the case of magazines, please nominate according to the issue date on the publication, not when it first appeared.
Nominations are accepted for one's own work, or for someone else's.
The Foundation will announce a winner on the second Wednesday of each month. Recipients will be awarded $500, a bottle of union-made wine, and a certificate designed especially for the Sidney by New Yorker cartoonist, Edward Sorel.
If you wish to nominate yourself or a piece by anyone else, please click here for our nomination form.If you have any further questions about the nomination process, please send your inquiry to [email protected]