February 4, 2013
Feeding Us a Thin Blue Line: Why Cops Lie Under Oath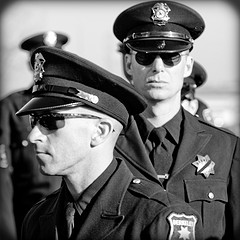 Michelle Alexander estimates that each year, thousands of innocent people plead guilty because they fear that a police officer will perjure himself to convict them. Alexander, author of the acclaimed book The New Jim Crow: Mass Incarceration in the Age of Colorblindness, argues in the New York Times that police officers face institutional pressure to lie and do so terrifyingly often. Ordinary people facing trial have good reason to be afraid of police perjury. They know that judges and juries will reflexively believe a police officer over an accused drug offender. Unless perjury can be proven, there are no consequences for a officer who lies in court.
Increasing, senior law enforcement officials and judges are sounding the alarm about systematic police prevarication, Alexander writes:
The New York City Police Department is not exempt from this critique. In 2011, hundreds of drug cases were dismissed after several police officers were accused of mishandling evidence. That year, Justice Gustin L. Reichbach of the State Supreme Court in Brooklyn condemned a widespread culture of lying and corruption in the department's drug enforcement units. "I thought I was not naïve," he said when announcing a guilty verdict involving a police detective who had planted crack cocaine on a pair of suspects. "But even this court was shocked, not only by the seeming pervasive scope of misconduct but even more distressingly by the seeming casualness by which such conduct is employed."
Remarkably, New York City officers have been found to engage in patterns of deceit in cases involving charges as minor as trespass. In September it was reported that the Bronx district attorney's office was so alarmed by police lying that it decided to stop prosecuting people who were stopped and arrested for trespassing at public housing projects, unless prosecutors first interviewed the arresting officer to ensure the arrest was actually warranted. [NYT]
In some quarters, policing has become a volume-driven, stats-oriented business where officers must prove their "productivity" by making a certin number of arrests. If a spurious arrest ends up in court, the officer will be locked into perjury. Civil forfeiture can create another perverse incentive to lie. In some jurisdictions, police departments get a cut of the assets of the people they bust for drug offenses.
Alexander argues persuasively that the testimony of cops should be viewed with as much skepticism as that of any other witness.
[Photo credit: Thomas Hawk, Creative Commons.]