How our blog got its name
Sidney Hillman was a powerful national figure during the Great Depression, a key supporter of the New Deal, and a close ally of President Franklin D. Roosevelt.
When the rumor spread that President Roosevelt ordered his party leaders to "clear it with Sidney" before announcing Harry S. Truman as his 1944 running mate, conservative critics turned on the phrase, trumpeting it as proof that the president was under the thumb of "Big Labor."
Over the years, the phrase lost its sting and became a testament to Hillman's influence.
It's hard to imagine a labor leader wielding that kind clout today, but we like the idea—and we hope Sidney would give thumbs up to our blog.
Close window
Another Deadly Garment Fire in Bangladesh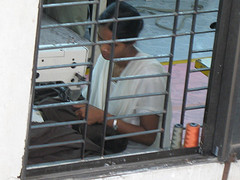 A fire swept through the ironically-named Smart Export Garments factory in Bangladesh over the weekend, killing 7 workers, including 2 teenagers:
DHAKA, Bangladesh — Clothing from many European brands, including at least two brands owned by the Spanish apparel giant Inditex, was discovered Sunday inside a charred factory where a deadly weekend fire killed seven female workers, including several who were teenagers.
The blaze at the Smart Export Garments factory, which erupted Saturday afternoon in a densely populated area of Dhaka, the capital, is the latest tragedy for a Bangladeshi garment industry that is now the world's second-biggest clothing exporter, trailing only China. Two months ago, a fire at the Tazreen Fashions factory killed 112 workers, where jeans, lingerie and sweaters were made for retailers like Walmart and Sears.
The story is sadly familiar: The building was illegally constructed, lacking sufficient fire extinguishers and emergency exits. When the fire broke out, the young workers were horrified to discover that one of the fire exits was barred by a locked door. Smart Export was a subcontractor to major global brands, some of which pledge to maintain humane labor practices overseas, but it was unclear whether the SE factory had ever been audited for compliance.
[Photo credit: Unnamed seamstress in Bangladesh. kgbbristol, Creative Commons.]